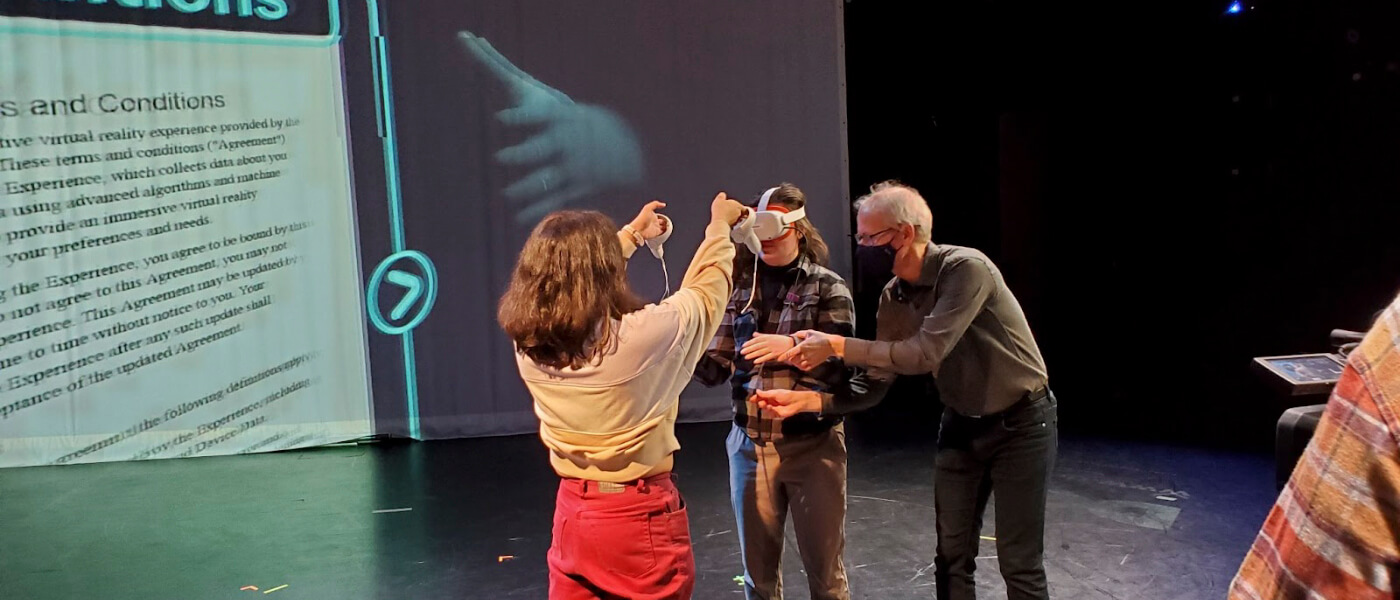 Inviting Motion
Be invited by motion. What will you give up by giving in?
Inviting Motion is an interactive Virtual Reality (VR) experience with themes of enticing, luring, attention grabbing, and having to give something up when we give into attractions.
Talk: 11:45am-12:30pm | The Great Hall Auditorium
Demo: Experience Inviting Motion – 12:35pm-1:30pm & 2:50pm-4:30pm | Demo: IDM Lab (Plangere 135)

The Experience
After going through a simple onboarding process to calibrate and tweak the experience, you, the user, are initially tasked with finding a human form in the noise of particles that surround you. After your attention is grabbed, you will be invited, and then teased a little. You can enjoy exploring the interactions, but what are you giving away? Are you being scrutinized?
The experience generally last about 5 to 10 minutes
About the Project
As part of his Sabbatical from Monmouth University, Wobbe F. Koning returned to his alma mater The Ohio State University and worked with the community at the Advanced Computing Center for the Arts and Design (ACCAD) to produce this VR experience. Motion Capture was used to create the attention grabbing and inviting motions, which are sparsely represented (using a limited amount of points) but are still instantly recognizable as human.
The project was a collaboration, and took shape as a result of the interactions with the ACCAD community.
Bios:
Wobbe F. Koning is an award winning animator and digital artist often combining 3D Computer Animation and video with audio to create mostly linear single channel works. Next to creating 3D printed stop motion animations, he has been exploring Virtual Reality (VR) as a medium, experimenting with different approaches while relying on his experience as filmmaker. Though not in his nature, he has been letting go of the total control the creator has over linear storytelling, and in stead embraced the interactive nature of VR.
Earlier work includes on-stage videos for dance performances, and multi screen installations. At Monmouth University he teaches animation in the Department of Art & Design.
Raven Serenity Glover received their bachelors degree in Simulation, Animation, and Gaming at Eastern Michigan University. There, they gained skills in 3D animation and character modeling. In their undergraduate research symposium project, Dynamic Storytelling with Animation, Raven Serenity explored the potential advantages animation has over traditional filmmaking in telling dynamic narratives. As part of the MFA program in Digital Animation and Interactive Media at The Ohio State University, Raven Serenity hopes to further expand the utilization of animation to promote self-awareness and self-expression.