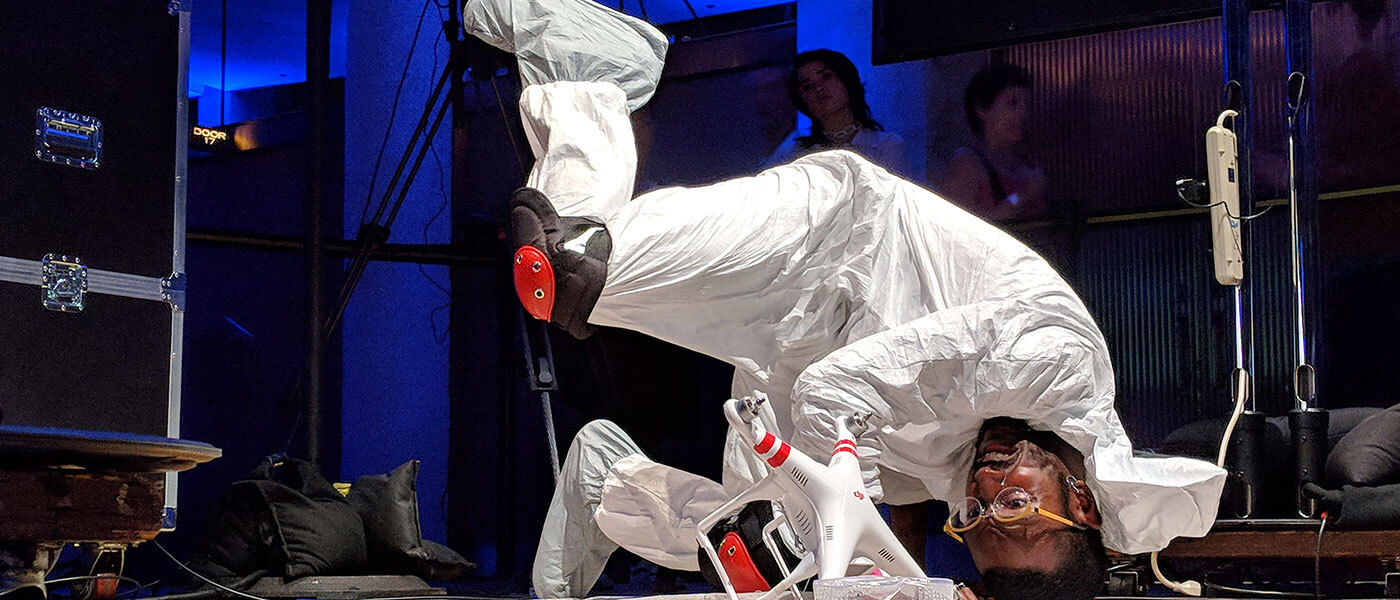 Elliot Reed's Enter the Facilitatrix outlines a select few performances and, through the use of participatory exercises, enacts some the process he uses during rehearsals. Rehearsal provides an invaluable tool for developing content, building camaraderie, and identifying the unique talents of each person in the room. Reed believes in play and respects "unscripted" studio time as a constant wellspring of potential. His role as director is to highlight, edit, and reassemble the material presented to him. This is only possible by treating the cast as individuals, promoting a shared goal while developing trust between each other. A trusting cast is able to extend their limits and offer support, because the fear of ostracism is greatly diminished. His objective is to share improvisational tools for generating ideas, clearing creative muck, and bringing people together—inspiration that extends to many collaborative, creative, and social disciplines.
Elliot Reed is a performance artist and director based in New York City. Working in realtime, Reed creates solos, ensemble performances, and videos that center the live subject. His projects exist between people, leveraging candid interaction among performers and audience. Utilizing a choreographic lens, Reed assembles bodies, movement prompts, and narrative within exhibition spaces. As viewers move through his work, the narrative arc moves through them, unfurling itself in actual time. Reed is a 2019 danceWEB scholar, 2019-20 Artist In Residence at The Studio Museum in Harlem, and recipient of the 2019 Rema Hort Mann Emerging Artist Grant. Recent works include a commission with JACK Quartet (2020), MoMA PS1 (2021), The Getty Museum (2018), The Hammer Museum (2016), The Dorthy Chandler Pavilion (2018), The Broad (2017), University of Southern California (2016), and performances at MoonStep Tokyo (2017), MNSKTM Osaka (2017), VFD London (2017), and MOOI Collective Mexico City (2017).
For more information, visit elliotreedlabs.com or email Amanda Stojanov, Assistant Professor of Digital Media (astojano@monmouth.edu).
This event is being recorded for educational and archival purposes and it may be posted on our website. By participating in this presentation, you give permission for Monmouth University to record the presentation for University purposes. You understand that your name, likeness, voice and statements may be recorded. If you do not wish to be recorded, a recording of this presentation will later be available upon request, and you can contact Amanda Stojanov, Assistant Professor of Digital Media (astojano@monmouth.edu) with any questions you may have regarding the presentation.