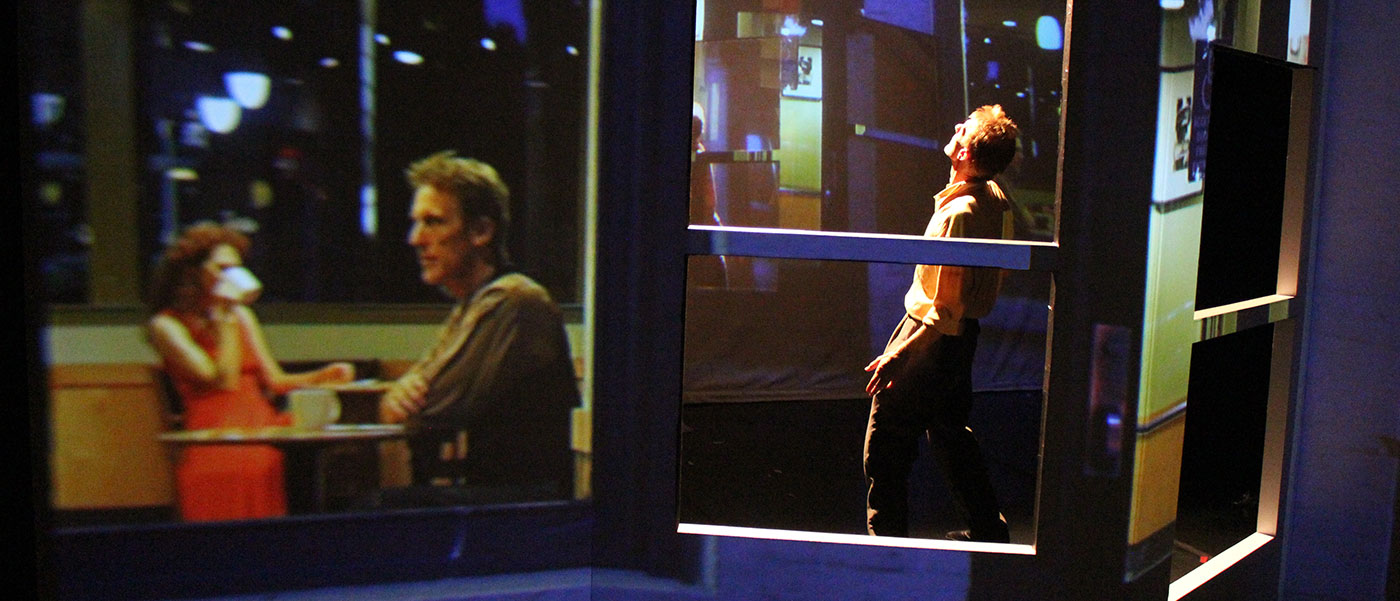 DUE TO AN ARTIST INJURY THIS EVENT HAS BEEN CANCELLED. If you need a refund or have any additional questions please call the box office at 732.263.6889
"gorgeous, and deeply moving." – Huffington Post, NYC
"witty, sexy, and surreal." – The New Yorker
Dance meets film meets virtual reality: Bridgman|Packer Dance will present Voyeur, their highly acclaimed work that received a 2017 New York Dance and Performance Award (The Bessies). Featuring choreographer/performers Art Bridgman and Myrna Packer's innovative work in "Video Partnering"—the integration of live performance and video technology— Voyeur is inspired by artist Edward Hopper's world of color, light, perspective, and under-the-surface eroticism. Fragmented moments of private lives are witnessed through windows and doorways. As the performers merge and collide with the video imagery, the presence of a seen or unseen viewer lies at the heart of Voyeur. Voyeur will be paired with other work from Bridgman|Packer Dance's repertory.
Art Bridgman and Myrna Packer, collaborators in choreography and performance and Co-Artistic Directors of Bridgman|Packer Dance, are known for their work integrating live performance and video technology.  They were awarded a 2017 New York and Performance Award for Outstanding Production (The Bessies).  In New York City they have been presented by Lincoln Center, City Center's Fall for Dance Festival, 92nd Street Y Harkness Dance Festival, Dance Theater Workshop (now New York Live Arts), Central Park Summerstage, Baryshnikov Arts Center, and The Sheen Center.
The 2008 Guggenheim Fellowship awarded to Bridgman and Packer was the first in the history of the Guggenheim Foundation to be given to two individuals for their collaborative work. They are also recipients of National Endowment for the Arts Grants (2007-2017), a National Dance Project Touring Award, four National Performance Network's Creation Fund Awards, and grants from New England Foundation for the Arts, New York Foundation for the Arts, and New York State Council for the Arts. Their international touring has been supported by USArtists International, the Performing Americas Project, American Dance Abroad, the National Performance Network, and La Red de Promotores CentroAmericana y El Caribe.
Bridgman|Packer Dance has toured throughout the USA  performing at festivals and art centers, including Spoleto Festival USA, Jacob's Pillow Dance Festival, the Florida Dance Festival, Bates Dance Festival, ICA Boston, Dance St. Louis, and Philadelphia's Annenberg Center. They have appeared abroad in Europe, Asia, The Middle East, and Central America in festivals including Beirut Spring Festival, Munich International Dance Festival, Festival Internacional de Artes Escenicas (Panama), Kintetsu Theater (Osaka, Japan), Festival Internacional Chihuahua (Mexico), New Baltic Dance Festival (Lithuania), and Tancforum (Budapest).
They were chosen as "Best of 2016" in The Village Voice and Huggington Post and "Best Dance in 2017" by TheaterJones.com.
This engagement of Bridgman | Packer Dance is funded through the Mid Atlantic Tours program of Mid Atlantic Arts Foundation with support from the National Endowment for the Arts.