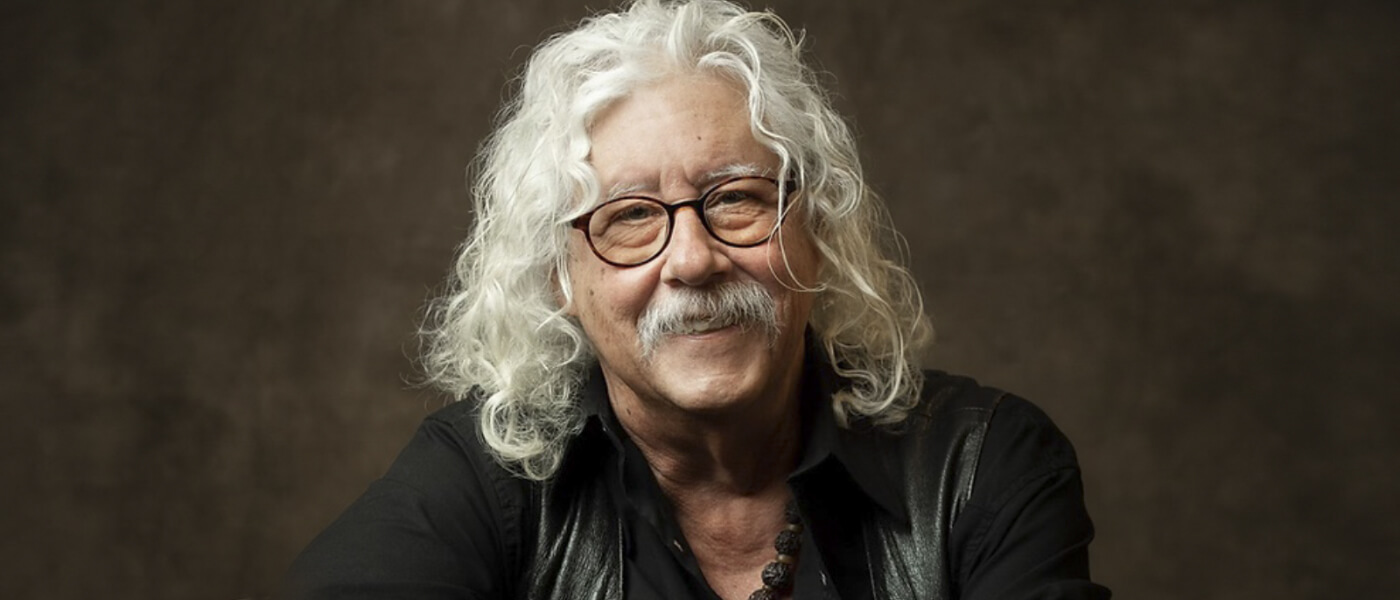 Arlo Guthrie is returning to the stage for a series of appearances after his retirement from musical performances. As the oldest son of Woody Guthrie and Marjorie Guthrie, Arlo made his first appearance onstage at age 13 and built a renowned career touring North American for six decades. In October 2020, Guthrie announced his retirement from the road amid the onslaught of the Coronavirus pandemic. Two years later, he's had enough of retirement and launched a new company Gut3 Productions with his wife Marti Ladd to present the new "In Conversation with Arlo Guthrie" four-part series.
"These engagements won't be musical events," said Guthrie. "We'll be setting this as an interview with talking, joking, telling stories…as well as answering questions from the audience. We'll have some fun, and we'll talk about serious subjects, as well".
What's Left Of Me features Arlo in conversation with Bob Santelli, Executive Director of the Bruce Springsteen Archives and Center for American Music and includes rarely seen video footage along with an audience Q&A. Unscripted, unrehearsed, and under no illusions but his own, Arlo Guthrie returns to venerable venues as a man who has seen it all, and lived to tell the story after 60 years on the road.
Mr. Santelli, a contributor to Rolling Stone magazine, is co-author with Nora Guthrie of Woody Guthrie – Songs and Art, Words of Wisdom, which will be available for purchase.
About Arlo Guthrie
Arlo Guthrie was born on July 10, 1947, in Brooklyn, New York; the son of legendary folk artist Woody Guthrie and Marjorie Mazia Guthrie. Arlo grew up surrounded by renowned folk musicians: Pete Seeger, Leadbelly, Cisco Houston, Ramblin' Jack Elliott, Sonny Terry & Brownie McGhee, and the Weavers. Since the age of 13, Arlo became absorbed in the music that was shaping the world. By the age of 20, he was touring overseas.
A natural-born storyteller and accomplished musician, Arlo attracted and surprised audiences all over the world with his unique folk style. Arlo's career soared with his debut of "The Alice's Restaurant Massacree" at the Newport Folk Festival in 1967. Later that year, he was nominated for a GRAMMY Award in the "Best Folk Performance" category for the studio version of the song on his debut album, Alice's Restaurant. The album went Gold (1969) and then Platinum (1986), and was adapted into a film by director Arthur Penn and released a few days after Arlo performed at the original Woodstock Festival in 1969.
Arlo has released 32 acclaimed albums, has appeared in notable TV shows and movies throughout the decades, and led a lauded six-decade-long touring career performing on the world's most distinguished stages.
About Bob Santelli
Bob Santelli is the author of more than a dozen books on American music, including, Woody Guthrie: Songs and Art, Words and Wisdom (w/co-author Nora Guthrie) and Greetings from E Street: The Story of Bruce Springsteen and the E Street Band.  Santelli is currently the Executive Director of the Bruce Springsteen Archives and Center for American Music at Monmouth University and the Director of Popular Music at Oregon State University. He also was the Founding Executive Director of the GRAMMY Museum in Los Angeles, the former CEO and Artistic Director of Experience Music Project in Seattle, and the Vice-President of Education and Public Programs at the Rock and Roll Hall of Fame and Museum in Cleveland. A GRAMMY winner, Santelli co-produced with Smithsonian Folkways box sets and books on Woody Guthrie, Lead Belly, and Pete Seeger.  He also was one of the executive producers of the public television series In Performance at the White House during the Obama administration and created music education programs with First Lady Michelle Obama.