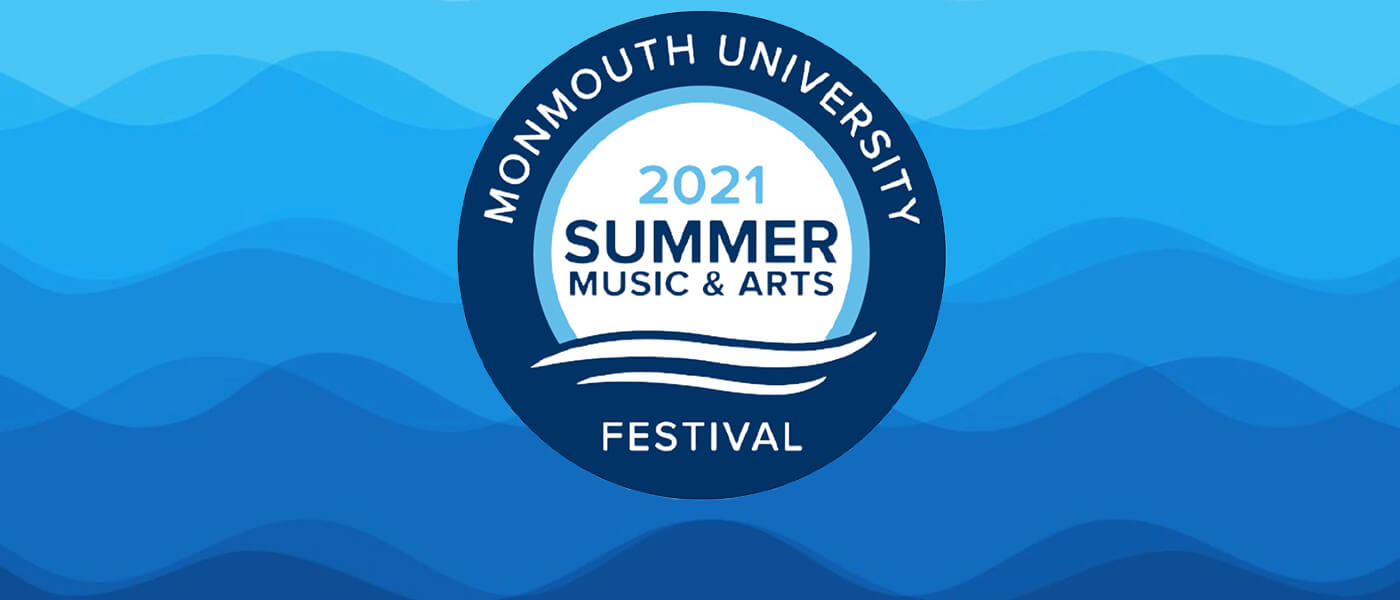 Monmouth University Music & Arts Festival 2021
Special Event
Monmouth University Music & Arts Festival 2021
Premieres July 1, 7:00 PM
Entering its 2nd year on the virtual stage, this year's Monmouth University Music & Arts Festival will feature members of the Garden State Philharmonic performing music from Civil War era Marches through Ragtime, Dixieland, and Jazz featuring music by composers George Gershwin, Scott Joplin, C.W. Handy, Duke Ellington, and Louis Armstrong. The festival will also highlight selections and solos from The Monmouth University Chamber Choir, a performance by the Blue Hawk House Band and a special reading by former United States Poet Laureate and Pulitzer Prize winner Natasha Trethaway. The festival will premiere at 7:00 PM on July 1st and be available to view through July 31st. To receive the streaming link for the festival you will need to register.
The Monmouth University Music & Arts Festival is designed to provide Monmouth County communities and beyond, along with the students, faculty, and staff at Monmouth University, with the opportunity to enjoy a top-flight music and arts event each summer.
In 2022, we are looking forward to presenting a robust program of offerings as the festival will host its inaugural in-person event. Our university is the year-round home for working musicians and artists, not to mention scores of students honing their talents as instrumental and theatrical performers, visual artists, and arts administrators. With the Music and Arts Festival becoming a yearly tradition, we hope to attract nationally and internationally acclaimed musicians and other fine artists to our campus. Not only will they supplement our students' arts education, they will be on site each summer to provide visitors with opportunities to experience premiere concerts and exhibitions right here on the Shore.
PROGRAM:
The Garden State Philharmonic – Brass Quintet and Percussion
STRIKE UP THE BAND!

Strike up the Band – George Gershwin, arr. Holcombe
Signal March – G.W.E. Friederich
The Entertainer – Scott Joplin arr. Arthur Frackenpohl
High Society – Cole Porter, arr. Luther Henderson
Beale Street Blues – C.W Handy, arr. Luther Henderson
Sweet Georgia Brown – Ben Bernie & Maceo Pinkard, arr. Luther Henderson
It Don't Mean a Thing if it Ain't Got That Swing – Duke Ellington, arr. David Kosmyna
Sousa Stars and Stripes – John Philip Sousa – Holcombe
The Monmouth University Chamber Choir
Steal Away – American Spiritual, arr. Gwyneth Walker
A Gershwin Jazz Trio – Words and music by Ira and George Gershwin, arr. Jay Althouse
"Nice Work if you Can Get it."
"Someone to Watch Over Me."
"I Got Rhythm."
Seasons of Love – Words and music Jonathan Larson, arr. Steve Zegree
Soloists: Brynn Coy, Jordan Dilone, Tyler Oden, Kailey Rouse, David Wilderotter
Vocal Solos by Members of the Monmouth University Chamber and Concert Choirs
Shenandoah – American Folk Song, arr. Jay Althouse
Brynn Coy – soprano
Desperado – Eagles –
Samantha Jordan, mezzo soprano
She Used to Be Mine – from the Broadway musical "Waitress," Sarah Barellies
Rachel Wilson, soprano
Wayfaring Stranger – American Spiritual, arr. Nick Garrett
Nick Garrett, guitar and voice
Strange Fruit – Billie Holiday
Jenae Louis-Jacques, mezzo soprano
Run Away with Me – Words and music Kait Kerrigan and Brian Lowdermilk
David Wilderotter, baritone
Cry Me a River – Arthur Hamilton
Georgette Abinader, mezzo soprano
Who I'd Be – from "Shrek the Musical," Words and music David Lindsay- Abaire and Jeanine Tesori
Mitchell Hendricks, baritone, Mia Heim, mezzo soprano Jordan Dilone, tenor
Summertime – from the Opera "Porgy and Bess," George Gershwin
Jenae Louis-Jacques, mezzo soprano
Somewhere Over a Rainbow – Words and music by Edgar Harburg and Harold Arlen, arr. Murray Cutter.
Kristen Wilczewski, soprano
Blue Hawk House Band
Cover version of "Freedom," composed by John Lomax, Jonny Coffer, Alan Lomax, Frank Tirado, Dean McIntosh, Kendrick Lamar, Carla Marie & Beyoncé
Performance Groups:

Garden State Philharmonic – Brass Quintet and Percussion:
Diane Wittry – Music Director and Conductor
Michael Baker (Trumpet 1), Olivia Pidi (Trumpet 2), Karl Kramer-Johansen (Horn), Roger Verdi (Trombone), Wes Krygsman (Tuba), Gregory Landes (Percussion), Michael Avagliano (Score Reader)
For more information on the program and performers click here
Monmouth University Chamber Choir:
Dr. David Tripold, director, Maggie Tripold, accompanist
Georgette Abinader; Kendall Brighton; Brynn Coy; Jordan Dilone; Mia Heim; Mitchell Hendricks; Arina Martin; Erin McGinniss; Tyler Oden; Lindsay Ploskonka; Delaney Rivera; Kailey Rouse; Nicholas Sewell; David Wilderotter; Rachel Wilson
Blue Hawk House Band
George Wurzbach, Director
Mani Kissling (vocals), Mark Rodriguez (Guitars/Keyboards,) Dee DiMeola (Drums), Max Adolf (Guitar), Michael Rabbits (Rap) Dillon Schindler (Keyboards) Sara Wojciehowski (Bass/producer), B. J. Biedebach (engineer)