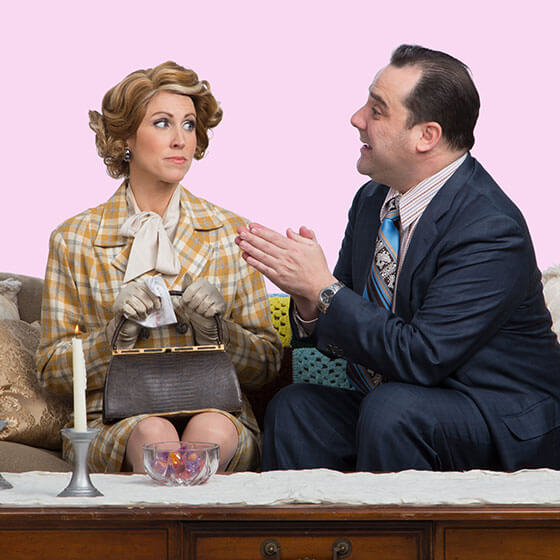 America in the 1960s, an era that encouraged LOVE, was populated by "Mad Men" and "Mod Women" trying to navigate the new normal. In this freshly conceived production of Neil Simon's classic, Last of the Red Hot Lovers, true comedy ensues when a modern man in the hip sixties looks for something new and different, but ends up finding himself in the same situation, again and again…and again!
Barney Cashman is middle-aged, married, overworked and overweight. It's finally his turn to join the sexual revolution… before it's too late. With no experience in covert maneuvers, he arranges three attempted trysts. His targets; a bawdy bundle of fun who likes smooth whiskey and other women's husbands, a young actress too kooky for words, and a neurotic housewife who happens to be married to his best friend. And through all the mishaps and laughter, Barney begins to rediscover his humanity and what he thought was missing all along.
Last of the Red Hot Lovers had a lengthy run on Broadway and was made into a hit film starring Alan Arkin and Sally Kellerman.
Walnut Street Theatre, America's Oldest Theatre, celebrated 200 years of great entertainment in 2009. Most noteworthy American actors of the 19th century and many from the 20th century have appeared on stage at the Walnut. Some of the Walnut's shining stars include: Edwin Forrest, Edwin Booth, the Drews, the Barrymores, George M. Cohan, Will Rogers, The Marx Brothers, Helen Hayes, Henry Fonda, Katharine Hepburn, Marlon Brando, Jessica Tandy, Ethel Waters, Audrey Hepburn, Sidney Poitier, Lauren Bacall, George C. Scott, Jane Fonda, Robert Redford, Julie Harris, Jack Lemon, and William Shatner.
The theatre has been home to many pre-Broadway try-outs of plays that would go on to become American classics, such as A Streetcar Named Desire starring Marlon Brando, A Raisin in the Sun featuring Sydney Poitier, The Diary of Anne Frank featuring Susan Strasberg, Mister Roberts, starring Henry Fonda, and Neil Simon's first Broadway play, Come Blow Your Horn.
The Walnut began its most recent incarnation as a self-producing, non-profit regional theatre when Bernard Havard took the helm in 1982, founding the Walnut Street Theatre Company with a vision of once again creating theatre in a space that is so steeped in the American theatre's traditions and history. Today, you can experience the realization of that dream when you attend a live performance. With over 56,000 subscribers annually, Walnut Street Theatre is the most subscribed theatre company in the world. For additional information about Walnut Street Theatre: Visit WalnutStreetTheatre.org.
"Delightfully hilarious and witty, as well as filled with wisdom about human nature…an uproariously funny author. But he is far more than that. He has a mellow and compassionate understanding of how weak and essentially well meaning mankind behaves…a genuinely brilliant play."- New York Post