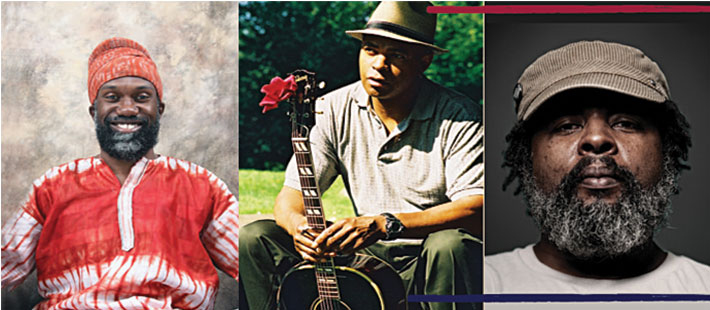 Past Event
True Blues with Corey Harris, Guy Davis, and Alvin Youngblood Hart
Hosted by Corey Harris, a MacArthur Grant recipient, and featuring renowned roots musicians Guy Davis and Alvin Youngblood Hart, True Blues chronicles the extraordinary living culture of the blues in an evening of music and conversation. In bringing the True Blues film to the concert stage, the True Blues concert vividly brings to life this crucial wellspring of American music.
Both Corey Harris and Alvin Youngblood Hart were featured in Martin Scorcese's "The Blues: A Musical Journey," which followed Corey on a roots journey to West Africa. Alvin contributed, as well, to Wim Wenders' "The Soul Of a Man" and Denzel Washington's "The Great Debaters." Guy has often followed in the Thespian footsteps of his parents, Ossie Davis and Ruby Dee, most recently in the Broadway revival of "Finian's Rainbow," and earlier in "Mulebone" and "Robert Johnson: Trick the Devil."
Blues is at the center of their artistry, and the blues takes center stage in True Blues, the concert.