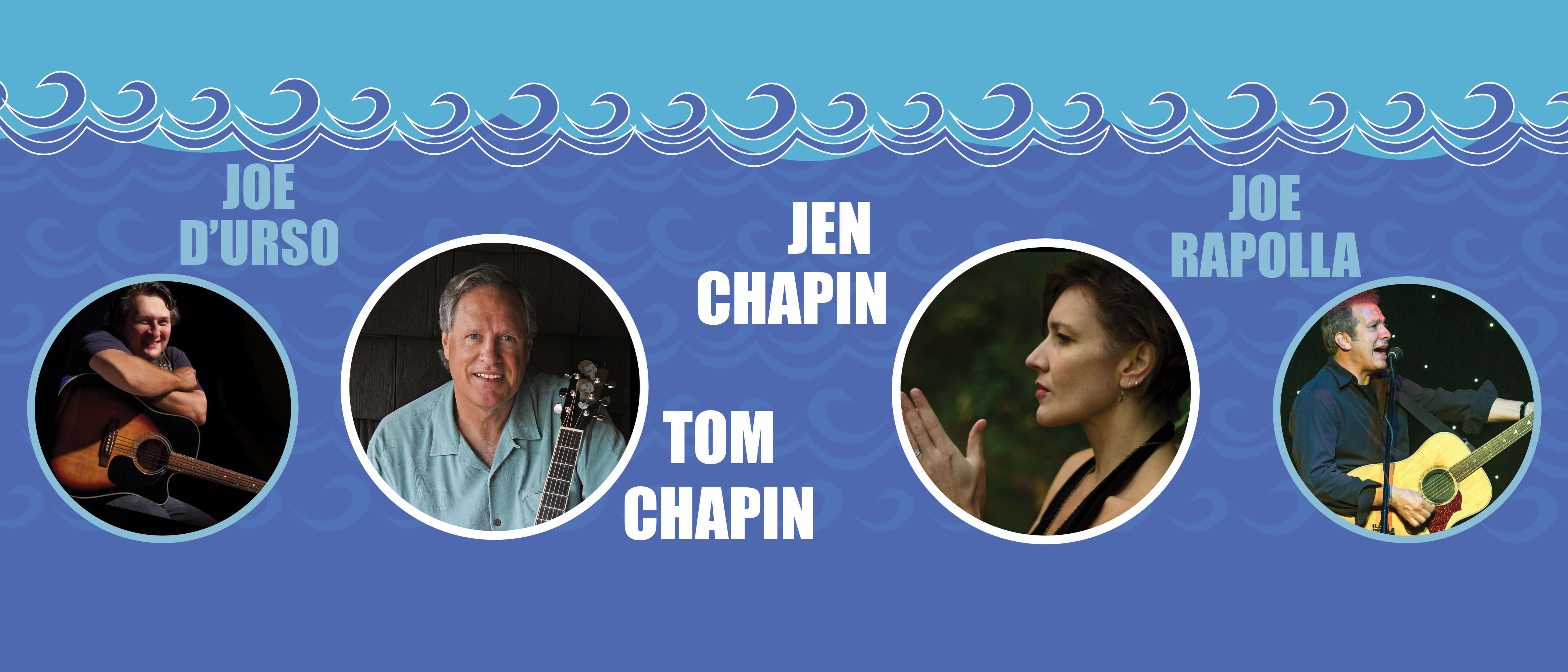 Distinguished NJ Songwriters Joe Rapolla and Joe D'Urso are back this year hosting the celebrated Songwriters by the Sea series at the Lauren K. Woods Theatre. What once started in a small coffee shop as an area for local songwriters has now grown into a series that features some of the top songwriters in the country. This year, the show features special guest artists Tom Chapin and Jen Chapin with an intro set by George Wurzbach. The show will also feature Monmouth University student openers.
In a career that spans six decades, 26 albums and three GRAMMY awards, Hudson Valley Troubadour Tom Chapin has covered an incredible amount of creative ground. In addition to his work as a recording artist and concert performer, Chapin has acted on Broadway, as well as working extensively in television, radio and film. As a music-maker, the multi-talented singer/songwriter/guitarist has maintained two long and productive parallel careers, both as a highly respected contemporary folk artist and as a pioneer in the field of children's music. Chapin has established a reputation for insightful, heartfelt songcraft and effortlessly charismatic live performances. Chapin's infectious songs, sterling musicianship and personal warmth consistently shine through, whether he's performing on record or in a concert hall, an outdoor festival, a school, in front of a symphony orchestra or in an intimate coffeehouse. The New York Times called Chapin "one of the great personalities in contemporary folk music."
Jen Chapin has been celebrated for writing "brilliant soulfully poetic urban folk music" (NPR) for almost two decades, beginning with her debut, Open Wide, in 2002. Nurtured in and around NYC by a large family of artists, writers, and musicians, Jen's "observant, lyrically deft, politically aware and emotionally intuitive" (Milwaukee Journal-Sentinel) songwriting features both her "extraordinary voice" (De krenten uit de pop, The Netherlands) and "astonishing jazz band" (popmatters). As much as an artistic legacy, the roots of Jen's upbringing have inspired her "potent, jazzy, layered folk" (Newsday) songs and a lifetime of passionate activism, through ongoing work with WhyHunger (founded by her late father Harry Chapin), and teaching high school global history in Brooklyn. She has performed on stage with Bruce Springsteen, on bills with Aimee Mann, Bruce Hornsby, and The Neville Brothers, and her rendition of Van Morrison's "Into The Mystic" was featured in an episode of the SyFy TV series "Defiance". Jen Chapin's 2013 release Reckoning, produced and engineered by five-time GRAMMY© Winner Kevin Killen (U2, Elvis Costello, Kate Bush) was named among the best Americana albums of that year by Examiner.com and awarded First Prize, Lyrics category by the USA Songwriting Competition (for the song "Go Away"). Her new trio album "Desert or Sea" was released in summer 2019.
Sponsored by the Leon Hess Business School
All proceeds benefit the Music Industry Endowed Scholarship