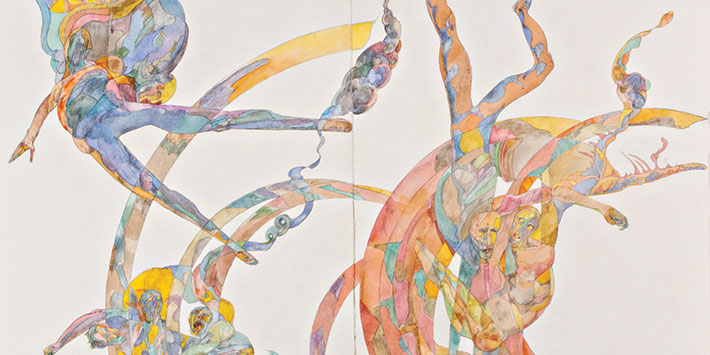 Reception: Monday, April 11 | 4:30- 6 PM | Library Seminar Room 102
Gallery Hours: Tues. – Thurs.: 10:00 a.m. – 5:00 p.m., Friday: 10:00 a.m. – 7:00 p.m., Saturday: 10:00 a.m. – 6:00 p.m., Sunday: 11:00 a.m. – 7:00 p.m.
Born in Philadelphia in 1917, Jacob Landau launched his career as an illustrator, winning national prizes at age 16 and a scholarship to the Philadelphia College of Art. He had over sixty one-person shows and was the recipient of many awards, including Tiffany, Guggenheim and National Arts Council grants. Many of his works are featured in permanent collections in the Philadelphia Museum of Art, the Metropolitan Museum of Art, and the Museum of Modern Art in New York, among others. A master teacher, he retired as professor emeritus at New York's Pratt Institute. In 1996, he was awarded an honorary Doctorate in Fine Arts by Monmouth University.
Jacob Landau viewed art as a defense against chaos. That all is subject to entropy haunted the artist his whole life. So art becomes a weapon to combat this descent into disorder. And it is a powerful weapon. For "each time we create something," Landau has said, "we win a victory over decay." Monmouth University's exhibit "Order & Chaos" demonstrates this triumph. The exhibition features a selection of fifteen pieces. All works are from Monmouth University's extensive collection of Jacob Landau's work, comprising over 300 prints, drawings and paintings. The collection was gifted to Monmouth University in 2008 by the Jacob Landau Institute of Roosevelt, NJ. This exhibit is co-sponsored by the Jewish Culture Studies Program and the Honors School of Monmouth University.
This event is free & open to the public. Docent tours are available (for times, contact Professor Noel Belinski 732-263-5425; email: nbelinsk@monmouth.edu). For additional information on the exhibition and other gallery events on the West Long Branch campus of Monmouth University, please call 732-263-5759 or visit www.monmouth.edu/arts.