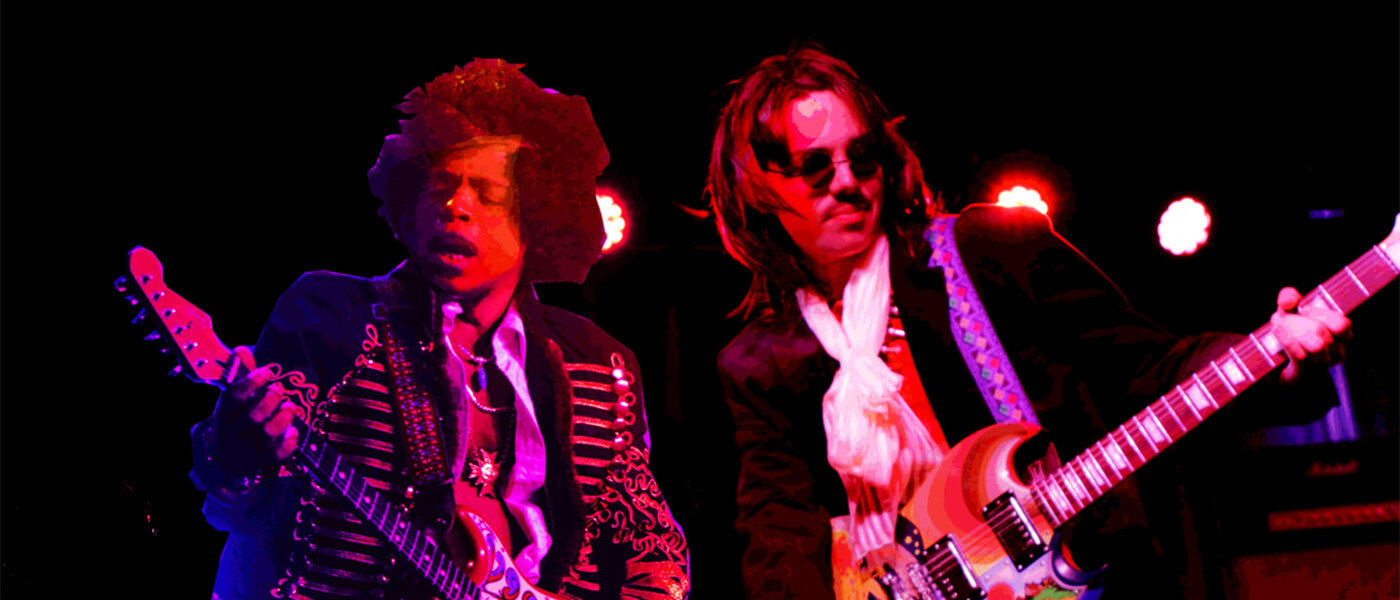 GUITAR GODS – HENDRIX AND CLAPTON!
Kiss The Sky- The World's Greatest Jimi Hendrix Show plays with special guests Heavy Cream's salute to Cream. This night will be a trip back in Rock n Roll history as it recreates some of the most iconic music of 1968 produced by the two artists who famously turned a rivalry into friendship and mutual admiration for each other.
Favorites from Hendrix's landmark 1968 album "Electric Ladyland" and Cream's powerhouse "Wheels of Fire" will highlight the evening.
ABOUT KISS THE SKY
Rolling Stone Magazine Says: "Yes believe the hype! This show lives up to it!"
The Village Voice NYC Says: "Bringing Music History To Life."
Kiss The Sky-World's Greatest Jimi Hendrix Show is the #1 Hendrix act in the world. They are so spot on at keeping the memory of Jimi Hendrix alive that remaining members of Hendrix's own bands have joined them on stage. Earlier this year they were hand picked to perform on the 2018 Flower Power Cruise where they were hailed as the "Buzz of the Boat". Also on the cruise were rock legends including Micky Dolenz of The Monkees, Canned Heat and Grand Funk Railroad.
Jimy Bleu stars as Jimi Hendrix and is the world's longest running Jimi Hendrix Performance Artist. Just like Hendrix, Jimy Bleu is a virtuoso, left-handed guitarist and performs all of Hendrix's signature stage moves. He recreates the legendary sounds and moves of Hendrix so well that he has also been a touring member of Billy Cox's Band. Billy was the original bass player of Jimi Hendrix's own Band of Gypsys.
Kiss The Sky WOWS audiences with their Hendrix look and sound alike musicians performing in full replica wardrobe and stage gear.  More then a concert, the show celebrates all phases of the short yet iconic career and concerts of Jimi Hendrix's bands The Jimi Hendrix Experience and Band of Gypsys.
Since 2016 Kiss The Sky has toured nationally to rave reviews playing at venues and festivals across the country.
Billy Cox, Hendrix Bassist and band mate with Band Of Gypsys:
"Jimy Bleu is the real deal. A Jimi Hendrix aficionado"
Juma Sultan, Hendrix Percussionist – 1969 Woodstock band – the Gypsy Sun and Rainbows
"When it comes to performing Jimi's music, I don't impress easily and there is no question that KTS is the most detailed and historically accurate Jimi tribute show I've seen. Jimy Bleu truly brings the Hendrix spirit to the stage. And that is no small task. They have my full endorsement."
Katie Daryl, Host and producer of AXS-TV show The World's Greatest Tribute Bands: "Kiss The Sky is spectacular! So often with tribute bands people say close your eyes, they sound just like them, but with Kiss The Sky you MUST keep your eyes open because the guitar playing, vintage gear, costumes and stage presence of the band is so very precise and out of this world your jaw will drop!"
OPENING BAND HEAVY CREAM
HEAVY CREAM is quickly becoming the definitive tribute to CREAM, rock music's original SUPER GROUP!
For the first time, with stunning historical accuracy in both look and sound, a tribute to Cream has been assembled…HEAVY CREAM out of PHILADELPHIA starring teenage guitar phenom Billy "The Kid" Thoden in the part of Eric Clapton. Billy was named "The Kid" by ZZ Top' Billy Gibbons. He was discovered by Jimi Hendrix bassist Billy Cox, has opened for Pat Travers and Robert Randolph and performed alongside Eric Gales and Dickey Betts.
Heavy Cream features replicated gear including the famous 'Fool' artwork guitars of Clapton and Bruce and Ginger Baker's legendary double Ludwig drum kit, as well as Cream's signature stack of British Marshall Amps, plus authentic wardrobe that Cream actually used at their most memorable 60's shows, this band's three world class musicians recreate Cream's classic concerts for today's audiences.