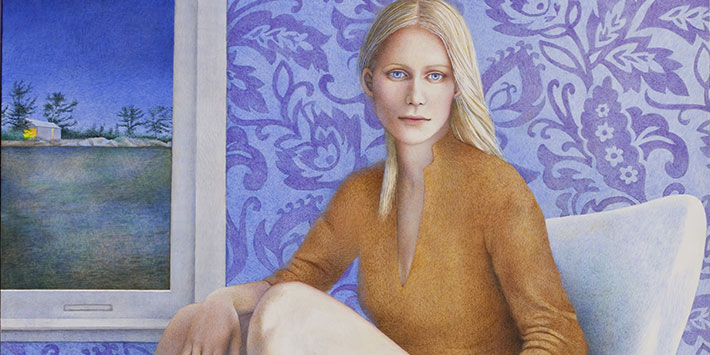 September 2 – October 17, 2014
Rechnitz Hall
DiMattio Gallery – First Floor
Opening Reception: Friday, September 19, from 7:00 – 9:00 p.m.
We interact with hundreds of people throughout our lifetimes, yet can we ever hope to grasp the intricate web of experience that makes them tick? Imagining the hidden realities of other people's existences is a continuing theme in the work of artist Mavis Smith. "It's not so much specific people or events, but the general sense of unknown depths that intrigues me", says Smith. "It does not have to be dark; heroic acts toward total strangers or simple people rising to extraordinary occasions are equally in the mix." Smith, who's works are often done in egg tempera, brings an almost surreal aesthetic to her paintings that further suggests the dislocation of appearances and realities.
"I have a love/hate relationship with egg tempera. It's a labor intensive medium, but the luminous effects you can achieve makes it seem worth it to me. I build up layer upon layer of thicker paint, alternating with sheer washes of pigment – back and forth, back and forth. The actual process is very meditative, and I believe it contributes to my subconscious imagination coming into play."
Bucks County, PA resident Mavis Smith studied at the Pratt Institute in the 1970's, and has exhibited her work in Holland and Switzerland as well as Santa Fe, New York City, and several venues in NJ and PA including a solo show in 2012 at the Michener Art Museum in Doylestown, PA. She is also a prolific illustrator and author of children's books, having authored 10 and illustrated at least 75. This exhibition samples a range of Smith's work from years past, as well as several new pieces, including both paintings and works on paper as well as some recent sculptural works incorporating egg shells.