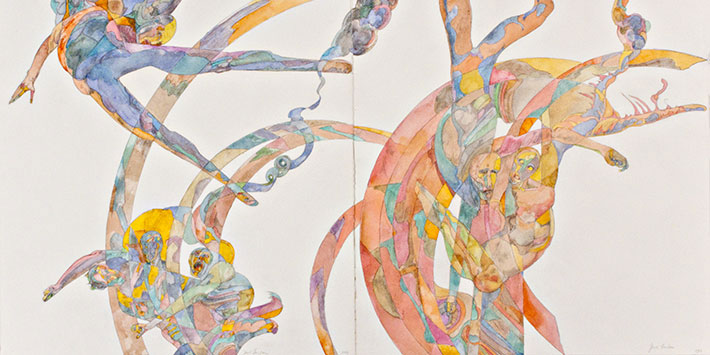 Past Event
Gallery Exhibitions
Gallery Exhibition: Jacob Landau – Selected Paintings from the Monmouth University Permanent Art Collection
January 20 – March 7, 2014
Rechnitz Hall
DiMattio Gallery – Second Floor
Jacob Landau (1917-2001), printmaker, painter, humanist, and teacher was an artist whose works explored the basic themes of human existence and morality with an insight that was both passionate and indignant. He was born in Philadelphia, PA, where he began as an illustrator, but he lived most of his adult life in Roosevelt, NJ. Here he immersed himself in the town's thriving artistic community, along with such noted artists as Ben Shahn, and began a distinguished career as professor at Pratt Institute, Brooklyn, NY. The art he created gained him an impressive reputation, with many of his works included in the permanent collections of the world's finest museums, such as the Metropolitan Museum of Art, the Philadelphia Museum of Art, the Museum of Modern Art (New York, NY), the Hirshhorn Museum (Washington, DC), as well as the National Gallery of Art in Washington, DC. He also received numerous honors, including fellowships from the Guggenheim and Ford Foundations.
In retirement he became Professor Emeritus at Pratt and received an honorary Doctorate in Fine Arts from Monmouth University in 1996.
In 2008 the Jacob Landau Institute donated more than 300 of the artist's prints, drawings and paintings to Monmouth University.  Jacob Landau: Selected Paintings from the Monmouth University Permanent Art Collection will feature approximately twenty original paintings.
Image Caption: Satanic Wheels, Watercolor, 36 1/4″ x 50 3/4″