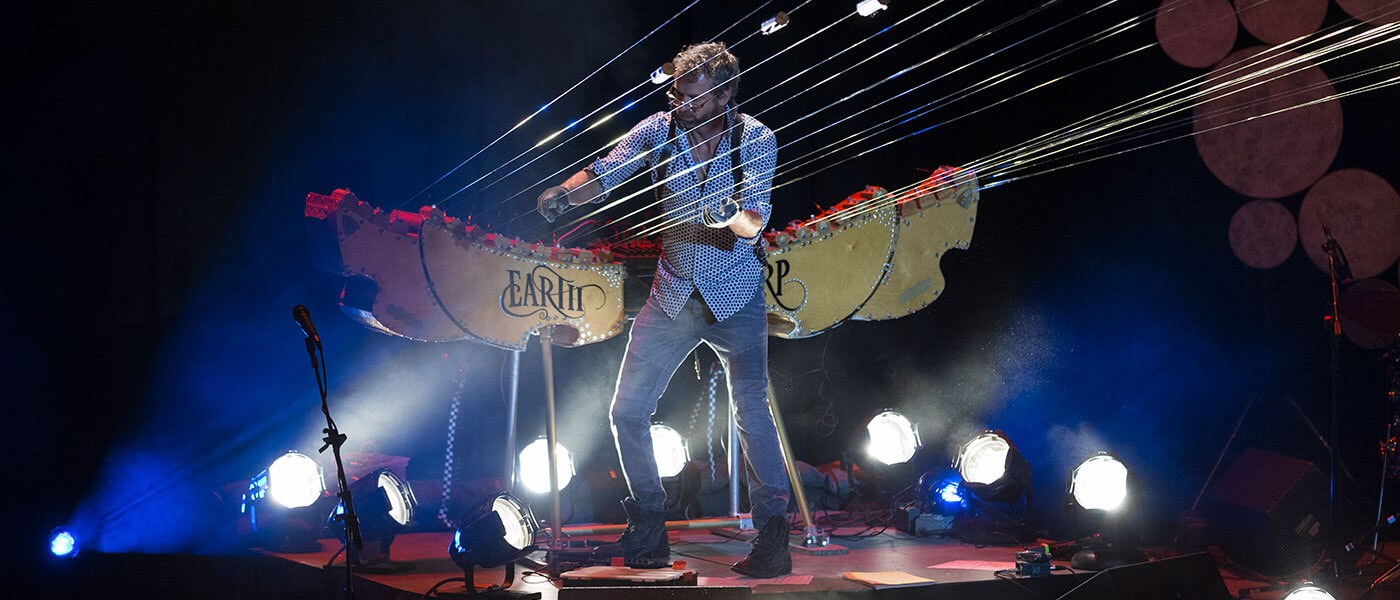 Concurrently primitive and futuristic, The Earth Harp incorporates sculpting, architecture and sound design, standing at the crossroads of music and art. The Earth Harp was built and developed by William Close, a New York native and alumni at the Art Institute of Chicago. William performs as part of The Earth Harp Collective – a team of musicians, dancers, aerialists and artists.
While studying at the Institute, Close realized in order to succeed he had to do something that no one else had done. An avid musician who played in garage bands as a teenager, he started concocting then building his own instruments. His background as a sailor served as inspiration for the use of natural sounds – the wind whipping the sails, the sound of the rigs flapping and being pulled tight.
"I've always seen and heard the world as an instrument," says Close. "Just hearing nature's tones inspires me."
The body of The Earth Harp rests on the stage, while the strings travel over the audience, attaching to the back of the theatre, concert hall and/or festival ground, turning every space into an instrument. By using violin rosin covered gloves along the strings, the Earth Harp's bowed tones and overlapping ripple effect offers a dramatic cathedral-like sound effect.
Close's celebrated Earth Harp earned him a finalist slot on NBC's America's Got Talent and was recently named by the World Record Academy as creating and holding the record for the world's largest stringed instrument. Close has designed at least two permanent Earth Harp installations, one as part of Cirque du Soleil's show KA at the MGM Las Vegas, the other as part of a 1,300-seat theater aboard the Royal Caribbean International's newest ship, Quantum of the Seas. He has brought his Earth Harp to iconic venues like Rome's Coliseum, Washington, DC's Kennedy Center, New York's Lincoln Center, Seattle's Space Needle, Shanghai's Grand Theater, Sao Paulo's Theatro Muncipal, Qatar's Dhow Harbour, as well as major U.S. festivals like Lollapalooza, Coachella, Bumbershoot, Burning Man and Lighting in a Bottle. With an interest in soundtrack work, Close has also recorded music for Game Of Thrones composer Ramin Djawadi for Guillermo del Toro's Pacific Rim.
"I love the idea of these expansive, grand-scale, but still user-friendly experiences," he says.
For Close and his Earth Harp, the sky is literally no limit