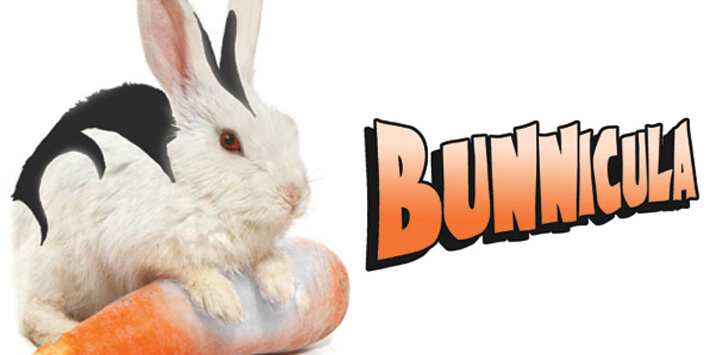 Lock up your lettuce! Protect your parsley! Rescue your rutabaga! 
A floppy-eared bunny with mysterious habits is staking out its place in Theatreworks USA's spine-tingling new musical co-written by Tony-nominated playwright Charles Busch and based on the best-selling books by James & Deborah Howe: BUNNICULA!
Chester the cat and Harold the dog get along like… Well… Cats and dogs, even though underneath their furry exteriors, they're really the best of pals. But one dark and stormy night, the Monroe family comes home from the movies with an orphaned rabbit they found under their seats. A very strange baby rabbit who has sharp fangs instead of buck teeth, and who sleeps all day and prowls around his cage all night.
Meanwhile, all the vegetables in the house are drained of their color and turn white. Could this possibly be a coincidence, or could Bunnicula be a vampire? Chester thinks so – he'll stop at nothing until he vanquishes the new arrival, even if it means the end of his friendship with Harold.
Will Harold and Chester remain friends? Will Bunnicula find his mother before it's too late? Will the nocturnal assault on all that is good and green continue? Find out in Theatreworks USA's BUNNICULA!
(One hour in length, recommended for grades 2 – 6)
For more information and study sheets visit: www.theatreworksusa.org