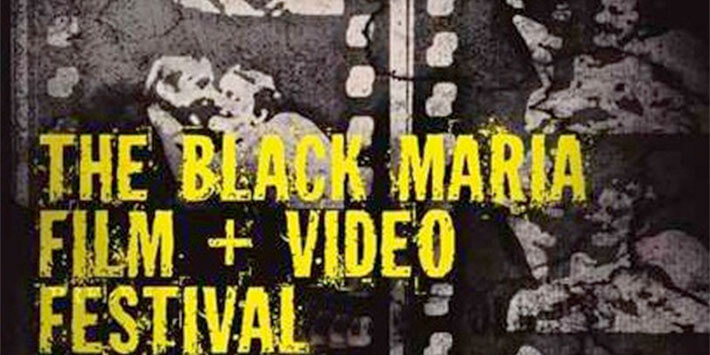 Past Event
Special Event
33rd Annual Black Maria Film and Video Festival
The films that become the centerpiece of the Black Maria Film and Video Festival honor the vision of Thomas Edison, New Jersey inventor and creator of the motion picture.  It was his New Jersey studio, the world's first, which he called the "black maria" (pronounced "mariah") after which the festival is named.  The cutting edge, cross-genre work that makes up the festival's touring program, has been traveling across the country every year for decades.
 
Black Maria focuses on diverse short films – narrative, experimental, animation, and documentary – including those which address issues and struggles within contemporary society such as the environment, public health, race and class, family, sustainability, and much more. These exceptional works ranging from comedy to drama to the exploration of pure form in film and video are not sidebars to feature length films, they are the heart and soul of the festival. The program is free and all are welcome. Works which will be screened are unrated; some of the content is sophisticated and might not be suited to younger audiences.
Films:
A Place of Spirit – Jury's Choice
6.5 min. by Natalie Conn and Jay Weichun, Brooklyn, NY
This is the story of Andrea Phillips, a Staten Island based artist, facing eviction from her home after 44 years.  Rather than center itself around the policy issues associated with Andrea's eviction, "A Place of Spirit" focuses on Andrea's emotional and spiritual relationship to her eccentric, unique and uncommon home.

Something Like Whales – Jury's Choice
5 min. by Nora Sweeney, Val Verde, CA.
In a dying industrial neighborhood in Cincinnati, Ohio, the Queensgate Train Yard pulses with life. A local worker describes the haunting sound emanating from the yard as 'something like whales.'  This poetical film was shot in part with a camera obscura.
For The Birds – You Be the Judge: Peoples' Choice Award
14 min. by Tara Atashgah, Santa Monica, CA.
Inspired by a true story, "For The Birds" follows a young Iranian girl as she is taken to the gallows to be hanged, having been accused of adultery. In her final moments, she imagines her fate in the hands of the surrounding townspeople.

Close the Lid, Gently: A Home Document Scan – Jury's Choice
5.5 min. by Ariana Gerstein, Barton, NY.
A video made entirely from two home desktop scanners – one a photo scanner, the other a refurbished low-end document scanner. Each has its own texture and sees the domestic environment in its own particular way, one scan at a time. This piece deals with the deliberate misuse/re-purposing of commercial image producing machines for a slow, individual, low tech, approach to the motion picture making process.

The Apothecary – Jury's Choice
17 min. by Helen Hood Scheer, Palo Alto, CA.
A moving portrait of beloved druggist, Don Colcord, in a rural Colorado outpost. Don is a man who operates the only pharmacy within 4,000 square miles.  He navigates a profound divide between his public persona and his personal life.  To the community, he is jovial and heroic.  At home, he is impotent and isolated due to his wife's disability.  "The Apothecary" explores notions of individual duty and obligation in the face of privately held grief and ambivalence.
Wise Choice or Lucky Guess – Directors' Choice
3.5 min. by Ellen Raines, Fox Point, WI.
A recently deceased man has to make a choice between heaven and hell, while sitting on an escalator.

Rehearsal – Directors' Choice
11 min. by Tom Rosenberg, Austin, TX.