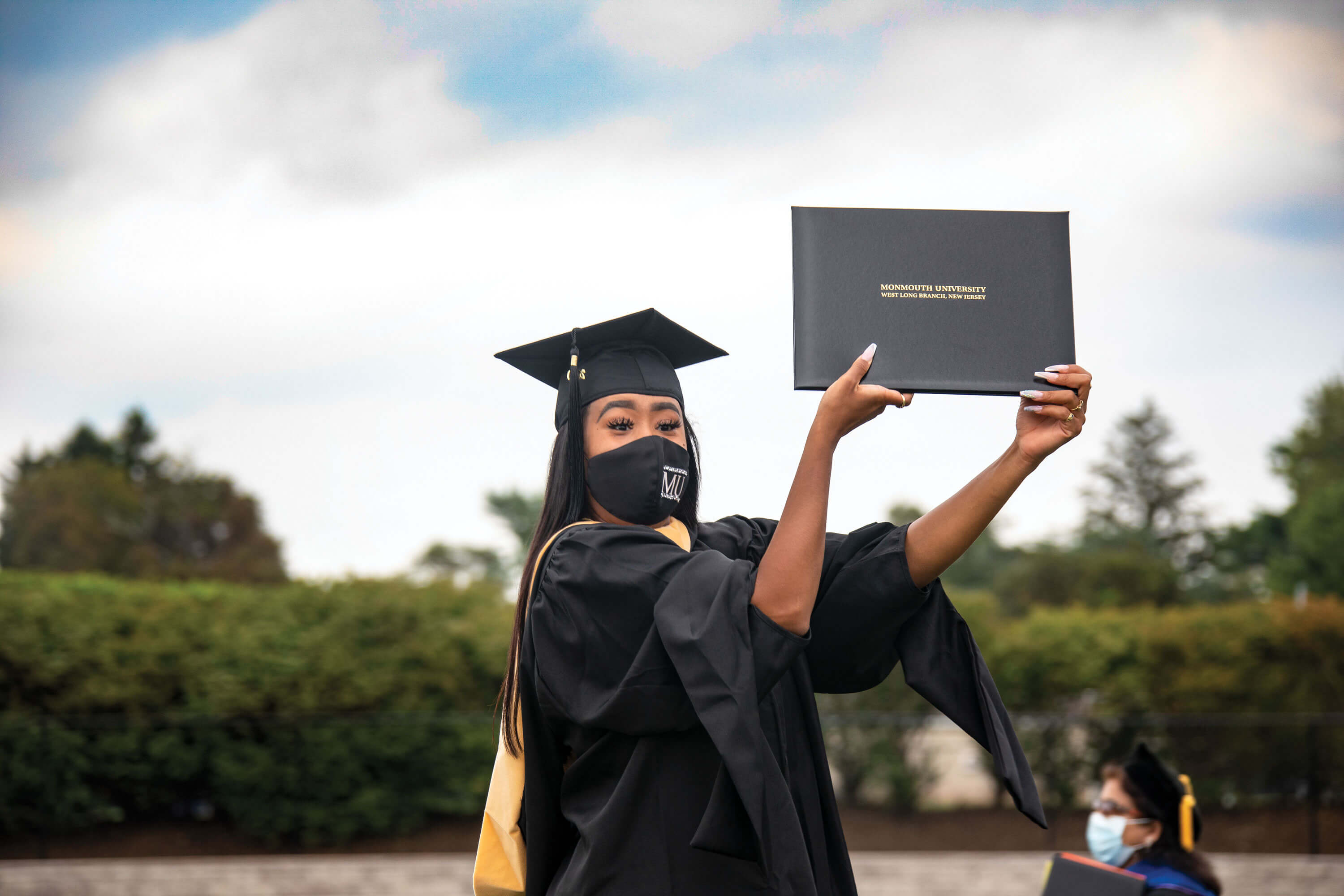 Campus Briefs
News and notes from the spring 2020 semester.
Pomp and circumstance at last.
When the state's COVID-19 health and safety regulations made it impossible to host in-person commencement ceremonies last spring, many schools resorted to holding virtual events. Monmouth, however, remained committed to celebrating the Class of 2020 graduates in person as soon as it was safe to do so.
That moment finally arrived in late August. During three days of modified Commencement ceremonies, faculty and staff joined with the graduates' families to honor the Class of 2020 for their achievements. The ceremonies were school based, and total attendance at each event was limited to 500 people to adhere to state guidelines in effect at the time.
Despite the delays and unusual circumstances, it was all worth it, said Michael Fazzino '20, the past senior class vice president and Student Government Association president.
"University administrators kept in touch throughout the summer and surveyed all graduates to determine what worked best for the majority of people, while planning the ceremonies," said Fazzino. "I feel fortunate to have been able to celebrate my Commencement in person with my classmates and family."
Check out more photos from each day of the celebration.
Movers and shakers.
President Patrick F. Leahy and Polling Institute Director Patrick Murray were named to ROI-NJ's list of influencers in higher education and NJBIZ's Education Power 50 list.
Monmouth soars in U.S. News rankings.
The University earned its highest-ever ranking on U.S. News & World Report's Best Colleges roster, moving into the No. 23 spot in its category, Regional Universities North. It is the first time the University has ranked in the top 25. Additionally, Monmouth once again secured its place on the publication's Best Colleges for Veterans list, moving up to No. 11 in its category.
Bang for your buck.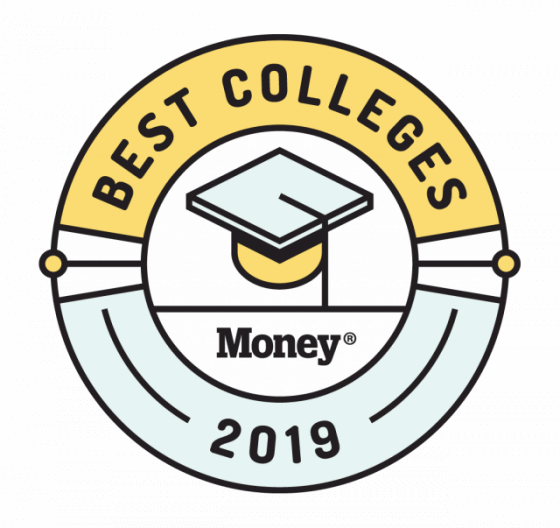 Monmouth was again named to Money magazine's annual Best Colleges for Your Money list. The University has appeared on the list, which assesses nearly 750 four-year colleges, every year since its inception. The rankings are based on three categories—quality, affordability, and outcomes—spanning 27 different criteria, including graduation rates, faculty ratings, peer ratings, net price paid to attend, average debt, employment, and earnings.
Seven-figure gift will support real estate students.
The Kislak Family Foundation has pledged $1 million in scholarships and $100,000 in academic programming support for Monmouth University students studying real estate. The seven-figure scholarship donation will support a need-based Kislak Family Scholarship for undergraduates pursuing a business degree with a real estate concentration, while the $100,000 pledge will continue to support the University's Kislak Real Estate Institute Academic Challenge, an annual intercollegiate real estate competition that will include an affordable housing component.
News worth broadcasting.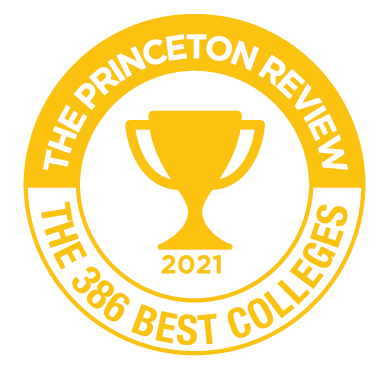 WMCX 88.9 FM, Monmouth's student-run radio station, was recognized as the No. 18 Best College Radio Station in the Princeton Review's annual guide The Best 386 Colleges.
Shameless self-promotion.
A series of Cuban street scene illustrations commissioned for the fall 2019 issue of this magazine were awarded a bronze-level Circle of Excellence Award from the national Council for the Advancement and Support of Education (CASE) earlier this year. This is the second year in a row that Monmouth magazine has won a Circle of Excellence Award.
Thinking globally.
Two decades ago, administrators and faculty from across the disciplines teamed up to enhance cultural and global awareness and citizenship throughout the University community. Their efforts culminated in the creation of the Global Understanding Project, which in 2008 was renamed the Institute for Global Understanding (IGU).
Over the years, the IGU flourished. Among other things, the institute facilitated the participation of Monmouth students and faculty in high-level United Nations meetings and conferences and increased the University's participation in the Fulbright Program, an exchange program that focuses on improving intercultural relations and competence as well as cultural diplomacy.
Following a brief hiatus, the IGU this year welcomed both a new faculty advisory council and a new director: Randall Abate, J.D., a political science professor and the Rechnitz Family Endowed Chair in Marine and Environmental Law and Policy.
Through a mix of academics and arts programs, interdisciplinary research and events, community partnerships, and service at the local and global levels, the IGU will embark on a new era focused on reinvigorating the Fulbright Program and Monmouth's relationships with the U.N., reinstating a biennial symposium, and fostering partnerships with other academic institutions and nongovernmental organizations across the globe, Abate said.
"I look forward to working with the IGU faculty advisory council to build on the IGU's legacy of excellence in supporting global education and cross-cultural understanding programs and events on campus for faculty and students and building partnerships in neighboring communities and around the globe," Abate said. "The IGU is a clearinghouse for bringing the campus community together around these efforts."
Write stuff.
Undergraduate students in Adjunct Professor Lawrence Jones' Spring 2020 Law and Society course authored a book about the legal and social issues confronting society as a result of the COVID-19 pandemic. Written during the frantic months of March and April 2020, Confronting COVID: Research and Reflections of Monmouth University Students in the Early Days of the COVID-19 Pandemic is believed to be the first COVID-19—related book in the U.S. authored by college students in real time.
It tackles some of the most challenging issues of the time, including lockdown orders, child welfare, special education, college and university students, unemployment, mental health, the elderly, price gouging, child custody, the stock market, and student loans. The book is available in e-book or hard copy format at the Guggenheim Memorial Library.