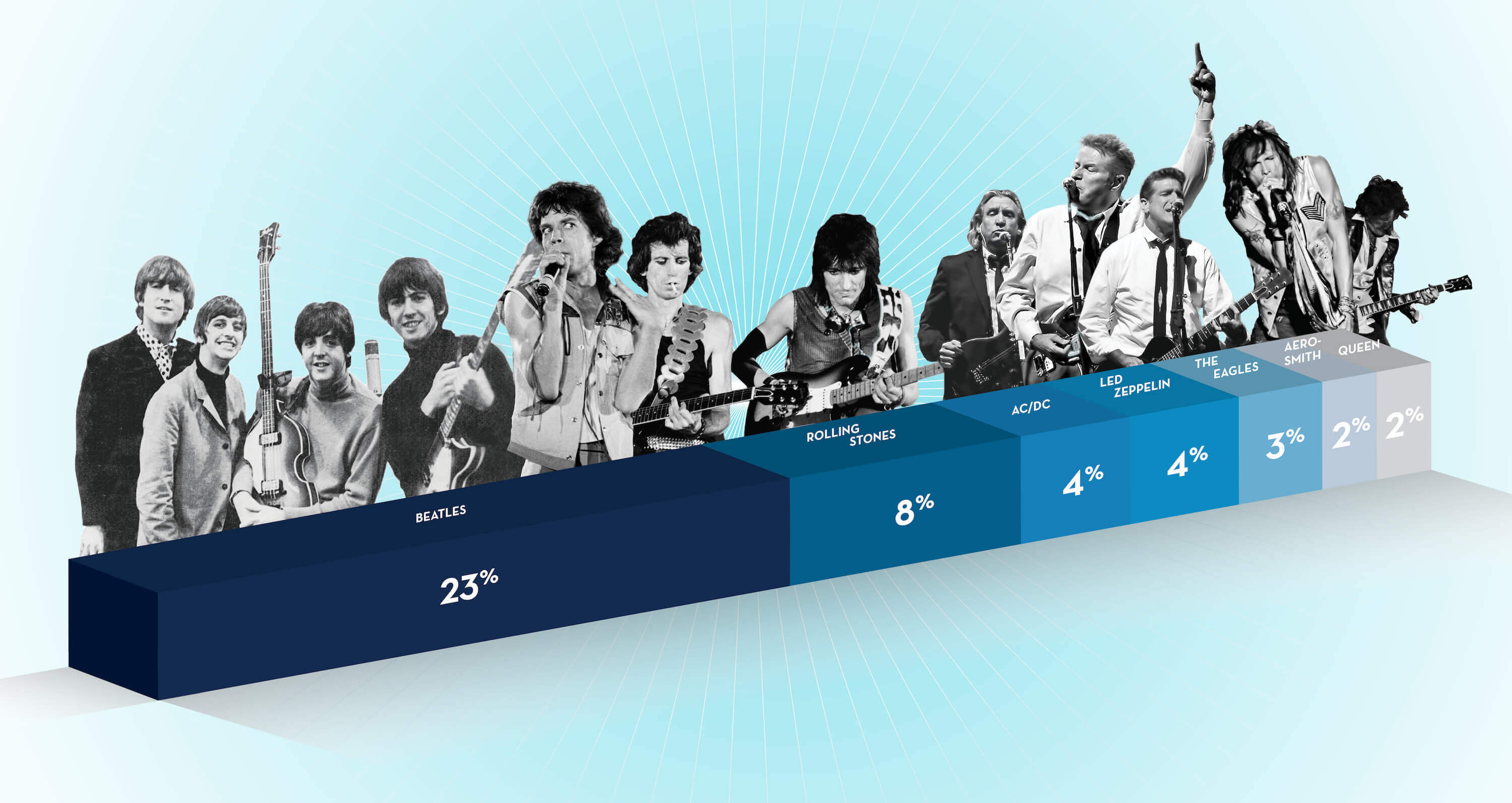 Rock of Ages
In Search of America's favorite Rock band.
Pity the Rolling Stones. Still going strong nearly six decades after they formed, scheduled to hit the road in April, and reportedly working on a new album, they again find themselves eclipsed by their one-time rivals, the Beatles—a band that broke up nearly 50 years ago.
The latest example: In a national poll conducted by Monmouth University's Polling Institute, Americans were asked to name the greatest rock 'n' roll band or group of all time. Nearly 1 in 4 (23 percent) said the Beatles. The Stones finished a distant second, with just 8 percent naming them. AC/DC, Led Zeppelin, The Eagles, Aerosmith, and Queen were the only other bands named by more than 1 percent of respondents.
When asked if they like the Beatles, 86 percent of Americans said they do, either "a lot" (50 percent) or "a little" (36 percent). Eight percent reported disliking the group, while 4 percent weren't sure. Perhaps the most surprising piece of data in the polling report: Two percent of respondents said they'd never heard of the lads from Liverpool.
So take heart Stones fans. Hypothetically speaking, there's at least a sliver of the population for whom your band never played second fiddle to the Beatles. Maybe that tidbit, and Keith Richards' seeming immortality, can give you some satisfaction.
---
Supporting Acts
The following artists were mentioned by no more than 1 percent of respondents:
The Beach Boys
Bon Jovi
Bruce Springsteen & The E Street Band
Creedence Clearwater Revival
Def Leppard
Elvis Presley
Fleetwood Mac
The Grateful Dead
Guns N' Roses
The Jimi Hendrix Experience
Journey
Kiss
Lynyrd Skynyrd
Metallica
Pink Floyd
U2
The Who