Monmouth Hangouts
A trip down memory lane and through the West End to revisit some of our favorite college hot spots.
Last spring, we asked alumni to share memories of their favorite college hangouts. Here's what they told us.
In praise of Jack's
Jack's Goal Line Stand was my favorite place to go for food or a drink with my friends. Jack's had a great atmosphere and featured karaoke on Tuesdays, which gave me many hilarious memories. No other memory stands out more than the time I met Monmouth alumnus and then Dallas Cowboys wide receiver Miles Austin III '19, who was gracious enough to take 30 seconds out of his night to say hi and take a photo with me on his way out. I'm the furthest thing from a Cowboys fan—Go Birds!—but Miles has always been one of the classiest individuals to represent my alma mater.
—Jonathan Weisman '15
Karaoke at Jack's. I participated in many poorly harmonized group renditions of Springsteen and U2 songs there.
—Michael Conway '09
Brighton Bar Memoir
As a Monmouth student from the late 1970s, I can easily write a post on any of the college hangouts pictured in the Spring edition. Num's was the perfect summer hangout, with the deck on the ocean and a lot of Monmouth staffers behind and in front of the bar.
The Laff-Inn and Brighton were the winter places to go. The Laff-Inn, Phi Kappa Si headquarters, had pizza night on Tuesdays and Thursdays. For a cheap investment of maybe $100, Tony, the Laff-Inn's omnipresent owner, had guaranteed packed houses of college kids waiting for their midnight pizzas.
The Brighton, pre-punk days, was the home base for TKE and the preferred Wednesday night hangout—home of the "frosted mug."
As a member of the cross country team, my friends and I would spend a few hours at the library, then supplement our workout day with a late-night, six-mile run through Long Branch—up Norwood, turning right on Broadway, to the Boardwalk. Loaded with $10 in our pockets, we'd make a right in West End and end up around midnight at either the Laff-Inn or Brighton. Our understanding was that if any female college friend chose to drive any of us home, the other guys would fend for themselves and run the last mile back to the dorms together. At about 120 lbs. each, in sweat clothes, and pungent from our run, I can report that all of us always ran that last mile home together. John O'Rourke, our old coach, would have been proud!
—Ed Halper '80
"They might as well have called it Club Monmouth."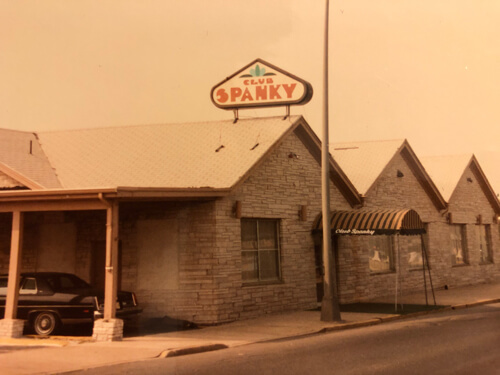 One of the most popular college hangouts while I was a student at Monmouth University (then Monmouth College) was Club Spanky, located on Ocean Boulevard in Long Branch. Once we found someone with a car on campus, my friends and I would often venture to Club Spanky for a break to escape the stresses of school work and to enjoy some good music, performed by bands such as Phantom's Opera, The Salty Dog, and Cahoots.
Club Spanky was a very popular spot for Monmouth students during the 1978–82 time frame. The drinking age at the time was only 18, so the club would often be filled with students, especially on Friday and Saturday nights. They might as well have called it Club Monmouth, because most of the patrons were Monmouth College students.
Afterward we would stop at the Windmill, at its former standalone location with an actual windmill on the building, for some late-night food—such as their famous grilled hotdogs and California burgers. Back then they were open very late—or very early in the morning, depending on how you looked at it.
—Michael Lodato '82
Christmas at Ron's
Ron's West End pub was one of my favorites. There was a back room where the owner would let us get our fantasy football going, and he would put the model train up around Christmas time. It was always a great time sipping a pint while sitting on the rockers on the front porch.
Another favorite was "The Pit" across from the Windmill; it was a narrow path you'd have to go down to the beach. Someone brought a boom box and you could bring a cooler with some frosty beverages. There was a volleyball net too.
—Matthew Chodosh '97, '00M
All's well at the Inkwell.
Coffee at the Inkwell after cheering for Ronnie Kornegay and the great basketball team of the day at "Boylan Gym." College Algebra in the " chicken coops." Standing in line in what was then Wilson Hall as they pulled blue cards for our class schedules. Learning some public speaking at the them-new arts/drama building. Watching the sit-in protests on the Great Lawn. Interesting times.
—Gerri C. Popkin '71A, via LinkedIn
I remember some students who were totally out of it and thought it would be a good idea to put their face into the Inkwell's famous hot chocolate and mounds of whip cream. While delivering orders I would pull their heads out of the cup. Good thing there were no cellphones around then.
—Robert Small '71, via LinkedIn
"Wow, if I could go back for one night!"
OMG, these photos brought back great memories from days gone by! I was at Monmouth from 1973–77—so special! Thursday Nights were the best after a Delta Sig party, then to the Laff-In and Brighton Bar for beers for a dollar. The Inkwell had the best fries and sandwiches, and the Windmill had great onion wings and burgers. Wow, if I could go back for one night!
—Kathleen Sullivan '77, via LinkedIn
Celtic charm
The Celtic Cottage had the best jukebox and burgers on the beach! And don't forget to add a side of cottage fries to your order
—Laura (Embrey) MacDonald '10