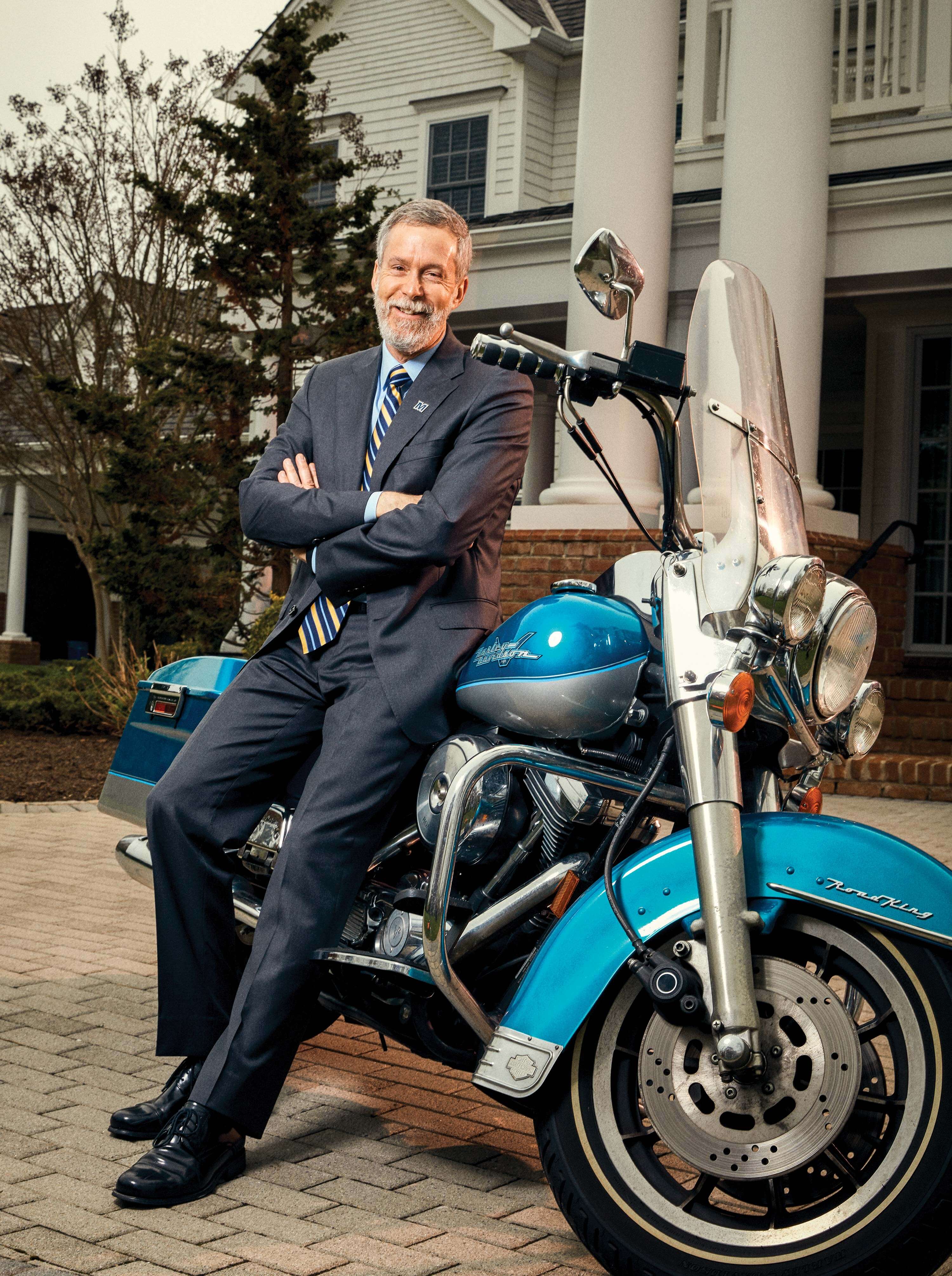 Exit Interview
Outgoing president Grey Dimenna reflects on his time at Monmouth.
on July 31, Grey Dimenna, Esq., will step down as Monmouth University's ninth president, a position he has held since Feb. 28, 2017. After serving as vice president and general counsel from 1995 to 2015, Dimenna returned to Monmouth as president at the request of the Board of Trustees. He said from the start he would stay only until the board hired a new president, which it did last winter: President-Elect Patrick F. Leahy, Ed.D., will take office on Aug. 1.
Dimenna's affable nature and devotion to the University made him beloved by the Monmouth community, particularly among the students. And though his tenure always had a fixed endpoint, it doesn't make leaving the community he considers family any less bittersweet.
From day one, you said your top priority was to be as visible and accessible as possible on campus. As your tenure comes to a close, how would you assess the pulse of this University?
I leave here feeling that morale is sky high. Monmouth feels like a family. It continues to be a great place to get an education. The people care about the students, and the students are proud to be here.
What achievements are you most proud of?
One is our scholarship campaign [Together We Can]. I'm proud that we've been able to raise so much money and that so many people got on board to help students attend Monmouth.
Another is fixing the Greek system. It was headed in the wrong direction, and we were able to turn it around with the help of the students and Vice President [Mary Anne] Nagy ['91M, '01M] and others. That was a great decision to make because it really has made things better for the students.
And I'm very proud that we got the Martin Luther King exhibit set up before I left. A lot of people have said to me how much it means to them. Connected to that was starting the Dr. Martin Luther King Jr. Distinguished Speaker in Social Justice series last October. The two items tie in with the efforts to balance Woodrow Wilson's legacy on campus.
In terms of the Waves of Change exhibit, what do you hope visitors take away from the experience of interacting with it?
Part of Monmouth being a family is that we welcome and embrace everybody, no matter your background, ethnicity, gender, or sexual orientation. Particularly in today's national climate, where there is a lot of divisiveness on these issues, it's important to me, important to the campus climate, and particularly important to the underrepresented students coming here that they understand Monmouth is a place that welcomes all.
Dr. King's message long ago was that we're all human beings, that we're all together and we shouldn't separate ourselves on the basis of artificial categories. We're still working on it in this country, but it is a message that I think is important to get out, and I think the exhibit does that. And I love that the exhibit is right there when you walk into Wilson Hall. You can't avoid it. It's so prominent. So I think celebrating Dr. King's legacy helps to reinforce the message that, at Monmouth, we welcome everyone.
What have been some of your biggest challenges as president?
One was changing the Greek system, which as I mentioned I think we came through great. Something I wish I could have done more for is address the cost of attending Monmouth. The scholarship campaign is going to help with that, but it [the rising cost of college] remains a huge challenge—one that all institutions are struggling with, not just Monmouth. Higher education is expensive these days. One of the reasons it's expensive at Monmouth is because of the nature of the education we provide: the small classes, the individualized attention, all of the support systems. It's not cheap to do that. We could make cuts in places, but it would change the nature of the Monmouth experience, and I'd hate to do that.
What's been the best part of this job for you?
Being able to make a difference in individual students' lives. I love spending time with students, going to student events, talking with students. They're our future, and it's been great to be on campus and have students just come up to me to talk about their issues and problems. I try to always eat lunch in the student dining hall, and I'll pick students at random to talk with about how they got to Monmouth, what their family situation is, what they like about Monmouth, what they're going to do after graduating. Some of my favorite times have been just sitting in the dining hall eating and talking with students.
Another thing has been being the ambassador of the University—particularly outside of campus, talking to donors and others in the community about how great Monmouth is. It's fun to be the face of the University.
I believe very strongly that universities aren't ivory towers or islands, that they are part of their surrounding communities … I want people to see Monmouth as a resource.
Has it been a priority of yours to strengthen Monmouth's community connections?
Absolutely. I believe very strongly that universities aren't ivory towers or islands, that they are part of their surrounding communities, and that it's important for them to have connections with and to serve the surrounding communities. So things like the Rumson field station, which is coming along, and Lakehouse; our programs for Asbury Park High School students; and the Big Event, where our students go out every year and do community service projects—all of these are very important. Whether it's coming here for an athletic event, or for a lecture or art show—I want people to see Monmouth as a resource, and I've tried to make that happen as much as I can.
Tell me something fun you were able to do as president that you didn't get to do as general counsel.
I got to meet Bruce Springsteen because of the connection with the Springsteen Archives. Last year during the Blue/White football game, Coach [Kevin] Callahan let me call the offensive plays. How often do you get to do things like that? I got to dance on stage in the Winter Dance Concert. I got to record a song at Lakehouse because the Blue Hawk Records students asked me to play on it. I can't play guitar to save my life, and I tried to talk them out of it, but they insisted. How many people—especially with my limited musical experience—get to record a song in a professional recording studio? Or live in such a beautiful residence as Doherty House? Or preside over Commencement? I love being in front of people, so getting to be on stage and talk to the crowds and make jokes and such—it's been a lot of fun.
Speaking of Commencement, you thanked your wife, Nancy Kaplen, during the graduate ceremony. What has her support meant to you throughout your tenure?
She is the most important person in my life. She's one of the smartest people I know, and has always been a great sounding board for me when I have a tough issue here. She's got a great sense of judgment, which has been super helpful to me. She's also been a great hostess for the University in terms of the events at Doherty House and on campus.
What's next for the two of you after July 31?
On Aug. 2, we fly to Santa Barbara for a couple of days, just to break up the flight, and then we fly to Bora Bora. I wanted to do something crazy and exotic right after retiring, something that would be completely relaxing. We'll be there for five days, living in a hut over the ocean. The resort is the only thing on the island, so other than snorkeling or kayaking and such, there's nothing else to do. It sounds like the ultimate relaxing vacation.
What will you miss the most about this job?
Spending time with the students. When I retired before, what I found was you miss the people the most, whether it's the people who work here, or the donors and supporters. As president, I've made a lot of friends among the students, so I'm going to certainly miss that.
I'll also miss going to the athletic events. I hope to get to some, but it's not going to be like it is now. But mostly it's the students and the people I'll miss—and Doherty House, because that's a nice place to live.
Is there anything you won't miss?
Setting my alarm. Putting on a suit and tie every day. The responsibility. As president, you're responsible for everyone, and you're constantly thinking of that. It'll be nice to not always be focused on that. It'll be nice to always be relaxed.
Do you have any parting sentiments that you'd like to share with the Monmouth community?
I hope that students will always continue to come first at Monmouth University. We're very student oriented here. It's an important part of our culture and part of the Monmouth story. [President-Elect] Pat Leahy understands that, and I know he'll be carrying on the tradition.
The other thing would be that I hope the Monmouth family atmosphere continues. By that I mean that everyone continues working together for the benefit of the students. I know we've made a lot of progress in the last two and a half years, and I think everyone on campus is on board with the idea. As a family, everyone—faculty, administrators, staff—has an important role to play. And when we all do our role together, Monmouth is a wonderful place and a great place for students.