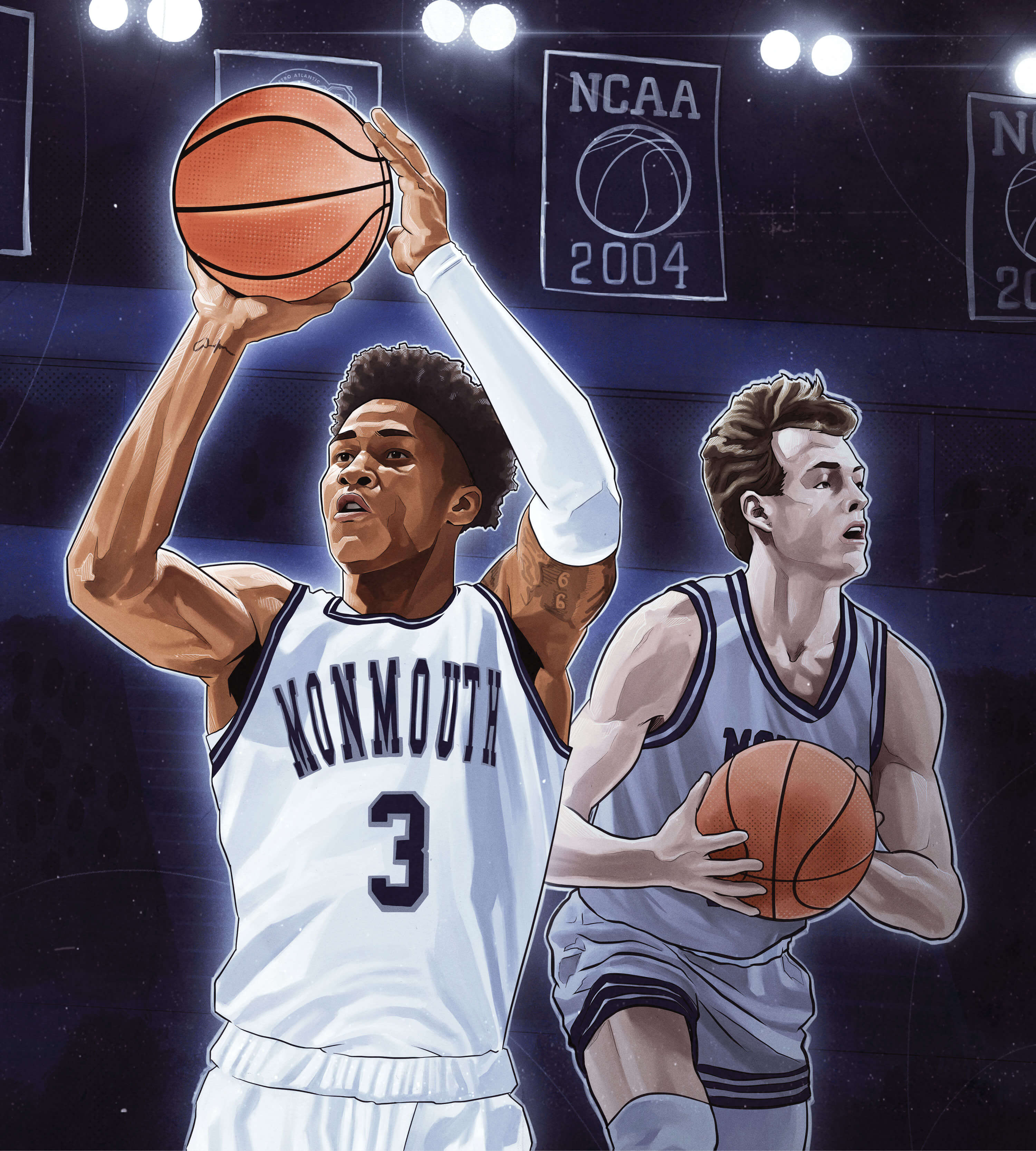 Two On Threes
The Hawks' new and former career three-point record holders talk about life beyond the arc.
For 30 years, Dave Calloway '91, '95M, the former Monmouth men's basketball coach, held the school record for career three- pointers—until senior guard Deion Hammond broke it on Feb. 7 when he canned his 261st trey during a 71–69 road win over Manhattan College. Fortunately, it was a peaceful takeover: The two Hawk greats are acquaintances, and were happy to sit down and talk with us about their shared love of the game, who their favorite shooter is, and more.
This isn't the first time the two of you have chatted.
Dave: Deion was a sophomore when my son, David, was a walk-on freshman, and David always talked very fondly of him: "Dad, this guy is good. He's gonna break all your records." More importantly, David always talked about what a great person Deion is, and how Deion kind of took him under his wing. That always stuck with my son, and I'm thankful for that.
Deion, Dave's record was older than you. Have you seen any highlights of Dave from his playing days?
Deion: Oh, well, I wanted to. I'm trying to find ways to get it.
Dave: It might be in black and white, Deion [laughs]. I don't know that we had color back when I played.
Who is your favorite three-point shooter to watch?
Deion: I'd have to say Steph [Curry] is the best shooter I have ever seen. He will take any shot. That confidence he has, that comes from just hours of practice—that really stands out for me.
Dave: My new favorite is Deion. You can see the confidence in his shot. And I think it's interesting that his favorite player is Steph, because I see some of the quick release that Steph has in Deion. Like in transition, they'll advance [the ball] to him and he's already up into his shot as he's catching the ball. I hope Deion keeps playing as long as he can, because once you get to my age….
Do you ever get out there anymore?
Dave: Well, David, who's a junior at Monmouth, has a nine-year-old brother. So I will do some shooting with him. We have some fun with that. But as far as actual playing—even just a 30- or 40-minute game of just three-on-three—the knees don't feel as good as they do after a round of golf.
Deion, can you imagine your life without basketball?
Deion: Absolutely not. I've been playing my whole life. So it will be hard to live a life without basketball. And this is what's putting me through college right now. I'm blessed to say I can go to college for free because of the game I love. If it wasn't for basketball I probably would have joined the military or something like that.
When did you fall in love with the game?
Deion: I started playing when I was like four or five, and I knew right away this was it, and I've just stuck with it.
Dave: I played football, basketball, and baseball as a kid, so if you asked me then I would have said it was whatever season we were in at the time. But when I got to high school, I grew a little bit. I went to a small Italian Catholic high school, which meant 95% of the guys were 5′ 10″. I was 6′ 2″. So I was the center on my high school team, and we started four 5′ 10″ guys and myself. We went on to win a sectionals championship and lost to St. Anthony's in the state finals. My senior year, I started getting recruited by Monmouth, and then was fortunate enough, like Deion, to earn a scholarship and have my education paid for. It was the best decision for me. Basketball was my life at Monmouth for 24 years.
How did you become a three-point shooter?
Deion: My dad is actually a great shooter, and I learned from him. Growing up I didn't really have concrete, but I had a hoop, so I'd shoot a lot but couldn't really dribble. I'd make my own games, all sorts of stuff, just shooting from everywhere around the backyard. We had this hill back there, and I'd go all the way up on the hill and start shooting down on it.
Dave: My sophomore year, I led the country in three-point shooting. The end of that season, and then all offseason, all the coaches would implore me, "Listen, when you're back there, make sure you're behind the line, we'll get an extra point for it." And my junior year was more of a focus of actually shooting threes. My last two years, I made a lot more threes because it was more of a focus.
Dave doesn't seem fazed to have relinquished the crown. If your record falls, Deion, will you be happy with that?
Deion: I'm not the type of person that would ever talk negatively about people in my sport. So I'll probably be like, "How did you do it so quickly?"
Dave: I'll have a problem with it because I don't want to be number three [laughs]. I'm used to being the number-two person; that's what I am at home.
---
Answers
Nicola Pipoli was ranked No. 99 in 2017.
Doug Rossback started against Sacred Heart on Sept. 25, 1993.
On Dec. 1, 1956, the Hawks beat Jersey City State, 51-47.