The Long Game
In 1992, Coach Kevin Callahan didn't have so much as a campus office, let alone a team. Now, 130-plus wins later, Callahan and hawks football are celebrating the quarter-century mark.
Of course he had doubts. Not many, mind you: Kevin Callahan wouldn't have taken the job if he hadn't thought he could make it work. But starting a program from scratch, all the scraping and building and struggling that implied, with no guarantee it would pay off? Yes, there were doubts, moments when he wondered what exactly he'd gotten himself into, whether he'd made a mistake. It's perhaps fitting that those moments that stick in his mind now have nothing to do with anything that happened on the field.
"My first year here was the first time that I wasn't actually coaching a team in probably 15 years," says Callahan. "I didn't even have an office at that point. I was kind of wondering, Is this really going to happen here? Did I do the right thing?"
That was 1992, a quarter century ago, when the football program at Monmouth College—university designation was still three years away—was more of an idea than a tangible thing, a concept that he and a handful of others were willing into reality. It's a process few coaches ever get to experience, one that no amount of game planning, practice reps, or film study can ultimately prepare them for. The challenge appealed to Callahan, of course, as did the chance to relocate from upstate New York, where he was the top assistant at Colgate, to the sun and warmth of the Jersey Shore. (It didn't hurt that his wife, Ann Marie, is a Monmouth County native.) A year later, he was on the sidelines, coaching once again. He had his players, and he had a program, bare bones as it all was at the time. He was in his element, doing the work he knew. By then, for Callahan, the doubts were long gone.
Presumably it took a bit longer for the rest of the college football world to realize that this experiment on the Jersey Shore would succeed. Twenty-five years and more than 130 wins later, there's no denying the project has been a success. Those who know Callahan best will tell you that the first—and still, only—head coach in Monmouth football history simply wouldn't allow it to fail.
"Coach Callahan is never satisfied, never happy with being average," says former All-American linebacker Joe Sentipal '03. "He always wants more out of his players and more out of the program. He's always on the forefront of doing what's best for his team."
Adds Don Burnaford '72, a longtime Callahan friend: "With Kevin, it's about structure, integrity, and—most of all—character."
This fall, Callahan led the Hawks into their 25th season, a testament both to his consistency and to his ability to adapt to change. It's an almost unrivaled tenure on the college football landscape, and one he couldn't have managed without repeated evolutionary leaps. "We've grown so much in his time here, moving from a little non-scholarship program to where we are now, so there have always been new challenges," says Monmouth Athletic Director Marilyn McNeil. "I think in many ways this has really been more like four or five different jobs for him."
One of the longest-tenured athletic directors in the nation, McNeil has led the Hawks athletic department since 1994, a full two years after Callahan arrived to start building the football program. By that time, the first of Callahan's jobs—the daunting task of implementing a plan, of simply figuring out where to start—was complete. "When I first started," Callahan remembers, "we did not have any facilities, we did not have any equipment, we did not have any players. We also didn't have time to worry about the problems. We just had to focus on solving them."
Without games to coach that first year, he spent his Saturdays in the fall of 1992 traveling the region to watch other teams play. In part, he simply wanted to be involved in the game. But he was working, too, scouting potential opponents for the Hawks' first season the following year. "I knew we were going to be a team made up of 100 freshmen," he says, so he looked for teams he thought his young squad would be able to compete with physically. He also picked the brains of colleagues at a handful of other schools, places that had either recently established football, or had salvaged moribund programs. It was all steady and deliberate, a chance to learn from the success of others and, whenever possible, avoid their mistakes.
It paid off quickly: Without a scholarship player on the roster, the Hawks went 2-5 in their inaugural season, but they were competitive in every game. The program's first victory came just three games in, a dramatic fourth-quarter comeback against St. Peter's in which the Hawks overcame a 17-point deficit to win on a late field goal. "That one was special," Callahan says. His only real regret from that first season was not scheduling more games; in retrospect, he says, "I probably underestimated what we could handle."
A year later, the team went 7-2, the first of 11 winning seasons to come. For Callahan, countless moments stand out: the 2003 team bouncing back from a dreary '02 season with 10 wins and a Northeast Conference championship; the last-second Hail Mary to beat Robert Morris in '04 en route to a second straight NEC title; shutting out Albany on the road in '06 to clinch another conference crown; the 2011 road upset of Villanova. There are more such moments, of course, but you will be disappointed if you expect Callahan to dwell on any of them for long. "I prefer to think about where we're going," he says, "and what the next steps are going to be."
It's easy to forget that this is a sport, that it's not the only thing going on in these young men's lives. He's passionate, and he cares, but he doesn't make it bigger than it is.
Those steps are a continuation of the progress the program has made since its inception, from those early seasons as an independent, through 17 years (and five conference titles) in the NEC, to the move to the Big South Conference in 2014. That success, the increase in scholarship numbers, the transformation of Kessler Field into a state-of-the-art stadium, all are marks of the program's ambition—and all are inseparable from Callahan's refusal to ever be satisfied with "good enough." It was Callahan's vision that drew guys like Sentipal, a North Jersey native who turned down scholarship offers from other programs to play for a Monmouth squad that couldn't offer him aid when he arrived.
"My parents were not happy, to say the least," says Sentipal, with a laugh.
By the time he was done, wrapping up a stellar career as Monmouth's first All-American selection, Sentipal (and presumably his parents) had no doubt he'd made the right choice. "When I think of the program now, I think about all the friends I made, the learning experiences, the winning seasons we had, but ultimately it goes back to the guy who gave me the opportunity," he says. "Coach Callahan just has a dedication to winning, and to turning out good people."
Mike Basile felt a similar pull. Now a senior safety on pace to finish his career as Monmouth's all-time leading tackler, Basile came to West Long Branch in part because of the tangible signs of ambition—a new conference, a new stadium—that were part of Callahan's recruiting pitch. But there was something less tangible that clinched it, says Basile: "I thought he was the guy who could make me better."
Basile cites Callahan's instinctive knack for balancing discipline and encouragement with his players—"He knows when it's time to yell and when it's time to have fun"—as one of the keys to his success. Indeed, the idea of balance in all aspects of life might go a long way in explaining why Callahan has endured. He can focus on the future—on recruiting and facilities and all the rest—even as he maintains strong ties to past players like Sentipal and so many others. He puts in the hours required to prepare for ever-tougher challenges on the field, yet never seems to lose perspective.
"What's always fascinated me about Kevin—he's so calm," says Marilyn McNeil. "It's easy to forget that this is a sport, that it's not the only thing going on in these young men's lives. He's passionate, and he cares, but he doesn't make it bigger than it is."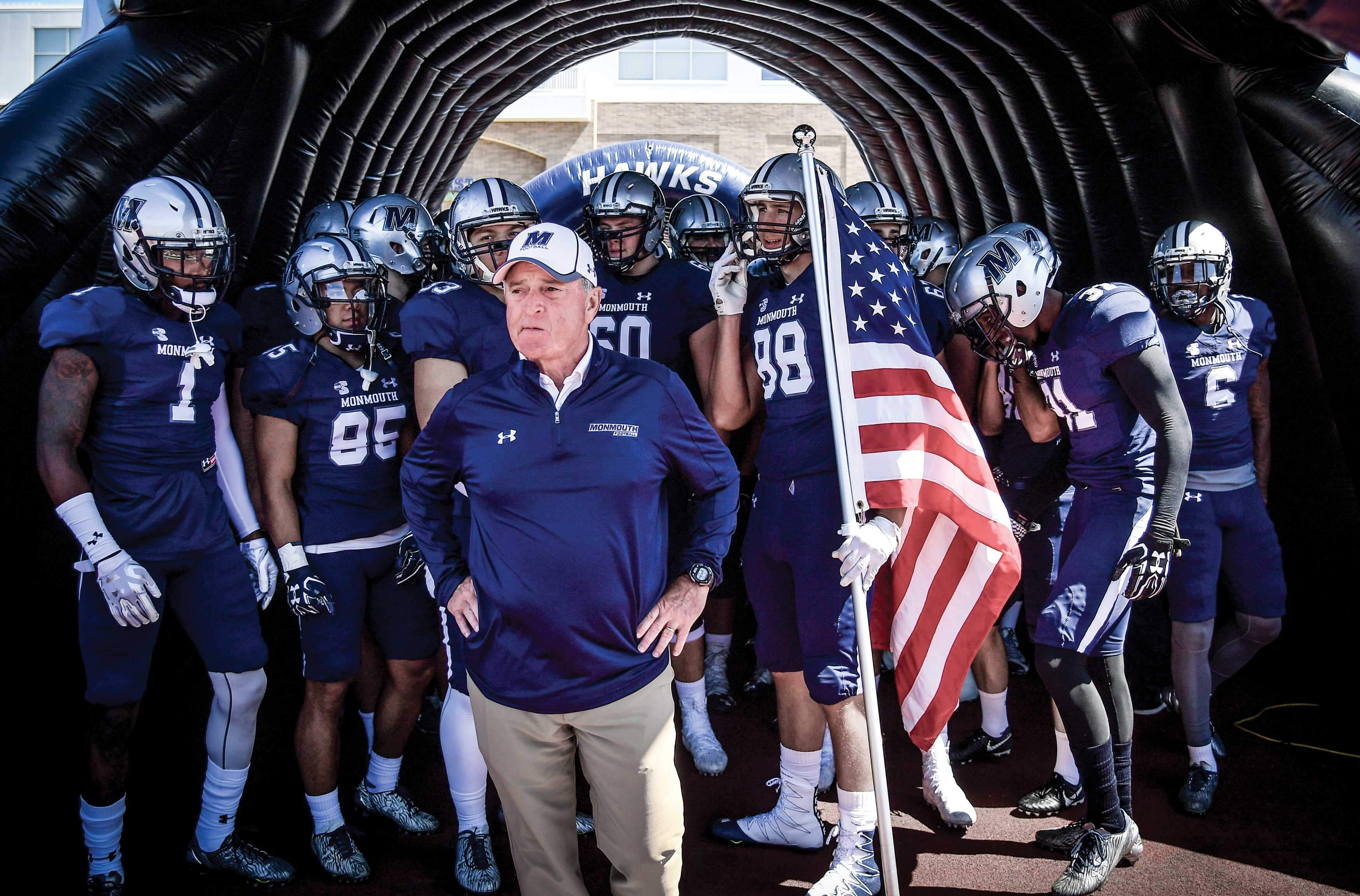 This is the man McNeil remembers being impressed by from her earliest days at Monmouth, a positive, approachable leader whose tenure has made him, in her words, "our dean of coaches." To this day, she says, Callahan's office door is always open, an unspoken invitation to other coaches in the department who might be looking for advice or a sounding board. "He loves to coach," says McNeil, "and he loves to teach."
Where balance is concerned, perhaps that is Callahan's most impressive achievement: constantly evolving, yet never losing the qualities that allowed him to succeed in the first place.
Don Burnaford has known Callahan since he was an applicant for the head coaching job. As chair of the committee tasked with making a recommendation on the addition of the sport, Burnaford remembers being impressed by Callahan's resume even before they'd met. "In 26 years," Burnaford says, "there's never been a hiccup that has ever made me change my feelings about him."
With Kevin Callahan, it seems the only change is progress. And he has no plans to stop getting better anytime soon. "I think there's still so much potential in this program, so many places we can still go," he says. "I want to keep pushing us forward. There's more to come."