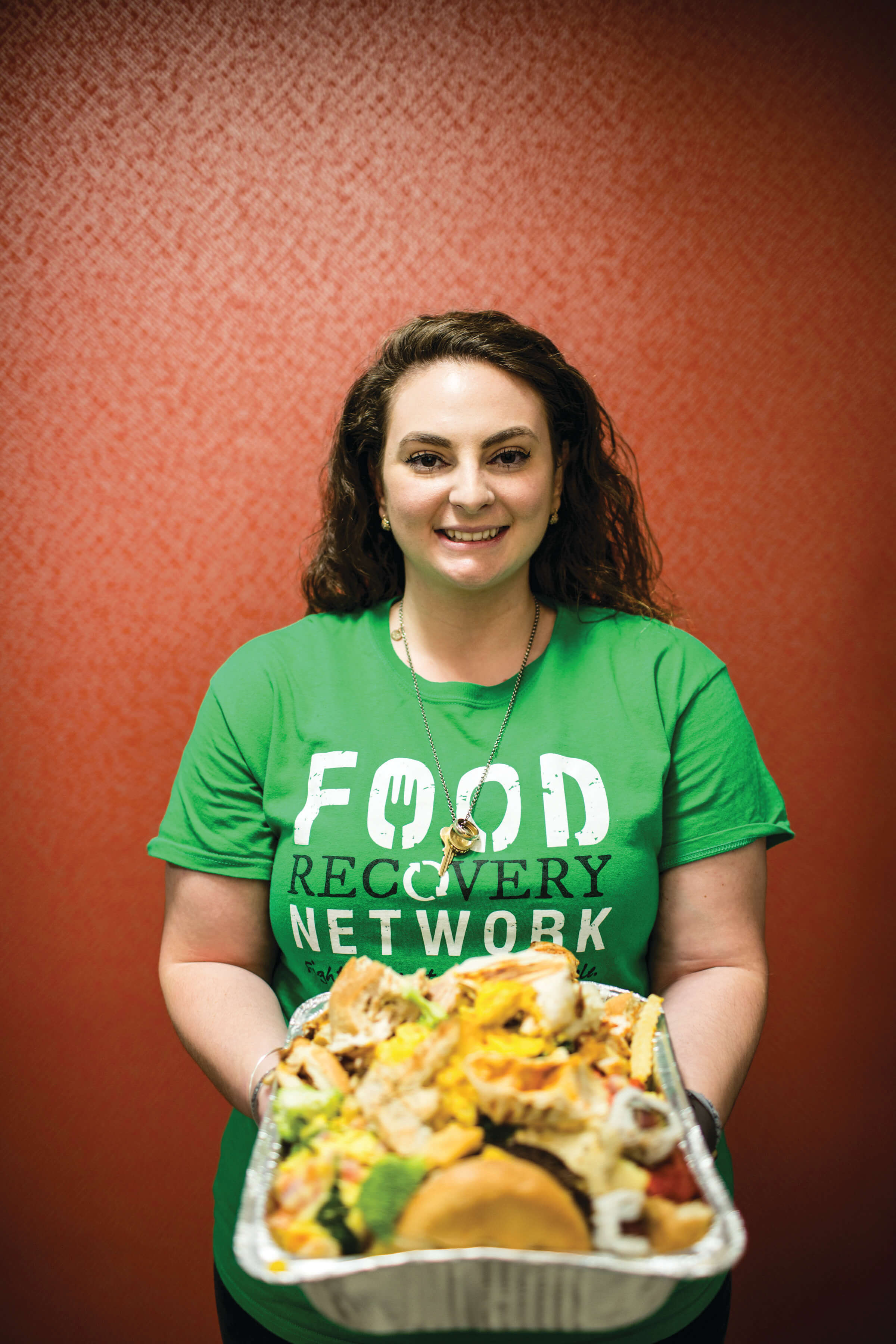 The Fruit of Their Labors
Led by Susan Pagano, Monmouth's Food Recovery Network is reducing campus waste while feeding the
local community.
Every year, 40 percent of all food in the U.S. goes uneaten. This is one of the disturbing facts Susan Pagano, former president of Monmouth University's Food Recovery Network, shares with people to drive home the issue of food waste—when food gets discarded or goes uneaten for reasons that range from a lack of meal planning to people overestimating their hunger.
"It's not just food that you're throwing away," Pagano says of the edible items that get trashed each day. "It's the water, energy, and manpower that went into producing that item. There are so many negative environmental effects that result from people throwing out their food."
After hearing about FRN, a national student-run movement that tackles food waste by feeding those in need, Pagano set out to establish the Monmouth chapter. With help from students in a First Year Seminar class, she pitched the initiative to Gourmet Dining, the university's food service provider, in December 2015, and a collaboration was born. Twice a week, Monmouth's FRN members collect untouched, unserved food from campus eateries and deliver it to two partner agencies: Reformation Lutheran Church Community Food Pantry in West Long Branch, New Jersey, and Meal at Noon in Long Branch, New Jersey. Since spring 2016, Monmouth's chapter has donated more than 5,604 pounds of leftover food to the pantries, helping to feed approximately 4,670 people, according to Pagano.
In the process, FRN has helped Gourmet Dining better identify what food items consistently go uneaten. Chris Ryerson, Gourmet's resident district manager, says this allows the company to make more informed decisions about how much food to order and prepare, resulting in less food waste.
"There was one night in the beginning where we collected close to 300 pounds of food," says Pagano. "Now, on Friday nights, we're getting like 70 to 80 pounds, maybe up to 150."
FRN is extending its efforts beyond recovery and delivery, says Pagano. The group also aims to educate people on campus about food waste and how their individual choices have an impact. The group's "Scrape Your Plate" event, held in Magill Commons in April, encouraged diners to scrape leftovers from their plates onto trays, which were then weighed. In under two hours, FRN collected 22 pounds of food scraps—about the same weight as the average car tire.
"We can do everything that we can to stop the waste of food that hasn't left the hot line in the dining hall, but we can't do anything about plate waste," says Pagano. "I think the aesthetic impact of the Scrape your Plate event—of actually seeing that plate waste weighed right in front of you—forces people to confront something they would otherwise just brush aside."