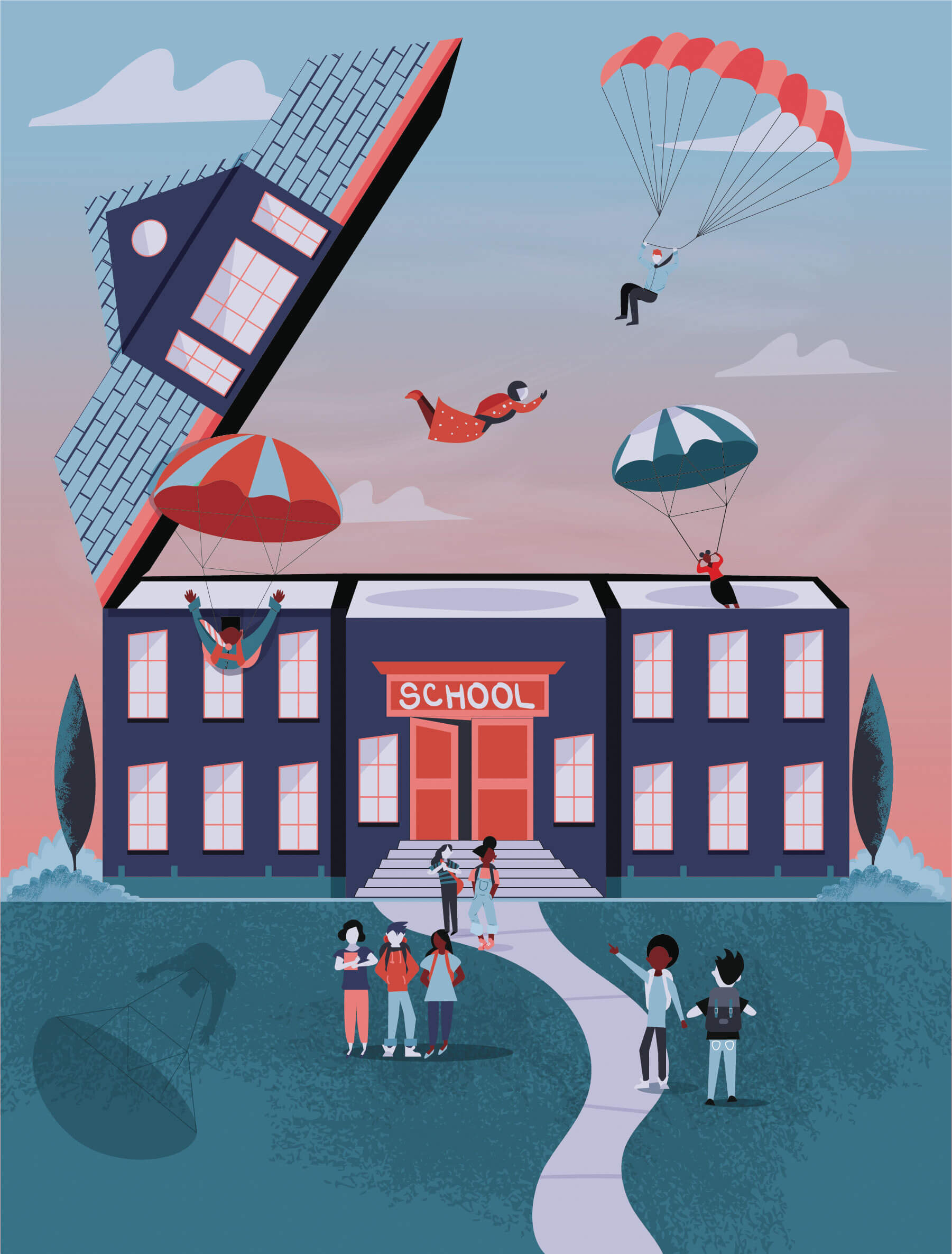 The Evolution of Teacher Preparation
Monmouth's Teacher Residency Program provides K-12 schools with real value in an era of teacher shortages across the nation.
The recent TV hit Abbott Elementary shows just how difficult it is to be a teacher—especially a substitute teacher like the character of Gregory Eddie, who isn't sure how invested he wants to be when he first enters the classroom.
Gregory eventually allows his relationships with his pupils to grow, becoming a leader and a student advocate in the process. And despite his struggles with the day-to-day vicissitudes of classroom management and instruction, he decides to remain a teacher.
John Henning, dean of the School of Education, knows how much tougher things are now for both teachers and schools—due to a perfect storm of a global pandemic, a wave of teacher retirements, and employee burnout.
That's why the core of Monmouth's Teacher Residency Program, which Henning started in 2017, focuses so much on extending the classroom teaching experience beyond what's seen in traditional teacher preparation programs.
"Because I taught for 20 years, I knew that experience was crucial to becoming an effective teacher," says Henning. "And when I became a professor, one thing was sure: If I said something, and then students could see it in their classroom experience, they took what I had to say to heart."
In Monmouth's Teacher Residency Program, student teacher candidates work in schools as substitutes—and sometimes as paraprofessionals and tutors—as their academic schedules allow. Many candidates even end up substituting every day during University breaks as well as after the academic year is over. They also assume a full-time co-teaching role in their senior year.
One aspect of the residency program that Henning is particularly proud of is the yearlong clinical experience that replaces traditional student teaching. Instead of spending just one semester in a classroom, teacher candidates spend at least 10 hours per week in their field placement during the first semester and remain in the same placement while completing their full-time student teaching in the second semester.
Henning believes that spending an entire year in a school enables teacher candidates to develop stronger relationships with their students, other faculty, and the administration. It also lets them experience in-service days, parent-teacher conferences, and after-school events.
"It's tremendous because teaching changes throughout the year," says Henning. "Every day is different depending on where you are in the calendar. Your journey through that academic year is very much influenced by how well you began it and how you started building those relationships."
But while Henning is happy with the way the Teacher Residency Program has prepared his teacher candidates thus far, he's always looking to evolve the program to meet both current and future challenges.
One of the perennial challenges for any teacher preparation program is the fact that most teacher candidates around the country work while they're in college—and most work in food service or other retail jobs not related to teaching.
Looking ahead, one of the innovations Henning is considering is an apprenticeship format where student teacher candidates have the opportunity to earn a living wage while they're learning the teaching trade.
"What would it mean for teacher candidates of the future, and for schools, if instead of working for Burger King, they were actually in a school working, adding value to the school because they can be of real assistance for a longer time?" says Henning.
It's the ultimate win-win situation, because at the same time that the schools are benefiting from the unique aspects of Monmouth's program, the teacher candidates themselves are gaining more extensive experience and becoming more invested as they get more comfortable in the classroom—just like substitute teacher Gregory Eddie on Abbott Elementary.
"I think this is a more equitable and fair way for people who are willing to come into the profession and make some of the sacrifices that go with it," says Henning. "Why not let them get better compensated as they learn how to be better teachers?"