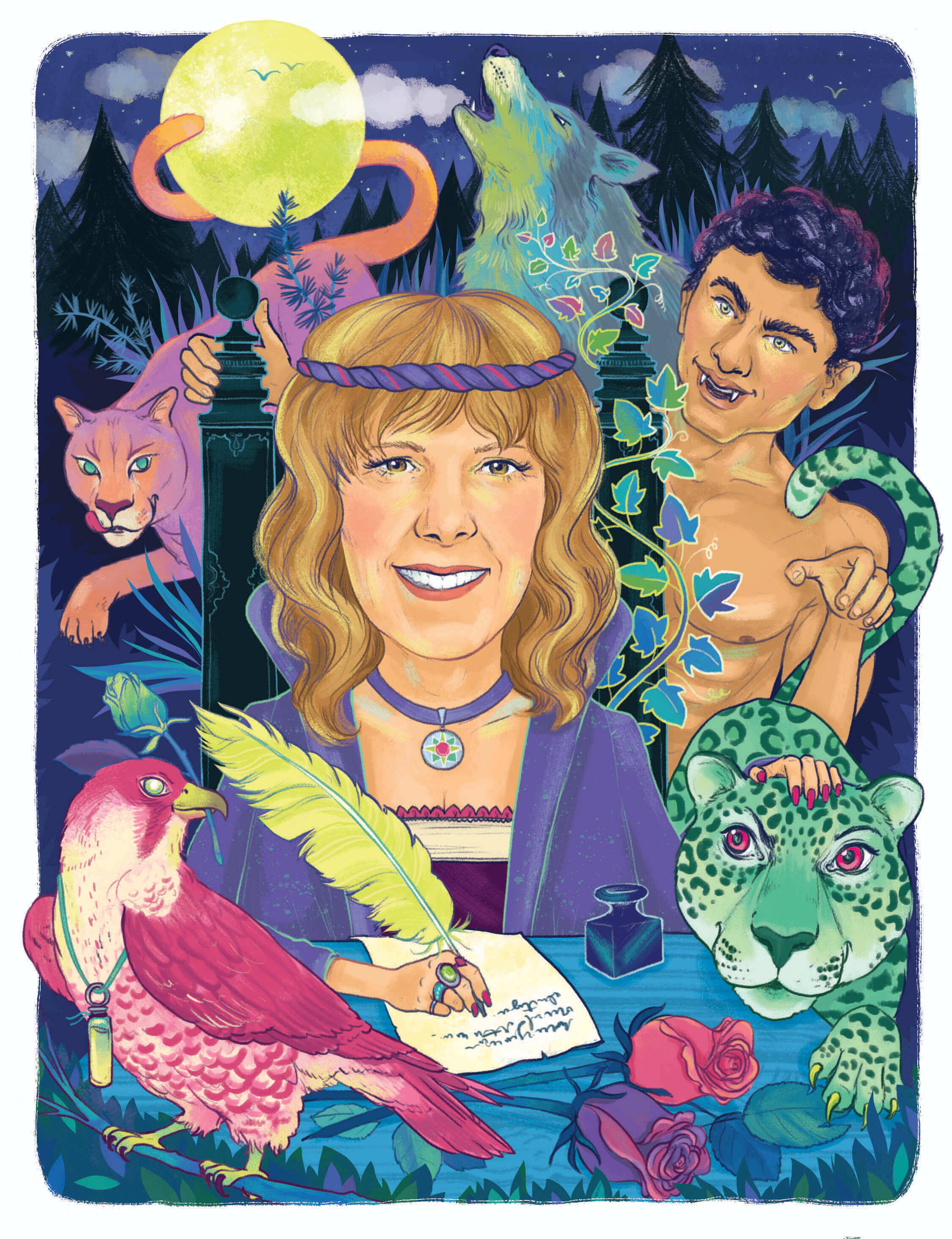 Talking with Terry Spear '81M
Sexy werewolves, jaguar shifters, and medieval Highlanders are all in a day's work for this "USA Today" best-selling author of paranormal books for teens and adults.
How did you get interested in this genre?
I love anything paranormal. When I was 13, my mother took me to see Dracula at the local community college. I fell in love with him. He was the underdog, and I thought he deserved to be loved. I started writing vampire stories, but that was becoming popular, so I thought what else could I write? When I created the Heart of the Wolf series, I based it on some of the lore of werewolves. I researched wolf behavior and incorporated some of their characteristics into the stories to make the werewolves as realistic as possible. My stories are also very contemporary—the pack travels in SUVs.
You were a lieutenant colonel in the Army Reserves. How does that help you as a writer?
I got to fire a tank. I did confidence courses, leadership courses, obstacle courses. It's experiences like that you can't get anywhere else. I have written several stories where I've used some of the situations I was in.
What did you like about Monmouth?
To make lieutenant colonel in the military, you have to have a master's, so I went for my M.B.A. I loved Monmouth. I remember for some of my classes, I was sitting in [Wilson Hall]. I'm trying to concentrate on the lecture, but I'm thinking, this was somebody's home. I was thinking of time travel, and if I went back to the past, I'd be sitting in the middle of somebody's bed
You've written more than 50 books. Can you pick a favorite?
When you're working on a book, that's your favorite. Your whole focus has to be on it. You have to love your characters [and] love your story or it really shows. One time, I tried to write a straight young adult novel—not paranormal—and it was an absolute struggle. I finished it, but it was awful and I never shared it with the world.
What personal accomplishments are you most proud of?
I raised a son and daughter, and I'm proud they have done really well. My son is in the Air Force, and he's getting his master's in computer science. My daughter is a dietician for a school system. She just had her first child, and I get to take care of her two days a week. Being a grandparent is fantastic because after the day is through, the baby goes back home with her parents and I get to sleep.
Your latest novel, Dreaming of a White Wolf Christmas, hit bookstores in October. What can you tell us about it
Readers had been asking for more of the white wolf pack, a group of private investigators who were turned into wolf shifters in Legend of the White Wolf. So, Dreaming of a White Wolf Christmas was born. Romance, suspense, and adventure are all part of the wolf shifters' world—this time at Christmas.