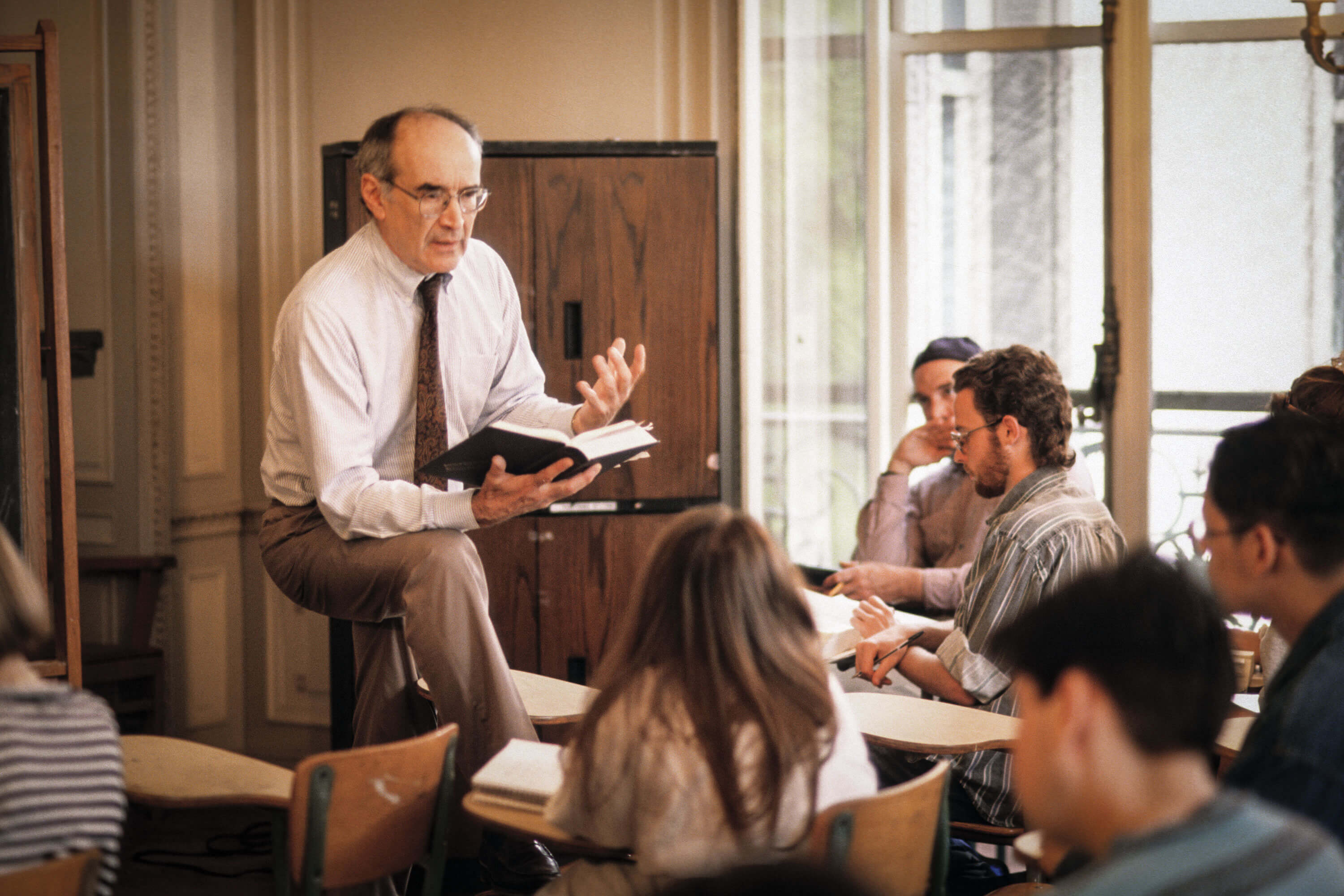 Remembrance: Robert Rechnitz
Professor Emeritus of English, 1930–2019.
Monmouth University was saddened by the loss of dedicated colleague and University benefactor Robert M. Rechnitz, Ph.D., who died peacefully on Oct. 12, 2019, at the age of 89.
A professor of English and American literature, Dr. Rechnitz taught at Monmouth for more than 30 years and was named Professor Emeritus in 1996. In 2001, he was recognized with the Maurice Pollak Award for Distinguished Community Service at the University's Founders' Day celebration and convocation.
Along with his wife, Monmouth alumna Joan Rechnitz '84, '12HN, Dr. Rechnitz established a legacy of philanthropy that extends throughout the Monmouth County region. Their generosity has supported scholarship and internship opportunities for students, academic programming, and Mon- mouth's Center for the Arts and Urban Coast Institute. The creation of Rechnitz Hall, Monmouth's premier instructional space and gallery for art and design; the Urban Coast Institute's Marine Science and Policy Initiative; and the Endowed Chair in Marine and Environmental Law and Policy are all a direct result of the Rechnitzes' philanthropic commitment.
"They gave generously to worthy nonprofits all along the Jersey Shore: hospitals, schools, social service agencies, arts programs," says Carol Cohen LaRose '69, a family friend. "Most people didn't know that because they didn't want to put their names on anything. Bob was always so humble about the impact they had in the region. It was never about self-aggrandizement for him."
He was a visionary. Just a wildly brilliant man, who was full of wit, and who never lost his love for Monmouth.
LaRose says she first met Dr. Rechnitz during her undergraduate days at Monmouth, and later worked with him on a campaign to raise money to build the current home of Two River Theater, the company he founded while still teaching at Monmouth. "He was a visionary," says LaRose. "Just a wildly brilliant man, who was full of wit, and who never lost his love for Monmouth. It really was a part of his heart," said LaRose.
The Monmouth University community extends its heartfelt condolences to the entire Rechnitz family. Dr. Rechnitz's contributions to education, the arts, the environment, health care, and more have enhanced the lives of many and will undoubtedly serve generations of students and community members for years to come.