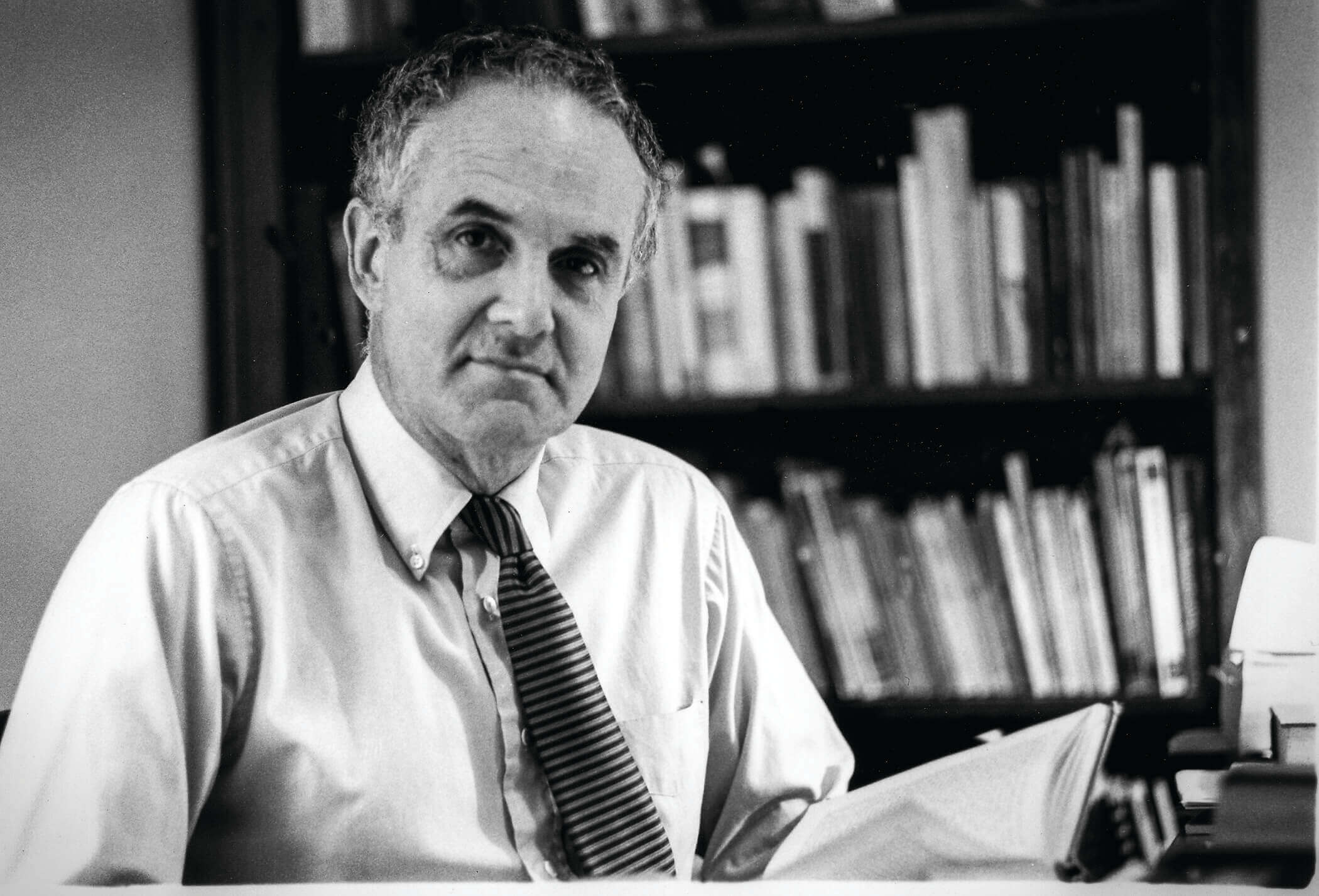 Remembrance: Prescott Evarts
Professor of English, 1938–2017
A dedicated teacher, mentor, colleague, and friend, Prescott Evarts was instrumental in shaping the direction of Monmouth for the last 51 years, particularly in our identity as a liberal arts institution. His passion for the liberal arts stemmed from his lived understanding of how they enrich our lives, help us form community, and connect us with others past and present. His mark on Monmouth is indelible.
Generous, humorous, caring, and constant, he was for so many the "first face" they saw at Monmouth, and certainly the face they saw so steadily and regularly. He was always eager for a conversation, not only about literature, but about movies, houses, running—anything and everything. He knew that the most cemented of relationships are not founded through the single grand gesture or the scheduled appointment, but through the day-in and day-out contact that let you know, over time, he would always be there. While his length of service is itself exceptional, it is not for that alone that we will remember him; it is for his grace of character and his grand example. We mourn his death, but we take comfort in knowing that he did what he loved, every day and thoroughly, his whole life: teaching, reading, writing poetry, running, working on his house, being with his family. A rich and model life, with pleasure, joy, and love.
Prescott worked tirelessly—indeed, always with great vigor and enthusiasm—with students, with colleagues, with the University community, to know us all, to reach us, to recognize us for who we are, and to push us, gently, to be better at being who we are. The tributes posted to him following his death testify to this: alumni from as many as 30 or 40 years ago remember much more than "a great professor"; they recount the details of papers he worked with them on during office conferences. He knew how to work to help students and colleagues learn, to experience the joy he knew through his own accomplishments, to challenge themselves. For the entire Monmouth community, we have lost a part of ourselves, but our best tribute may lie ahead in our efforts to reach higher than we think we can. And, of course, to read an epic (or at least a poem).
Susan Goulding is chair of the Department of English.
Photo: Monmouth Archives