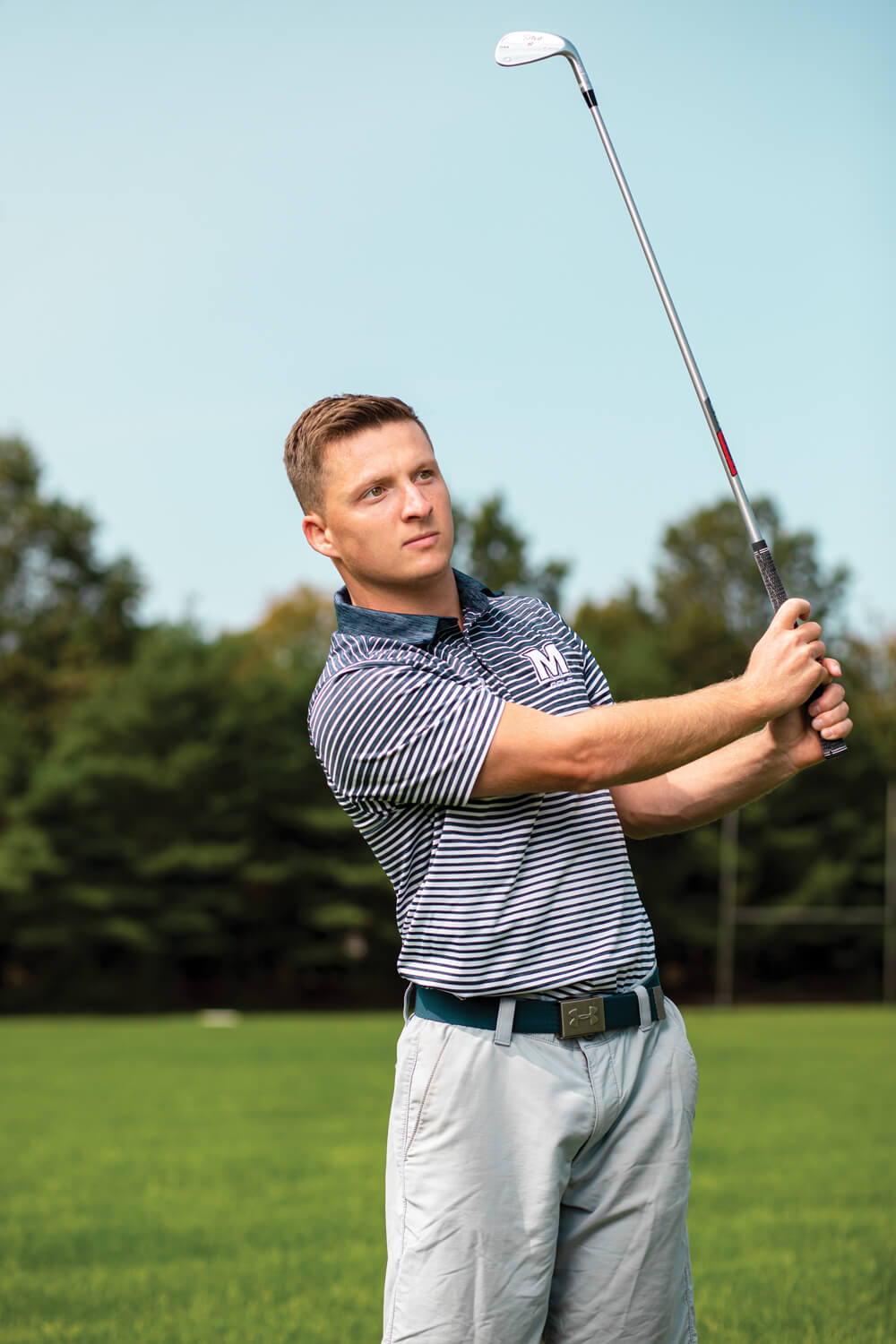 Playing Through
Jimmy Criscione talks canceled seasons, writing a. book, and more.
Senior Jimmy Criscione carries several titles: captain of the men's golf team, president of the Monmouth Student-Athlete Advisory Committee (MSAAC)—and, now, published author. Little Timmy, the baseball-focused children's book he wrote to impart lessons of perseverance on the younger generation, was published last spring. Criscione began writing the story while in high school and drew inspiration from his own experiences as a Little League All-Star whose team comes up one win shy of a trip to the World Series. As MSAAC president, Criscione is playing a key role this fall in the Metro Atlantic Athletic Conference's voter registration initiative. He talked about all of that and more with us recently.
On dealing with a canceled fall season.
I was in the club championship at my home golf course this summer, and I was ready to come out firing this fall. But with COVID-19 canceling the season, we've all had to adjust our mindsets. We're still practicing as a team, and I think playing against each other and setting common goals in our team meetings will have us in even better shape come spring.
On why he wrote a children's book.
Playing baseball and being part of a team taught me a lot of life lessons that I wanted to share. I figured the best way to do that was to write a children's book—one that teaches kids to follow their dreams and overcome adversity.
On the similarities between writing and golf.
In golf, you really need to be specific about what you're trying to accomplish as far as technique. You practice on the driving range or putting green for hours at a time, and then you need to translate those skills into your game. The long hours of practice and preparation are similar to writing a book. I'd spend hours each day working on it, writing and editing to fine-tune the message I was trying to get across—kind of like working out the kinks in my swing on the range.
On why he's working to increase voter access.
As student-athletes and, more importantly, as citizens of the United States of America, we must take seriously our constitutional right to vote, either in person or via absentee ballot. Every vote and every voice is important.
On his childhood sports hero: Derek Jeter.
I was a Yankees fan growing up, and I learned from my parents what a class act he was off the field. He handled himself well with the media. He was always very humble. He was kind. He was someone I wanted to emulate.
On another less-well-known hero: Mema.
My grandmother is one of the most generous people in this world. Before I walked out of the house each day, her message would be, "Choose kindness." So that is something that I take with me every day: Choose kindness, be humble, and help others.
On what golf has given him.
Golf is similar to life: It's about setting small goals and trying to achieve them. The game has made me a better person overall—mentally, physically, and emotionally—and given me the opportunity to grow. I'm grateful I've had the opportunity to compete for a Division I program.