Pieces of Home
International students share the mementos that remind them of home.
The students who come to Monmouth from 31 countries around the world choose to do so for the same reasons their domestic counterparts do: competitive academic programs; the opportunity to actually know their professors (and have their professors know them—by name); the allure of living and learning on an idyllic campus that's one mile from the beach and an hour from New York City.
But the journeys international students take to get here can span oceans and continents, meaning visits home are few and far between. For that reason, many students who come here from abroad bring a treasured object to serve as a reminder of the people and places they left behind. We asked these 11 students to share the story behind their piece of home.
---
Sarah Almuhaish
Home Country: Saudi Arabia
In Saudi Arabia, it is customary to burn oud, or agarwood, in a censer at celebratory events such as weddings, during Eid al-Adha and Eid al-Fitr, and to welcome guests into your home, says Sarah Almuhaish. Other types of incense are also regularly burned in censers, so that their fumes can freshen clothes and a person's hair. "People in my country spend a lot of money on perfume—a lot," she explains. "It's part of our culture."
Almuhaish, who received a scholarship from the Saudi Arabian Cultural Mission to pursue her M.S. in information systems at Monmouth, says she had to overcome "culture shock, weather shock, everything shock" upon arriving in the U.S. from Al-Hasa, the oasis town in Saudi Arabia's Eastern Province that she calls home. She is settled in fine now—she recently got her driver's license and bought a car—but still thinks of home often
"The sense of smell is important to memory," says Almuhaish. "And any time I smell these perfumes, I remember my family, my home, the parties we would have, and all the people I left over there. I have pictures on my phone, but it's not the same. These scents take me home."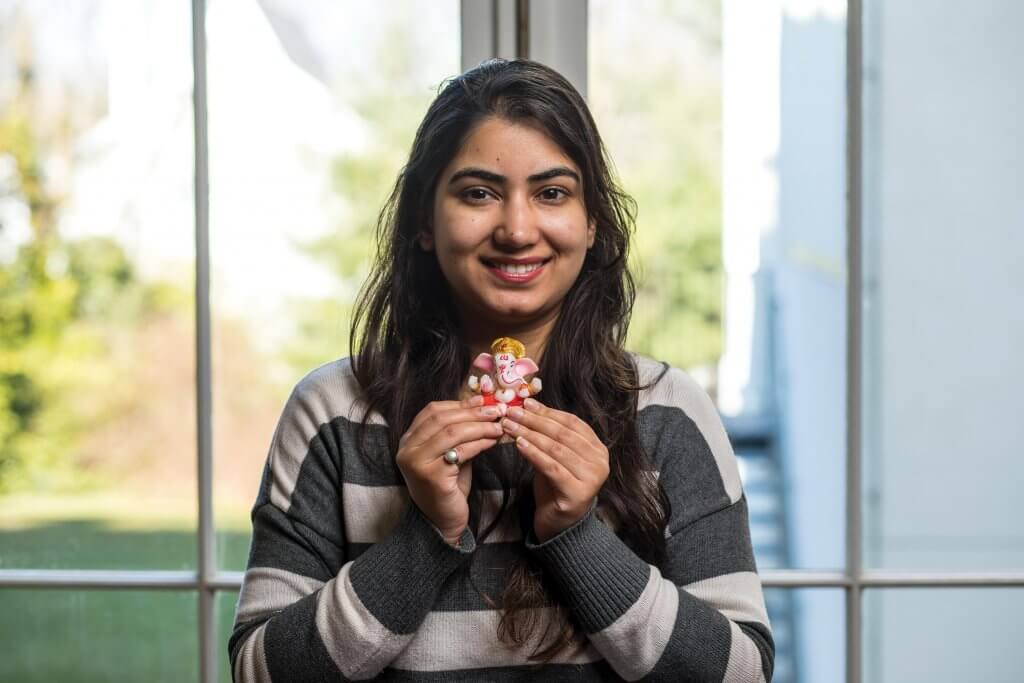 Ridhima Mehra
Home Country: India
After earning her bachelor's in computer science from Punjab Technical University, Ridhima Mehra worked as an IT consultant in Chandigarh, India, for four years before deciding to pursue an M.B.A. to advance her career.
She says she had heard of Monmouth through a friend of a friend, and when she took a closer look at the University, she liked what she saw: a competitive business program, evening classes, and scholarship and assistantship opportunities that would make getting her degree more affordable. One semester into her studies, she's happy with her decision. "My professors are really interactive, the classes are challenging, and my grad assistantship [in the Leon Hess Business School] is going well," says Mehra, who also landed a part-time marketing job with Monmouth's Athletics Department.
"In my culture, whenever we start a new task, or a new job, or even a new day, we worship Lord Ganesha," says Mehra. "We ask him to shower his blessings on us so that whatever we are about to initiate turns out to be a positive." Coming to Monmouth "was a new beginning for my life," she says. "I brought the Lord Ganesha idol so that every day I will have his blessings with me, and whatever I'm doing I'll be successful in it."
Zainab Audu
Home Country: Nigeria
There is a reason Zainab Audu projects a regal air: She is descended from royalty. Her paternal grandfather, now deceased, abdicated his seat as Onu of Ajakouta (an area within Kogi State) because he feared for his safety. He advised his son to stay away too if ever asked to rule. "My father is a medical doctor in Lagos—he's not going to go be a king," Audu says with a laugh, as if it's all very normal. So while the royal bloodline lives on, don't expect anyone from Audu's family to assume the throne, she says.
A student in the M.S. in information systems program, Audu says the fabrics that make up her dress represent her parents' lineage. The patterned part is Ankara, typically worn by the Yoruba people of Oyo State (mom's side). The solid part is Itauba, typically worn by the Igala and Ebira peoples of Kogi (dad's side). "Back home when you wear this, no one cares," says Audu. "But it's the first thing Americans see and ask about, and it gives me a chance to talk about home."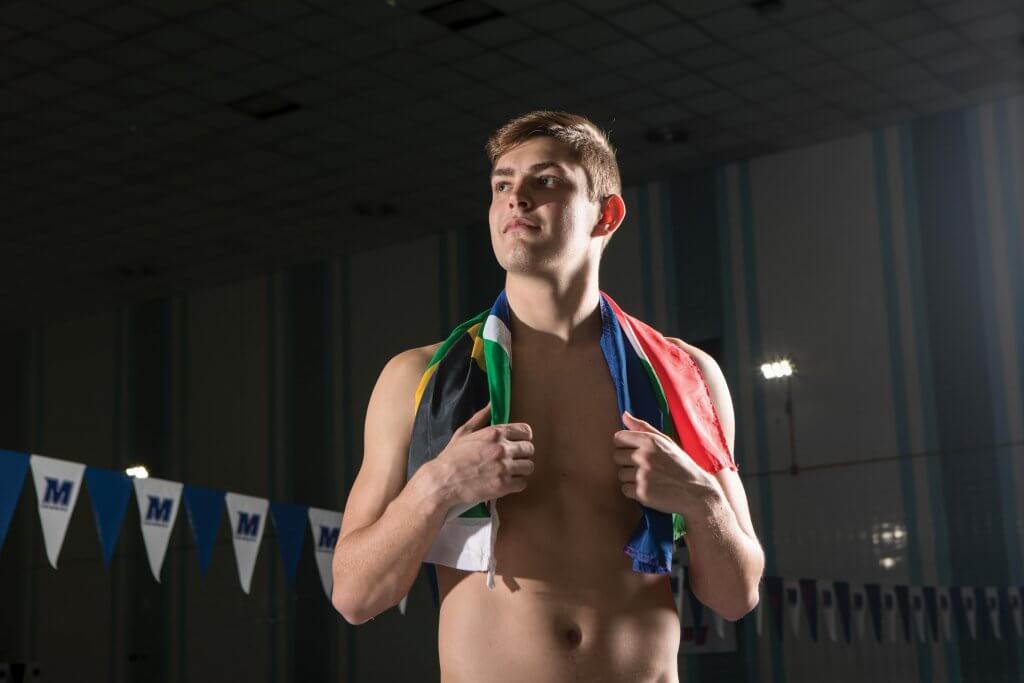 Dylan Barkhuizen
Home Country: South Africa
Being recruited to swim for Monmouth University made it possible for Dylan Barkhuizen to pursue his dream of attending college in the U.S. It also meant leaving behind everything he holds dear: family, friends, his African Bulldog Sven, and his home.
Barkhuizen admits the first two weeks of living on his own "halfway across the world" were rough. "Homesickness hit me so hard," he says. "It was hard to grasp that I was so far away from home." Daily phone calls with mom helped while he settled in and got to know his professors and teammates. Now that it's behind him, he says the process made him appreciate his family even more. "I never knew how much I loved my parents until homesickness hit me."
When he left for Monmouth, Barkhuizen packed a South African flag to hang in his residence hall as a reminder of the people and places he'd left behind. "It brings back a lot of memories of growing up," he says. "South Africa is such a beautiful country, and I'm so proud of it. Looking at the flag just makes me happy. It's a small thing, but it makes a massive impact knowing that I've got something from home to remind me of where I came from."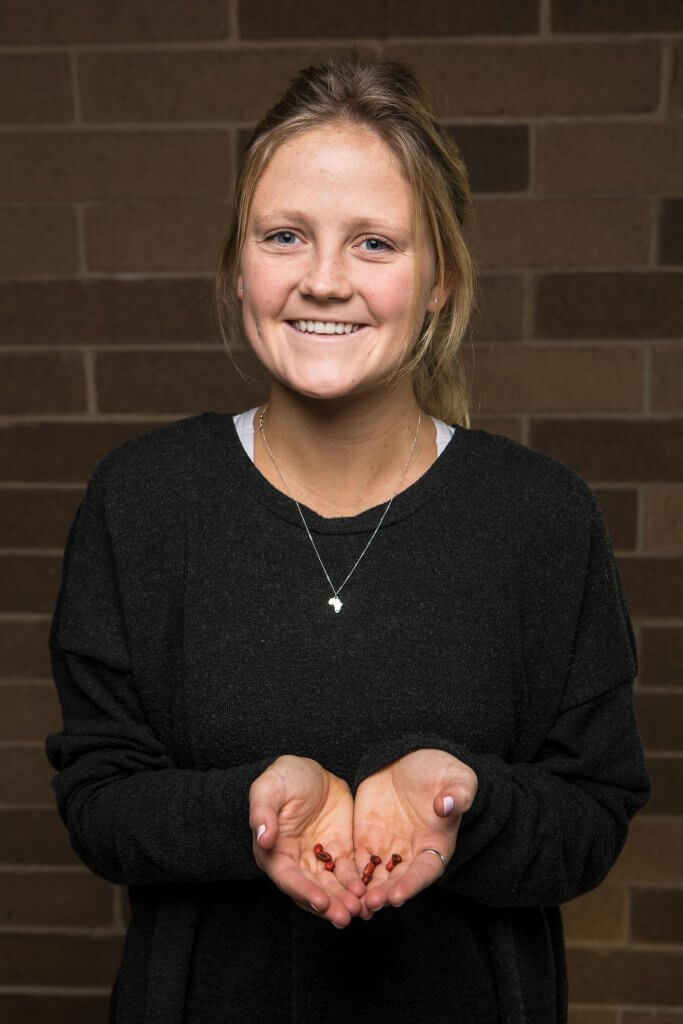 Megan De Lange
Home Country: South Africa
Her teammates call her "Lil Meg," so it's perhaps fitting that the object Megan De Lange brought to remind her of home—"lucky beans"—are themselves diminutive. But you'd be foolish to underestimate the strength of either De Lange or her beans.
De Lange says the beans are the seeds of coral trees that are native to South Africa. (In fact, the trees from which they come, E. lysistemon, are often referred to as "Lucky Bean Trees.") The beans are supposed to keep you safe and give you luck, says De Lange, adding, "I keep one with me all the time."
A sophomore majoring in biology with a concentration in molecular cell physiology, De Lange says her beans come from trees that grow outside her grandmother's holiday home in Plettenberg Bay. "I go there every December, and I'll gather some when I visit. I brought a bunch back and gave them to all the girls on the team."
Last fall, De Lange started all 20 games for the Hawks field hockey team, which captured the MAAC championship. Like we said, don't underestimate the power of De Lange and her lucky beans.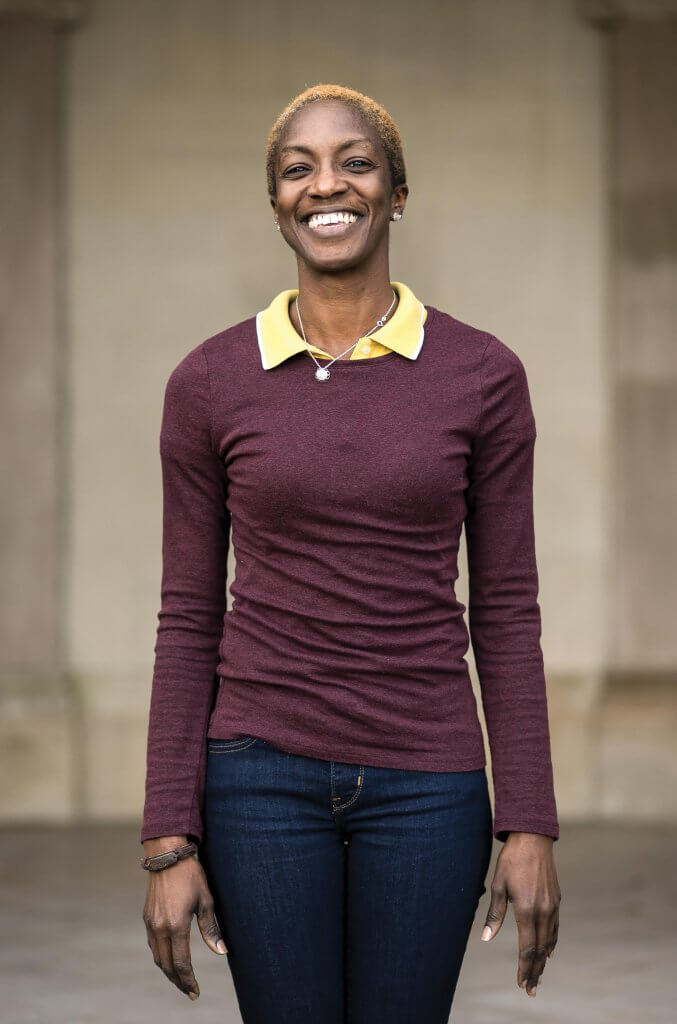 Alicia South
Home Country: Jamaica
The leather bracelet on Alicia South's wrist reads, "Jamaica One Love." She bought it two years ago at a craft market in Kingston, just before coming to Monmouth to pursue her M.B.A. "It's a typical Jamaican greeting," she says. "Every now and again I'll look at it and smile."
South had just finished her last exam—ever—prior to her photo-shoot. Hence the big smile. That's not to say she won't miss Monmouth. She says she "found a family away from home" through Monmouth's Global Education office. She served as president of the International Club for a year and, last fall, mentored two first-year international students. "It felt good to facilitate someone else's transition and make them feel comfortable here."
Born and raised in Jamaica, South says her experiences at Monmouth changed the trajectory of her life, and she is contemplating staying in America. To do so, she'll need to find full-time employment before her VISA runs out. So recruiters take note: If you're seeking an energetic, newly minted M.B.A. grad with experience in international banking and finance—and an infectious smile to boot—look no further.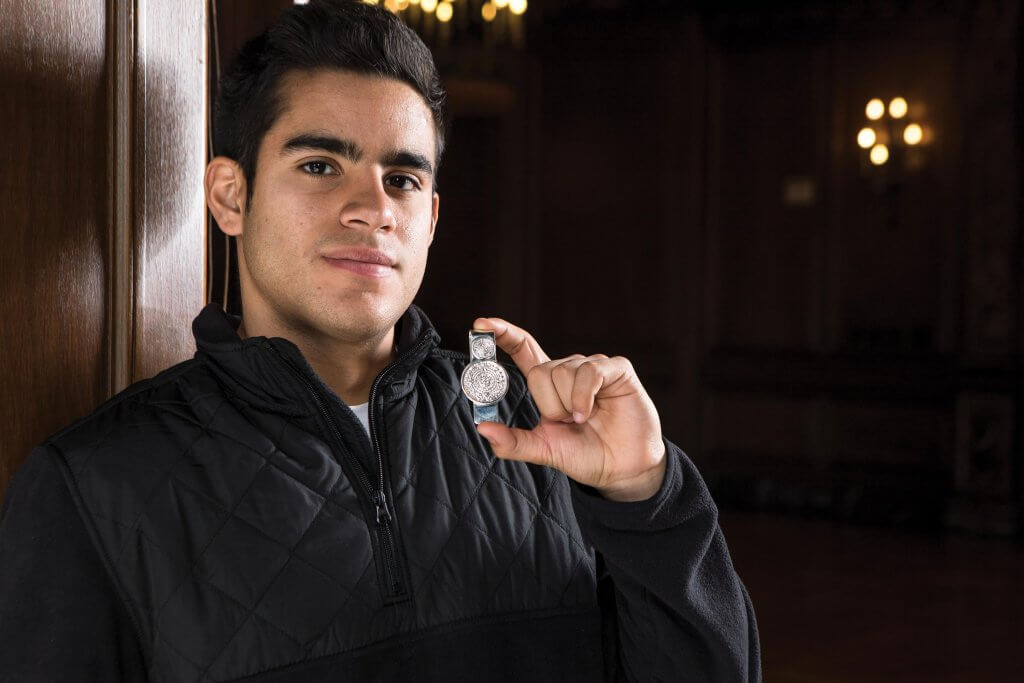 Sergio Martinez
Home Country: Mexico
A few months before leaving for Monmouth on a tennis scholarship, Sergio Martinez was walking through a market in Mexico City with his grandfather, Javier Jimenez, when a silver bill clip engraved with the Mayan calendar caught his eye. "I said, 'Hey, Grandpa, can you buy this for me? I want to have it with me to put my bills in it like you do,'" recalls Martinez.
Jimenez has been an influential presence in Martinez's life. "I look up to him a lot," says Martinez about his grandfather, who still lives next door to the Martinez home in the city of Orizaba. "He built his own construction company from the ground up. He's a hard worker—a laborer who works with his hands but has a soft side too. He's a very caring person and has always been supportive of me and my tennis." And, adds Martinez, his grandfather always carries a bill clip wherever he goes.
Now, so too does Martinez. "It makes me think of the Mayan culture, which has a very strong presence where I come from. And it also makes me think of my family, and my grandfather especially."
Georgia Garden Bachop
Home Country: New Zealand
"Sports are very big in my family," says Georgia Garden Bachop. Her father, Stephen, was a star rugby player and coach; her mother, the late Sue Garden Bachop, was a four-sport star and one of the first women to coach a men's rugby team in New Zealand; and her brothers, Jackson and Connor, both play professional rugby.
At Monmouth, Georgia has made a name for herself in a different sport: field hockey. While etching her name across the program's record books, she helped lead the Hawks to two MAAC Tournament Championships (2016 and 2018). Last fall, as a senior, she was named the MAAC Player and Offensive Player of the Year and the conference's All-Championship Team MVP.
Georgia was born in southern New Zealand, lived in England for four years, and then moved to Wellington, so homesickness "isn't something that happens to me," she says. "Home is where the people that you love are, and I love my team and the friends that I've made here so much." Nevertheless, the photo of her parents serves as a reminder of sorts. "It was taken just after they found out my dad was named to the national rugby team," says Georgia. "They were successful in their sports and helped set things up for me, so I just want to follow in their footsteps and make my family proud."
Aneesha Moyya
Home Country: India
The pieces in Aneesha Moyya's jewelry collection come from across India, and each item has its own story. But together they remind Moyya primarily of her late grandmother, Sukanya, who accompanied her on countless shopping expeditions to acquire them. "She had great taste," says Moyya with a smile. "I have an emotional connection to so many of these pieces because of her."
A self-described introvert, Moyya says leaving her home in Hyderabad meant taking a big step outside her comfort zone. However, doing so has given her a newfound sense of empowerment. "I'm close to my family. My parents always helped me in all of my decisions," she says. "But when you start doing things on your own, you realize, 'I can do that. I don't need to depend on anyone else.'"
Moyya says it had long been her dream to study for her master's in information systems in the U.S. "I enjoy every day here," she says, adding that her grandmother would be particularly proud. "She wanted me to go, so I think she would be really happy I'm here."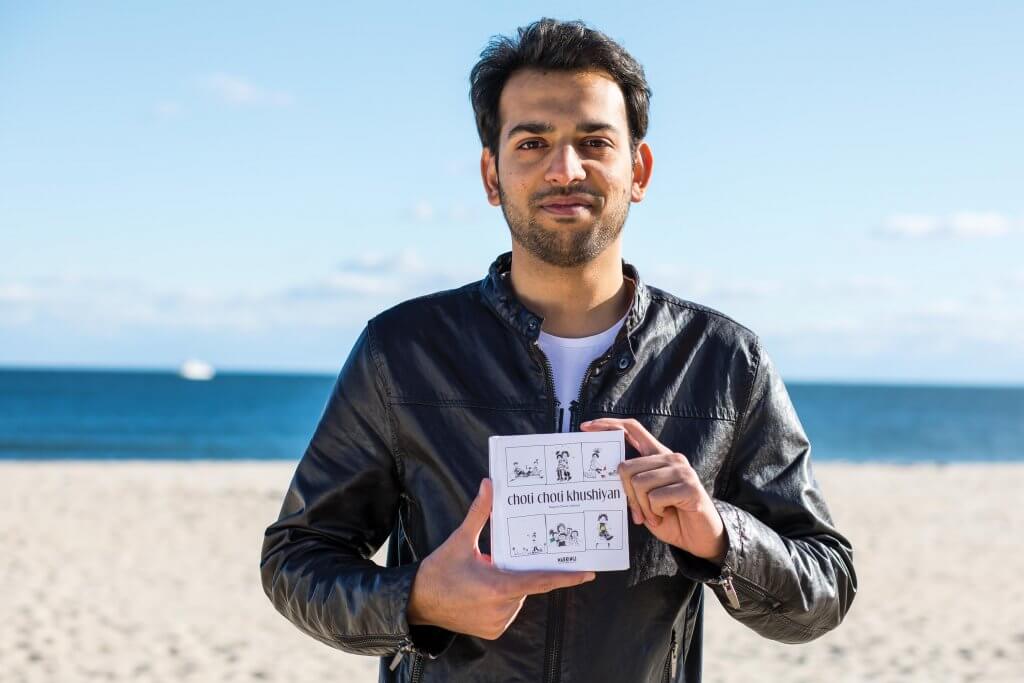 Hamza Zafar
Home Country: Pakistan
"You know the cliché about kids taking apart toys to see how they work? I was all about that when I was little," says Hamza Zafar. He says that love of tinkering and technology led to his interest in the software and IT fields. After earning his bachelor's degree in Pakistan, the Lahore native wanted to continue his studies in America. "It's a driving ground for innovation—the perfect sandbox if you have an idea," he says. "You've got the tools you need at your disposal, and there is a community here that will help you make your dream a reality."
After considering the University of Michigan and Penn State, he chose Monmouth's M.S. in software engineering program because the people here were "friendly and inviting," he says. "The other universities I talked with, their emails sounded robotic—like auto replies."
Coming to Monmouth marked Zafar's first trip outside of Pakistan. Despite that, he says he didn't plan to bring any memento of home because he doesn't get homesick. But when his friends came to see him off, they brought him a present: the book Choti Choti Khushiyan. "The title loosely translates to small pieces of happiness," says Zafar. Each page features a simple line drawing and a few words that highlight the little things Pakistani people enjoy in their daily lives. "These things are unique to, and ingrained in, our culture," says Zafar.
One page shows an illustration of two people and the words "Main aur tum" ("me and you"). Zafar's friends changed the text to read "us" and then drew themselves onto the page and signed it. When they showed it to him, they gave him a hug. "That almost made me tear up, which is a really big thing for me," Zafar says with a laugh. "I'm not a sentimental guy."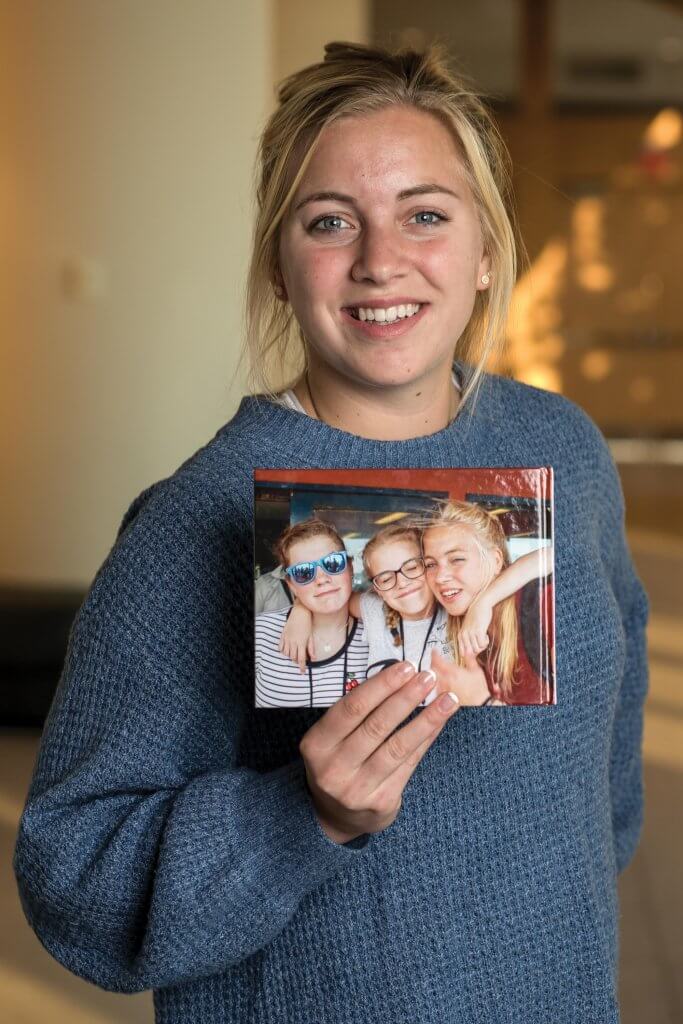 Josephine Van Der Hoop
Home Country: Netherlands
The photo book Josephine Van Der Hoop's mother made for her is filled with scenes from her family's first visit to Monmouth. "It's nice because I can look at it whenever I want to and be reminded of them being here," says the junior business management major. A midfielder on the Hawks field hockey team, Van Der Hoop says Monmouth's size, location, and beautiful campus helped seal the deal when she was being recruited by colleges. "I've loved it here since my first semester," says Van Der Hoop. "I went home [to Rotterdam] after my first semester with a big smile on my face and told my parents, 'I'm never leaving there.'"