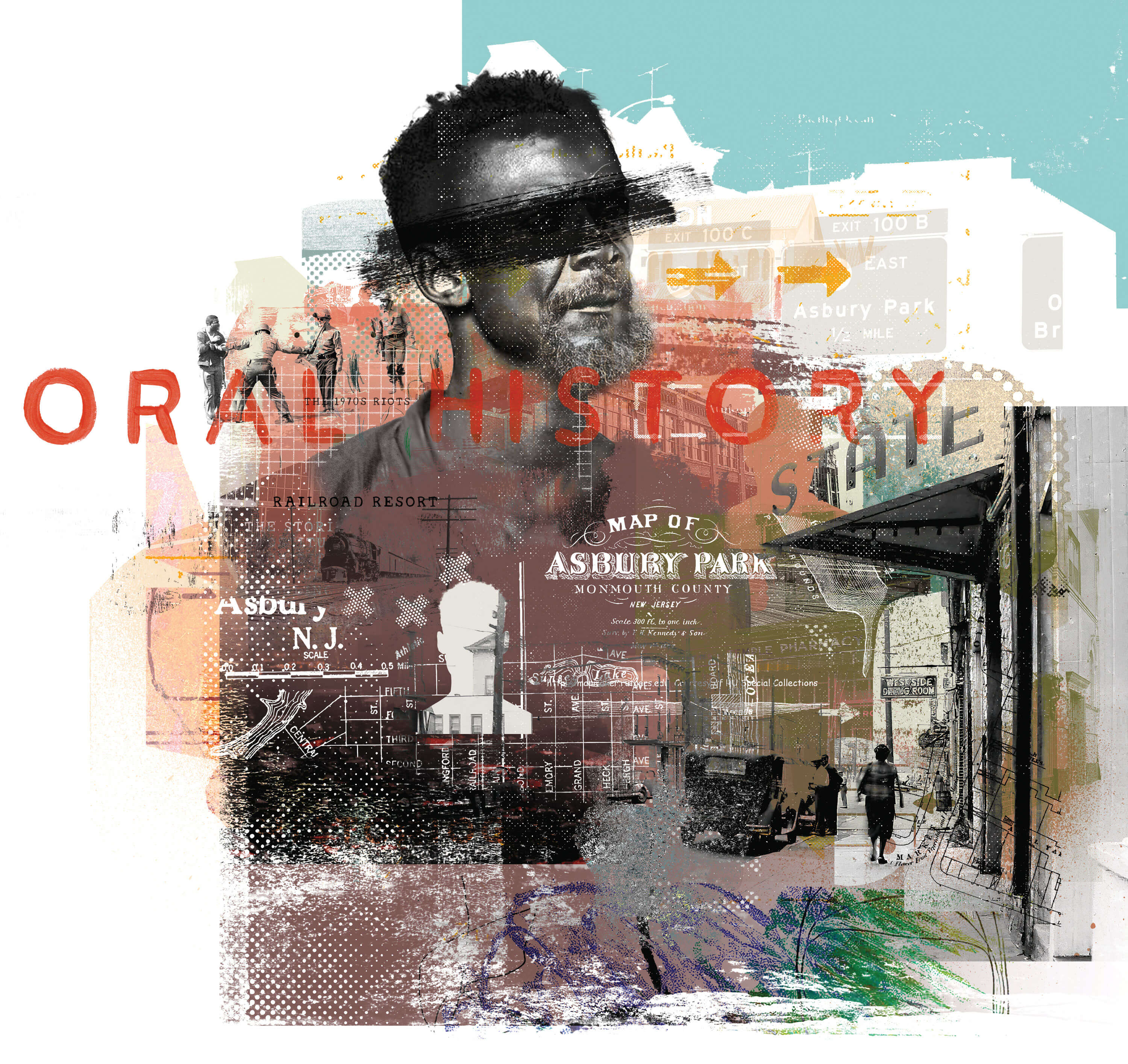 Paradoxical Paradise
An ambitious multiyear project is documenting the rich but often-overlooked history of African Americans in Asbury Park.
The story of Asbury Park is one that often gets told in broad, unambiguous strokes—a city best known for Bruce Springsteen, late-century economic decline, and a swift booming revitalization that made the coastal city a resurrected tourist destination for the wealthy and hip. And when it comes to the city's African American population, the story is even more one-dimensional, typically only pausing on one particularly incendiary moment: the race riots of the summer of 1970, which saw seven days of looting and destruction that resulted in dozens of injuries and more than $5 million in property damage. But Hettie Williams knew there were more nuanced, complicated, and compelling tales to tell—and she wanted the people of the city to tell them.
"Asbury Park has one of the largest African American populations in the state, behind only Newark, Plainfield, and Trenton. But that population has been dwindling over the past few years, and it occurred to me that we needed to document their stories before they were lost forever," says Williams, an associate professor in African American history and president of the African American Intellectual History Society. The African American demographic in Asbury Park has declined by nearly 3,000 people over the past decade, forced out by gentrification and the passing of older generations, she says. "I wanted to find a way for the stories of these people to be told and remembered."
Steeped in research concerning the history of the civil rights movement in New Jersey, Williams began considering how she could best encapsulate the myriad untold narratives of Asbury Park's African American population, which she says have been overshadowed by the riots for too long. But she didn't want to simply produce another academic tome, which could feel distant, antiseptic, and detached from the subtleties of the city and its people. Williams' project had to be starker. Unvarnished. Intimate. And that's when she got the idea to capture oral histories from everyday African American residents, eventually stitching together a vibrant landscape that examines the evolution of this traditionally overlooked population. These were the seeds of Paradoxical Paradise: An African American Oral History and Mapping Project on Asbury Park.
"One of our primary goals was to bring in the voices of the people in the city. We didn't want to claim this as our history. This is the history of the people," says Williams, whose mother, Gloria, marched with Martin Luther King Jr. in 1961. "We are talking to everyday citizens, not political leaders or those with power but average citizens who might never get their voices in a history book."
Williams wanted the project to be interdisciplinary and interactive, and it began just over two years ago when she and two fellow Monmouth professors were awarded a $5,000 Diversity Innovation Grant from the Monmouth University Intercultural Center and the Office of the Provost. According to Williams, the vision was as ambitious as it was important.
Under the direction of Monmouth University Specialist Professor of Public History Melissa Ziobro '05, '07M, Williams' team would collect dozens of oral histories to explore "the largely untold experiences of African Americans in Asbury Park." What's more, the transcripts of these interviews would be housed on a vibrant, interactive, multimedia website comprising archival photos, a short documentary film, and an interactive map that would allow users to explore hundreds of important Asbury Park locations and their relationship to the broader tale being told by the project. And all of it would be free and fully accessible to anyone who cared to visit.
"I wanted this to be a teaching tool that the public could access anytime they wanted," says Williams, who also worked closely with the Asbury Park Historical Society and the Asbury Park Museum. "So much is now behind paywalls or requires you to be a member of a certain school or institution. I wanted something you simply had to Google."
Since the inception of Paradoxical Paradise, Williams' team has collected 21 oral history interviews—the transcripts of which are all available and fully searchable on the project's website—and archived dozens of historic photos, newspaper clippings, and other primary source documents.
"Oral history is all about recording these people's memories and experiences in their own words," says Ziobro, who has more than 15 years of experience recording oral histories and is the current president of Oral History in the Mid-Atlantic Region. "And all of them are saved in full. They aren't edited down to snippets or something neatly polished. And that then becomes part of the historical record—a primary source that transports people back to a certain era in time."
The effect is disarmingly intimate, and to read these transcripts is to tuck oneself into the most familiar and private corners of the subjects' lives—the spaces previously left unexamined by the blinding lights of broad, historical narratives and gated out of fusty works of academic literature. Consider, for instance, this excerpt from an interview with Roy Riller, a 90-year-old resident of the city who was born in Louisiana and moved with his family to Asbury Park when he was 10 years old. Here, Riller recalls one of his earliest memories of experiencing racial inequality at one of the city's public pools, painting an unvarnished picture of youth and tension that unfolds as vividly as though one were experiencing it in real time.
"I'm riding, being nosy, just being a kid," Riller begins. "These kids were standing out front, these Black kids. And they had their little bathing suits, rolled up in the towel. They're standing around, and they wasn't looking happy. So I pulled over. I said, 'What's the problem?' One came, and he said, 'They won't let us in!' I said, 'What do you mean they won't let you in?! This pool is a public pool.' 'Well they told us we can't come in. And they said, they got a club swimming.' That was their cover. They told the kids, 'They got a private club swimming. So you can't come in now.' So I said, 'OK, wait here, let me check it out.'"
In addition to embracing the cultural value of the Paradoxical Paradise project, Ziobro has been invigorated by the educational opportunities it has afforded her students, who are responsible for conducting the interviews.
"I think one of the things my students find so surprising is how much racism and segregation there actually was in the city," says Ziobro. "Students typically just think about being in the North and how the North were the good guys in the Civil War, and that's the end of the story. No. There are countless stories in these oral histories about segregation, about being young and Black and restricted from various places. And that leads to some interesting conversations about whether everyone feels equally comfortable and can equally enjoy Asbury Park, even today, or are there still de-facto lines that don't get crossed?"
Documentary filmmaker and Director of Monmouth University Production Services Erin Fleming echoes this observation. Over the past year and a half, Fleming worked with a crew comprising Monmouth students and film professionals on a short documentary called The Great Migration and Asbury Park, which was screened in October and can now be viewed on the Paradoxical Paradise website.
"I was continually struck by seeing the emotional reactions on students' faces when interviewing our subjects," says Fleming, a native of Ocean County. "There was this general lack of awareness and knowledge about Black history. I think this is an area of history they're just beginning to explore, and it's been rewarding to see them beginning to understand this important and often-misrepresented population."
Looking ahead, Fleming says she hopes to make a feature-length documentary reflecting an even broader and deeper examination of the themes that originally inspired Williams to create Paradoxical Paradise.
"I've produced stories on so many different topics in my career, and what I find is that the experts who study these communities know a lot, but not everything. And that makes anecdotal, on-the- ground storytelling so important," says Fleming. "We've produced stories about the environment, and the data collected by scientists and researchers is enriched by historical accounts from local populations that are using the resource on a much more intimate level. You need both, and that's what we're doing here with these stories from Asbury Park."
Eventually these stories will also be connected to an expansive interactive map of the city designed by Geoff Fouad, associate professor of geography. As of now, Fouad has only created a prototype of the map, which is being used to apply for the grant funding needed to bring his ambitious, multimedia vision to fruition. In the end, he hopes to create an interactive experience that allows users to click on various locations throughout the city to see photos, watch videos, or hear excerpts of oral histories that reference a particular spot.
"A map is a visual repository, and the end goal is for this map to be part of how we tell the history of African Americans and Asbury Park," says Fouad, who also heads up the overall management of the Paradoxical Paradise website and intends to work with at least one student when the next phase of the project begins. "I'm excited to be a part of elevating a culture that's been widely overlooked and over- shadowed for so long."
With the first phase of the project behind her, Williams says she and her team are currently preparing grant applications for the spring, which she hopes will yield enough funding to create the map, conduct more oral history interviews, and expand Fleming's documentary into a feature-length film. What's more, she wants to expand the Paradoxical Paradise umbrella to include a plurality of voices from the city, including many of its older non–African American residents who may have compelling reflections on the evolution of social equality and restorative justice in the city.
For instance, Williams recalls hearing from an Italian American gentleman who attended the screening of Fleming's film in October. He told her that his family has called Asbury Park home since the mid-19th century but that he remained largely unaware of the various forms of racism, segregation, and discrimination that were taking place all around him.
"It was a really emotional and upsetting moment for him, but I told him that everybody's stories should be heard, and I invited him to give an oral history," says Williams. "Look, history is many people talking at once, and we want as many voices as possible for this project because this is an important and sometimes difficult dialogue to have."
As for the inspiration behind the project's title, Williams says it speaks to the thorny and confounding dualities that have coursed through the city since its founding in 1871—a blithe, sunny beach resort that cast long, intimidating shadows across many of its people, barring them from the joys and rewards reaped by others. Even today, Williams points out, many of Asbury Park's African American families are being displaced by a booming tourist economy and the skyrocketing rents that come with it; and for those who remain, some families are so economically disadvantaged that they can't enjoy luxuries in their own backyards, including something as simple as a $6 beach pass.
"Yes, this project is about Asbury Park, but it's also about something bigger in the human condition because the history of African Americans is the history of a struggle for freedom," says Williams. "I hope this helps people become more cognizant of the struggle for Black equality. It's Black people who called this nation to conscience. African Americans have done that. And all of us can and should learn about this experience because it says something about the larger humanity—all of ours."