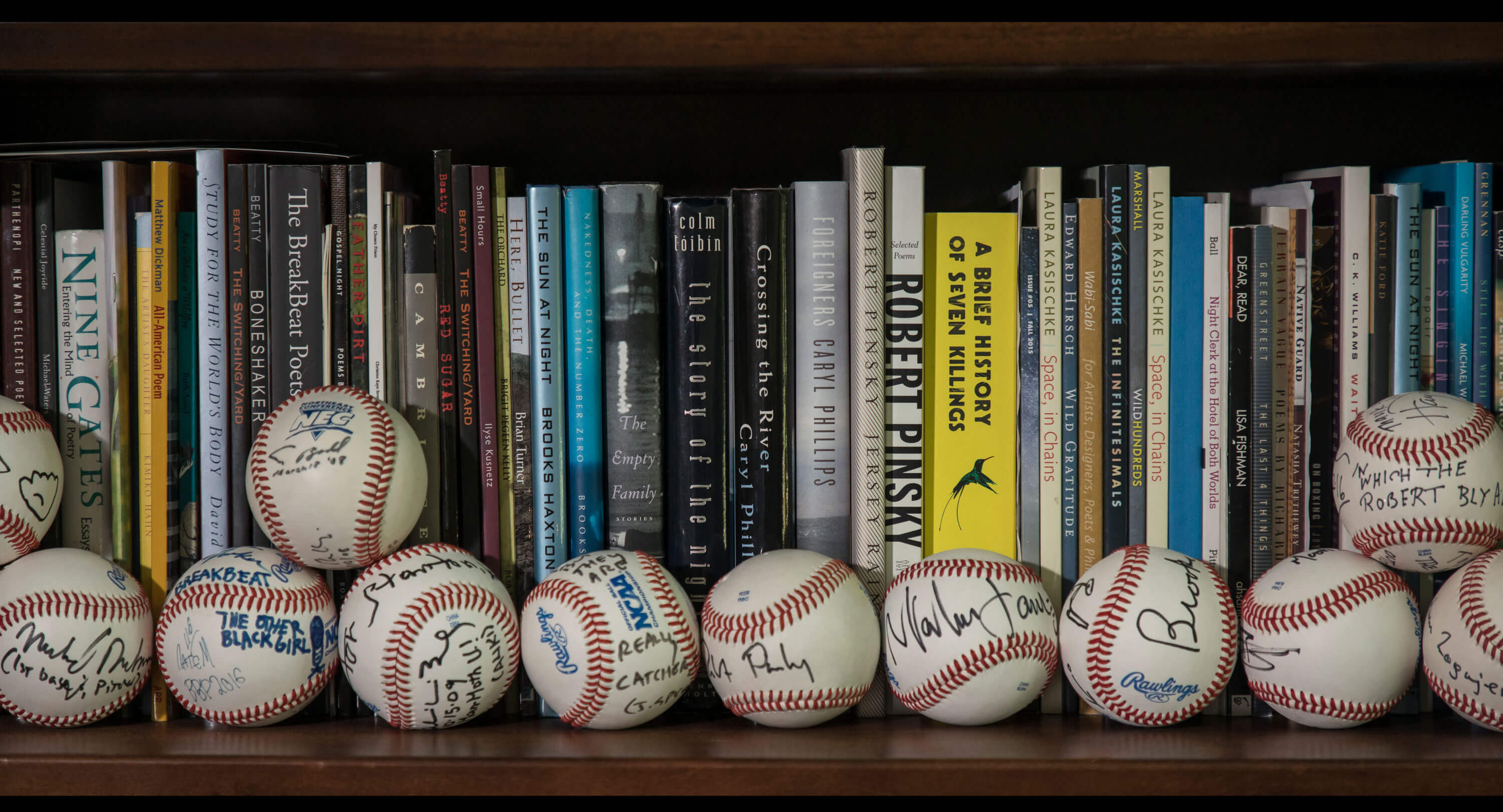 One for the Books
There's an unusual tradition surrounding the university's Visiting Writers Series.
Written in all caps in black ink between the red stitches of a regular ole baseball is the line, "Poets think they're pitchers, but they are really catchers."
The author, playwright, and poet Nick Flynn inscribed the phrase there—a hat tip to the late poet Jack Spicer, whose words they really are—and signed his name, almost illegibly, above it.
Next to it is another baseball with the name of poet, essayist, and literary critic Robert Pinsky written simply in small, tight cursive. Next to that is one with the name of author Marlon James, written in big, sweeping letters, accompanied by a drawing of a single baseball glove and the phrases "Big Up" and "Walk Good," which are Jamaican colloquial terms that loosely translate to "much respect" and "take care."
"It says something sometimes about their personality," Associate Dean Michael Thomas says as he examines the style of each author's signature. "The best thing is when people do little drawings, like the poet Brooks Haxton with his baseball player there, and Jane Hirshfield tried to draw a baseball glove—I think she did well. She was actually more critical of it than I was."
Thomas, who has run Monmouth's Visiting Writers Series since its inception in fall 2005, has in his once 16 baseballs signed by the various writers who have come to campus as part of the series. The baseballs sit on a shelf that is also home to the novels and books of poetry written by the authors themselves.
Thomas says the idea to have visiting writers sign baseballs came to him somewhat randomly after the series began. Both he and Stan Green, dean of the School of Humanities and Social Sciences when the series began, have a deep love for the game.
"I started working for him, and his love of baseball—I started to feed o of that," says Thomas. "Then I said, 'Why don't we have the writers sign baseballs for us?' And he loved the idea, how it would be a record of them being here and how it would bring baseball and poet- ry together."
Thomas missed getting the autographs of some of the early visiting writers, such as poet, essayist, and memoirist Mary Karr, as well as a handful of other writers who he, in his planning and execution of the popular event, forgot to ask the day of—like the famed author and playwright Joyce Carol Oates (though he's toyed with the idea of driving out to Princeton to get her John Hancock).
But the 16 he does have signed by about some dozen-and-a- half writers and one filmmaker—some balls include multiple signatures—reflects the diversity and breadth of talented artists who have passed through campus and provided touching and impactful readings over the past 13 years.
"I get to bring poetry and literature to audiences and introduce them to these writers that then have this impact that is immeasurable for people, this emotional, intellectual impact," says Thomas. "It's spiritual—I'm not a churchgoer but I'm a devout poet—and it's the shared experience of the literature that awakens and heals people."