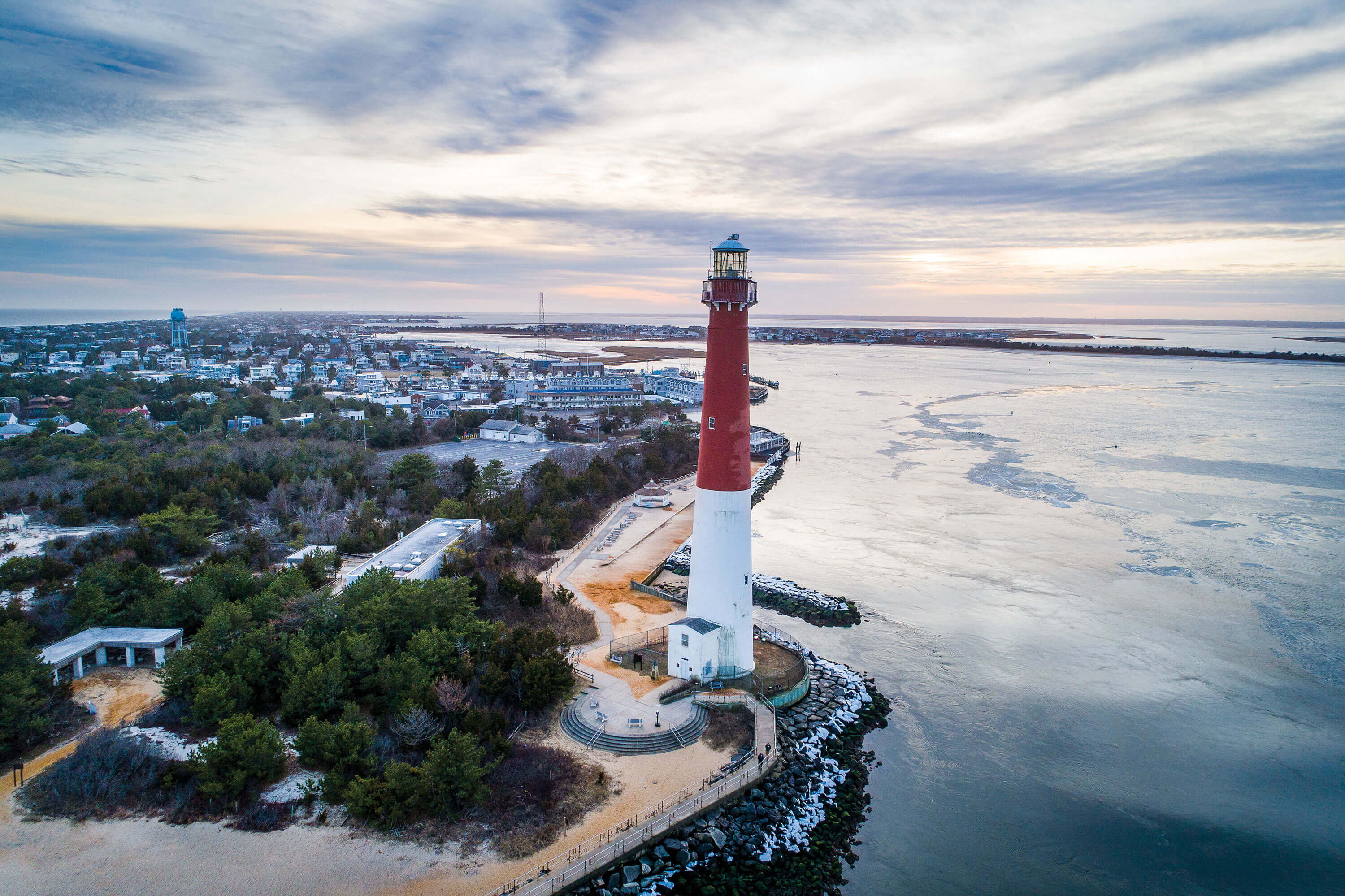 On The Bay
A team of student filmmakers partnered with industry professionals to create a feature-length documentary that tells the story of New Jersey's largest body of water, the Barnegat Bay.
On a mild, clear day last April, Jared Garcia '21 found himself slowly ascending a 12-foot ladder in the middle of the Barnegat Bay.
As a part of the crew working on Drift, a feature-length documentary about the Barnegat Bay and its watershed produced by Monmouth University Production Services, Garcia had traveled to the outskirts of Long Beach Island that day to film volunteers from Conserve Wildlife Foundation of New Jersey building and installing an osprey nest in the marshland. Once the nest was assembled and in place, Garcia had carefully climbed the ladder, one hand clasping each rung as the other balanced a camera rigged to a Ronin-S, an expensive and unwieldy gimbal, in hopes of filming a bird's-eye view of the bay from the nest.
"I was shaking in my boots the whole way up. I was mostly nervous for the equipment if I fell with the Ronin-S, but in my head, it's always about getting the shot," says Garcia. "I remember thinking [that] having ospreys fight for the nest at this particular moment would be a 'Nat-Geo' sort of amazing."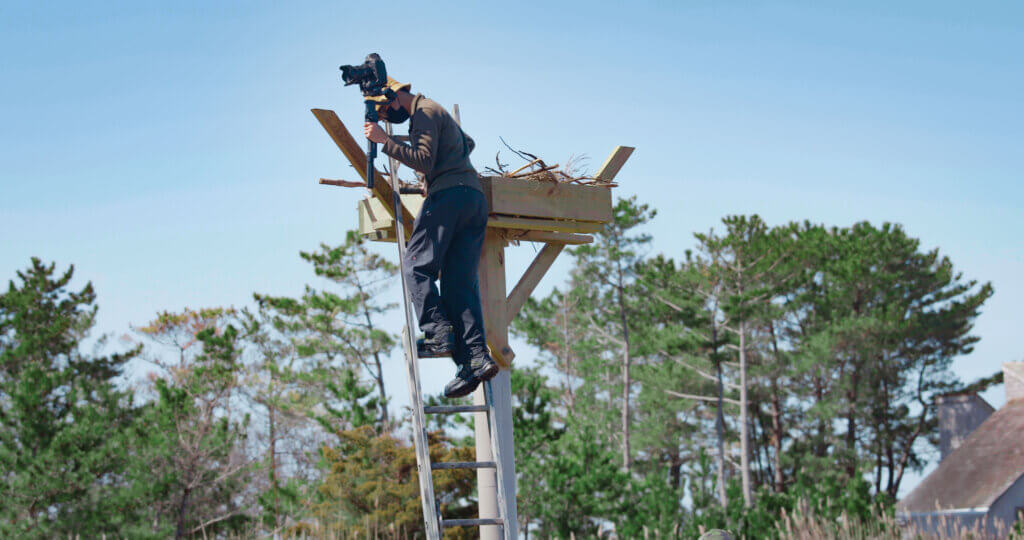 Garcia was nimble enough to capture the shots needed and, sure enough, just a few minutes after he was back on solid ground two ospreys arrived and began fighting for the nest. The fact that he was now ringside for an osprey fight in the middle of a marsh was perhaps fitting given his experience working on Drift.
"It was a very cool thing and something you don't get to see on a day-to-day basis," he says. "That's also how I'd summarize my time working with Production Services: It was a lot of being in very interesting places. But the whole way through it was very much a learning experience that I'm thankful I had the opportunity of being part of."
Monmouth University Production Services, the creative team behind Drift, is a full-service production company housed in the Wayne D. McMurray School of Humanities and Social Sciences. The department produces high-quality video and digital content—everything from short videos, to TV shows, to mini and feature-length documentaries—for regional and campus clients.
Its approach is unique in that Monmouth students work side by side with award-winning industry professionals during each phase of production: bidding for new projects, scouting locations, developing shooting schedules, working with state-of-the-art equipment, interacting with subjects during production, and editing video and audio material in post-production.
"Production Services is not a student organization; it's a quasi-professional organization," says Erin Fleming, director of the department and a seasoned producer who, before joining Monmouth in 2012, was an international storyteller creating narratives for underserved communities and nonprofits throughout Africa, Southeast Asia, and Latin America. "The students are not trailing a cameraman or trailing an editor. They work in conjunction with professionals. They're stepping up to perform real industry skill sets, but they're learning too, so it's taking what they've learned in class and puts it on another level."
Students must apply and be selected for the few coveted production positions that open each year. Those who make the cut are offered paid positions in which they can explore their passions while gaining hands-on experience in the field.
"I always look for students who are going to buy into what it means to be a production person while still being a student—maybe we have to shoot the sunrise at 5 a.m.; maybe it's going to be a long day carrying heavy equipment, or you're going to be in a swamp or underwater," says Fleming. "So, I do look for passion. If you've got the passion, drive, and professionalism, I can teach you the technical skills."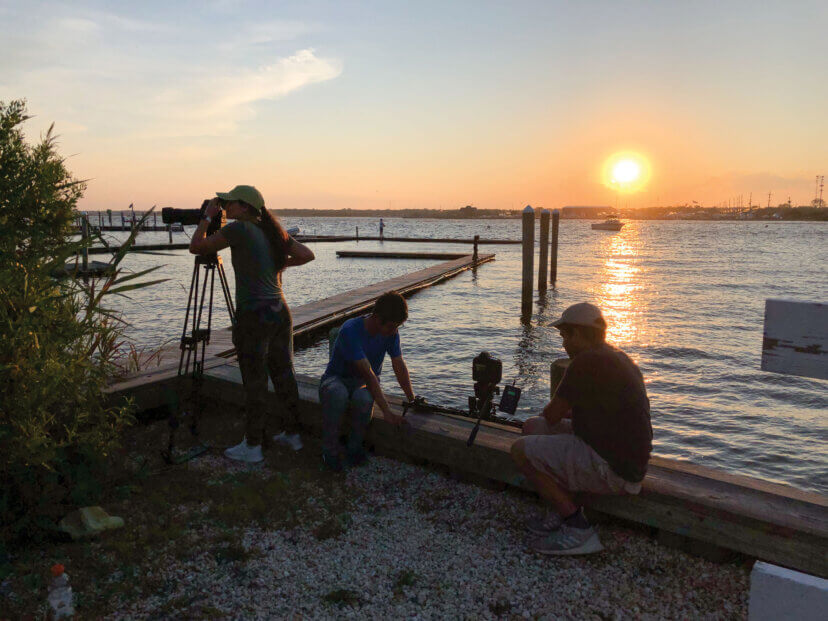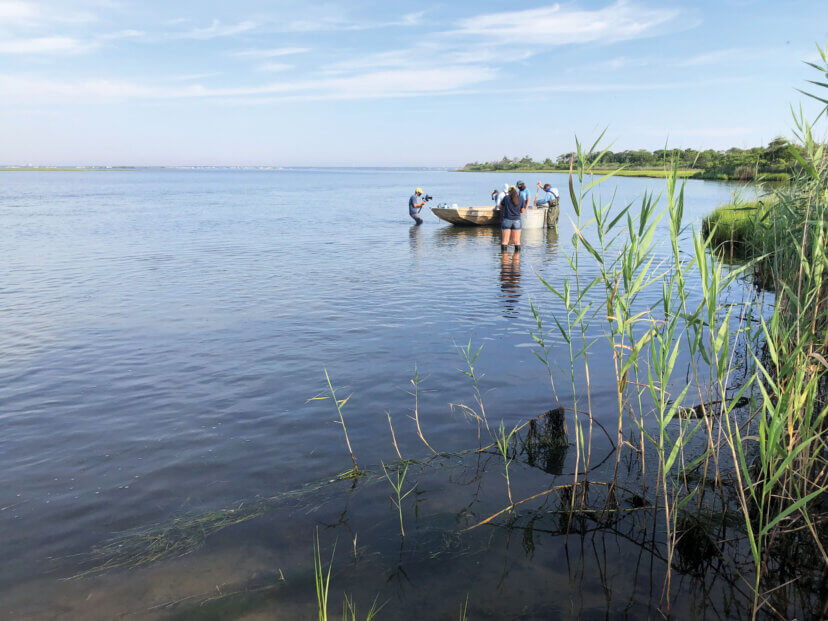 Jim Masi, a national Emmy award-winning director of photography and camera operator, has partnered with Production Services on several projects, including Drift. In addition to fulfilling his production responsibilities, he assists in running boot camps designed to teach students cinematography techniques using the department's specialized equipment. It's "rewarding," he says, "kind of like working in a teaching hospital, where you're still doing what the job entails but you're also providing some instruction."
"The gear that Erin has accumulated for the department, it's equipment that I use out in the working world … it's gear that people use to shoot really high-end productions," says Masi. "For the students to have that available to them is a really nice luxury, and the experience, I think, gives them confidence and a leg up."
But the gear is only half of the story, says Masi, who has worked in the industry for 40 years. Equally important is that Fleming treats the students as professionals, with all of the expectations that come with that distinction. "That's where Erin has really done these students a huge service," says Masi. The industry is changing, he says, with jobs becoming "more beginning-to-end involvement." Because Monmouth's students are hands on in every phase of production, they "are involved even more than a lot of the professionals they're working with," which is what they'll eventually experience once they begin working full time in the industry, says Masi.
That's one of the reasons he feels confident every time he refers Monmouth students to professional production companies that are hiring. The industry is still "90% word of mouth" in terms of who gets jobs, he says, and he's seen firsthand how Monmouth students are "getting more and better experience than students in other environments."
Drift was commissioned by Save Barnegat Bay a nonprofit dedicated to restoring and protecting the 42-mile-long arm of the Atlantic Ocean that is home to an eclectic ecosystem of barrier islands, maritime forests, and wildlife.
The organization celebrated its 50th anniversary in 2021 and charged Production Services with creating a film that would "help people understand, in one viewing, where we are in the storyline of the effort to protect the bay," says Britta Forsberg, Save Barnegat Bay's executive director.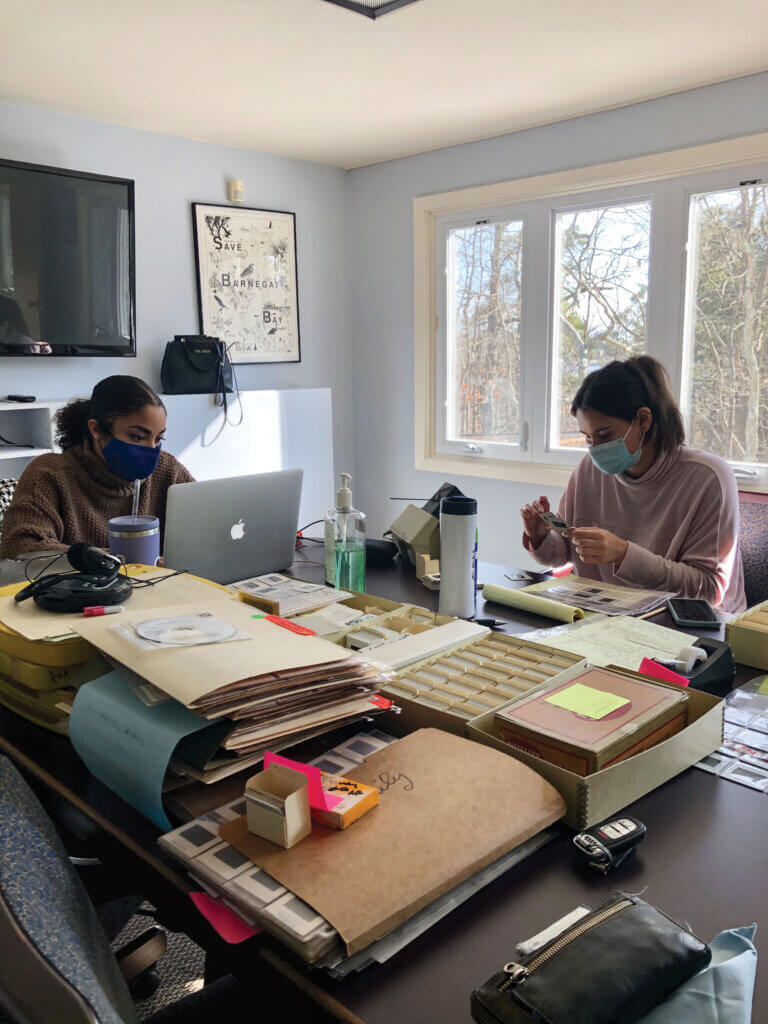 Production commenced in June 2020, and, over the next year, Fleming and her team worked countless hours developing story lines, conducting intensive research and interviews, filming at dozens of locations across the bay area, and editing more than 300 hours of 4K footage into a 1 hour and 20 minute cohesive story. The five Monmouth students who were part of Production Services—Garcia, Nicole Amatucci '21, Azalia Whitlock '21, Dan Rosario '21, and Leah Frain '21—were involved every step of the way.
The film opens with a brief history of the bay, then segues into five vignettes highlighting individuals whose lives, careers, and passions intertwine with the waterway, and includes a roundtable discussion between five activists, including Forsberg. The mission of Save Barnegat Bay is embedded throughout the documentary, giving viewers a deeper understanding of the nuanced history and issues facing the bay and the communities that make up its watershed as well as what changes the area might see over the next 50 years.
Fleming says she and her team conceived this format "as a way to encompass many of the complex issues that are at play in New Jersey's largest body of water" and thus better illustrate the interconnectivity of humans, wildlife, and the environment.
Despite graduating last May, prior to the film's completion, several students stayed on to work on Drift last summer. One of them was Garcia, who as a four-year member of Production Services had already worked on several of the department's other projects, including the production of the Emmy Award–winning show Jersey Matters, which was shot in the Monty Television Studio in the Plangere Center.
He is now working in the industry and says his experiences as part of Production Services helped him hone his skills as a camera operator and editor. "The hands-on experience working with these various pieces of equipment helped me tenfold," he says.
Amatucci, who started working with Production Services after transferring to Monmouth as a junior, served as associate producer, camera operator, and editor on Drift. She has worked on a handful of professional freelance gigs since graduating and credits her time with Production Services as the key reason for her success.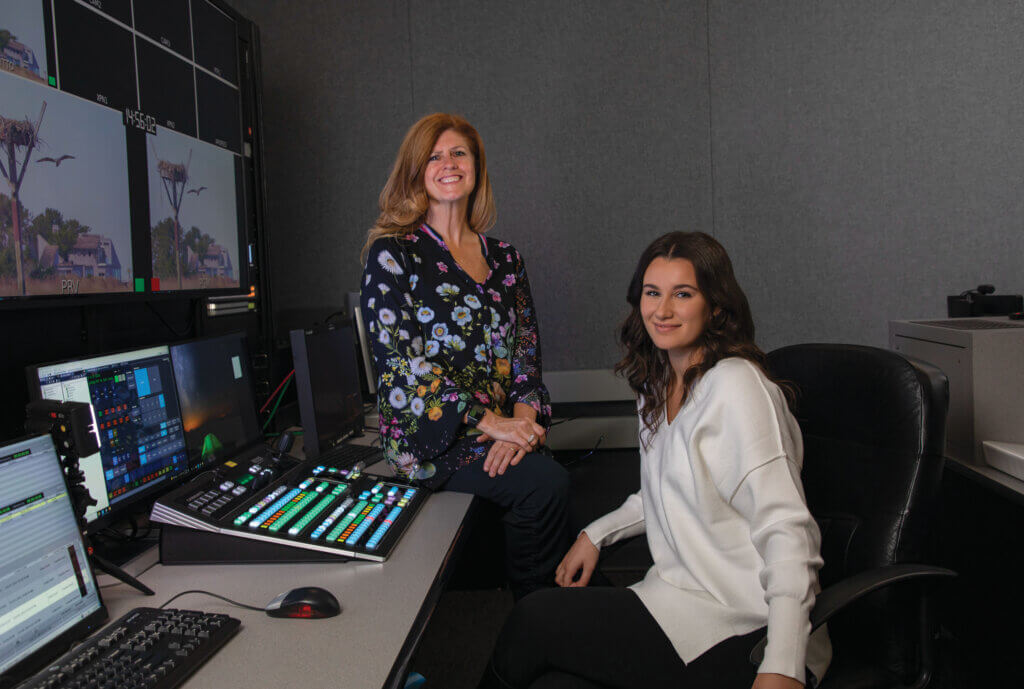 "Working in Production Services was a big boost to my confidence, and it really helped me to develop a lot of skills in different areas, from working with clients to shooting. I felt like I was able to get my feet wet in so many different areas of production," she says. "Now when I go into jobs or different projects, I feel a sense of confidence like I've done this before and I can do it."
In addition to her core student production team, Fleming tapped others from the University community to work on the film. Sophia Parola '18 and Specialist Professor of Communication Nick Messina '18M handled the voiceover work; David Gould '16 pitched in with studio-audio needs; Austin Staulcup '23 and Jenna Capitelli '21 handled graphic design of the movie posters; and Alyssa Dowd '22 and Assistant Professor of Geography Geoffrey Fouad, Ph.D., provided geographic information system mapping services.
"We have so much talent on campus, both the professors and students, so there's no reason if we get a great project like this that everybody can't put their mark on it in some way," says Fleming.
Last July, Save Barnegat Bay held a fundraising event and private screening of Drift at the Bay Head Yacht Club. Forsberg, who served as the film's executive producer, says that despite the fact that the documentary was shown while the party portion of the event was taking place in an adjacent room, viewers were glued to their seats. "They watched the whole thing and they were blown away; they absolutely loved it."
Fleming is now putting post-production finishing touches on the documentary and plans to enter it in the 2022 film festival circuit, where it will have its public premiere. (Dates and times for screenings will be posted at Driftthedocumentary.com.)
Already though, Fleming and a new team of students are at work on a short film for the Department of History and Anthropology about the Great Migration and the Black community's historic role in Asbury Park. And there are plans for a second feature-length documentary follow-up to Drift that will focus on the conflicting interests of the people and groups that call the Barnegat Bay home.
As for former students such as Garcia, being able to see Drift through to the finish line provided a fitting end right before starting his professional career.
"I remember the first screening; it's always a shock to see the work that you've put so much blood, sweat, and tears into for the duration of a year embraced by people," he says. "Drift came at a very fitting point for my entire tenure with Production Services, and it was a great way to end my time at Monmouth."