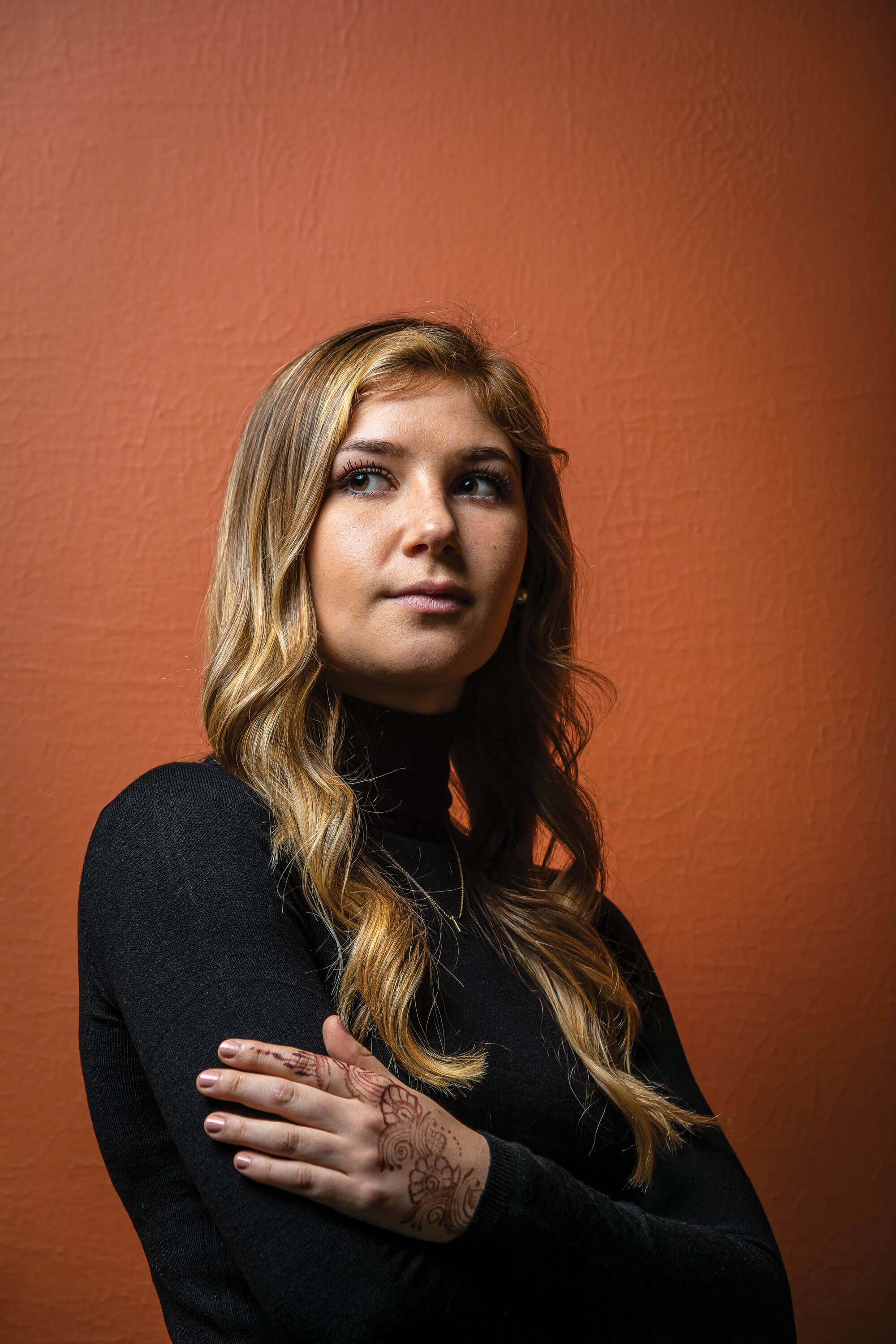 More than Just a Game
Soccer midfielder Esther Wellman has found success on and off the field.
We had just won our MAAC semifinal game against Niagara, but I didn't have much time to celebrate. As soon as I left the field that night, I showered and jumped in my car to drive straight to Rhode Island. I had another major event slated for the next morning: presenting my research at the International Studies Association-Northeast conference, just 12 hours after my game ended.
When I was younger, I had hoped college would be a place where I could balance my love for soccer with academics. But, honestly, the way both have unfolded these last few years has been a surprise even to me.
I'm the third in a family of four girls, and I've been playing soccer since I was 5. At first it was mostly about keeping up with my older sisters, but soon my love for the game grew much deeper. For years, I spent almost every free moment practicing or playing in games and showcases all over the country.
By the time I was in high school, I knew I wanted to play Division I soccer in college, but I arrived at Monmouth still unsure what subject I wanted to study. Then I took a political science class with Professor Ken Mitchell. I loved everything about it—the material, the way he taught. After taking another poly-sci class the following semester with Instructor Ryan Tetro, I walked into my advisor's office and said, "I need to make this my major."
Things took off from there. I interned at a small law firm in New York City during the summers after my freshman and sophomore years. As a junior, I did mentored research with Assistant Professor of Sociology Jennifer McGovern, analyzing the socioeconomic backgrounds of elite women's soccer players. Our findings were published last June and reported on in media outlets around the world.
Another one of my professors, Interim Provost Rekha Datta, suggested I apply for the 2019 Summer Scholars Program. I spent last summer working with her on a research project that examined the United Nations' Sustainable Development Goals. We investigated how those goals are being implemented on a global scale, as well as at the local level through sustainability initiatives enacted by the Asbury Park City Council. Ultimately, that's why I headed to Rhode Island between MAAC playoff games: I was presenting my findings from that research. (Almost everyone there thought I was a Ph.D. student!)
In January, I had the opportunity to travel to India with Dr. Datta, Associate Professor Joseph Patten, and my fellow Monmouth Hawks Debate Team members. Being fully immersed in the culture there was an incredible, once-in-a-lifetime experience. In Mumbai, we visited nongovernmental organizations and at-risk schools, where we taught students the structure of debate and discussed the issue of gender inequality in India and around the world. When the students stood up and debated to show us how much they had learned, I could not have been more proud. My hope is that they will continue to hone their critical thinking, analytical thinking, and public speaking skills.
When I arrived at Monmouth four years ago, I had no idea all of these experiences lay ahead of me. (Nor could I have predicted the four MAAC championship rings I'd win with the soccer team.) I feel so lucky to have connected with professors who create such amazing opportunities for their students. They extend the invitations, but then it's up to you to take them. I believe college is what you make of it, and I've worked hard to make the most of these past four years.
Above: Wellman got the mehndi design, visible on her left hand, at a Lohri celebration she attended with other Monmouth debaters while in India.