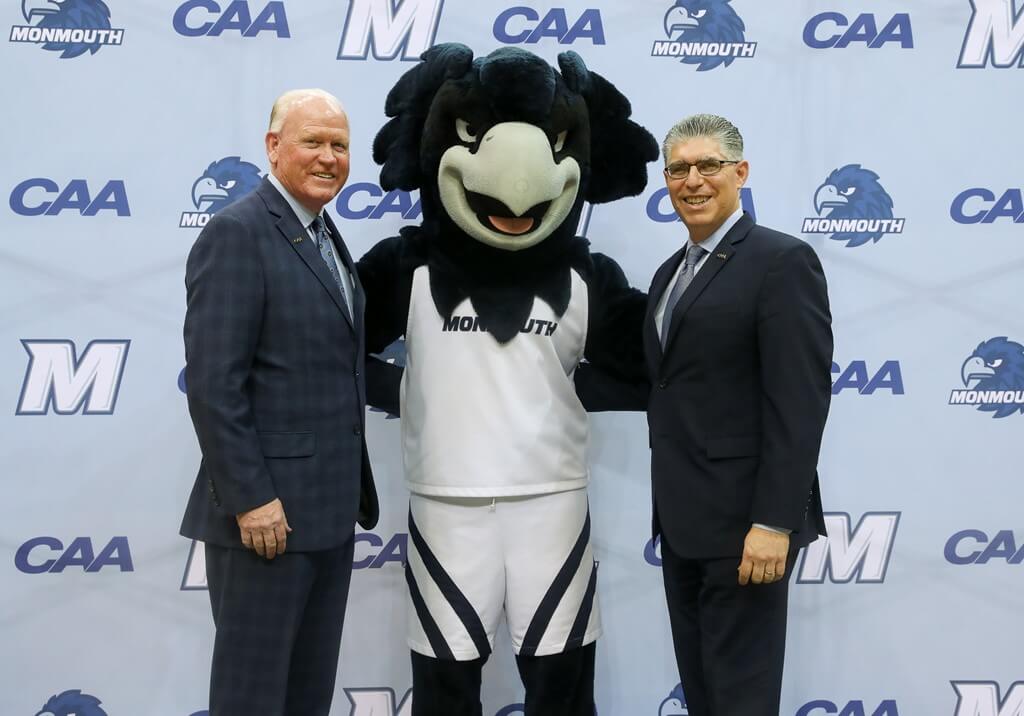 Monmouth Joins the CAA
A primer on the Hawks' move to
the Colonial Athletic Association.
A new era in Monmouth athletics will begin on July 1 when the University officially joins the Colonial Athletic Association (CAA) in all sports the league sponsors. The move will enhance competition for Hawks athletes while bolstering the University's recognition and reputation, President Patrick F. Leahy said.
What to know: Beginning this fall, 23 of Monmouth's 24 Division I athletic programs will compete in the CAA, one of the top mid-major conferences in the country. Women's bowling, a sport not sponsored by the CAA, will still compete in the Mid-Eastern Athletic Conference.
Consolidating as many programs as possible under one conference banner "is something that we have been working toward for the past 10 years," Director of Athletics Jeff Stapleton said.
The move will allow Monmouth to "compete at the highest level but do so in a fiscally responsible way," Leahy said.
Good company: CAA member institutions include College of Charleston, University at Albany (football only), University of Delaware, Drexel, Elon, Hampton, Hofstra, University of Maine (football only), University of New Hampshire (football only), North Carolina A&T State University, University of North Carolina Wilmington, Northeastern, University of Rhode Island (football only), University of Richmond (football only), Stony Brook, Towson, Villanova (football only), and William & Mary.
The big picture: The CAA encompasses many of the nation's largest metropolitan areas, with a geographic footprint that stretches from Boston to Charleston, South Carolina.
Competing in it will allow Monmouth "to tap major media markets up and down the East Coast," said Leahy. "This gives us an important opportunity to extend the Monmouth brand and to shine a spotlight on the incredible work that happens day in and day out on this campus."
Numbers game: The CAA has produced 18 national team champions in five different sports, 33 individual national champions, 15 national players of the year, 15 national coaches of the year, 13 Honda Award winners, five Rhodes Scholars, and 25 NCAA postgraduate scholars.
Top: Monmouth Director of Athletics Jeff Stapleton (left) and CAA Commissioner Joe D'Antonio pose with Shadow during a press conference in January announcing the conference change.