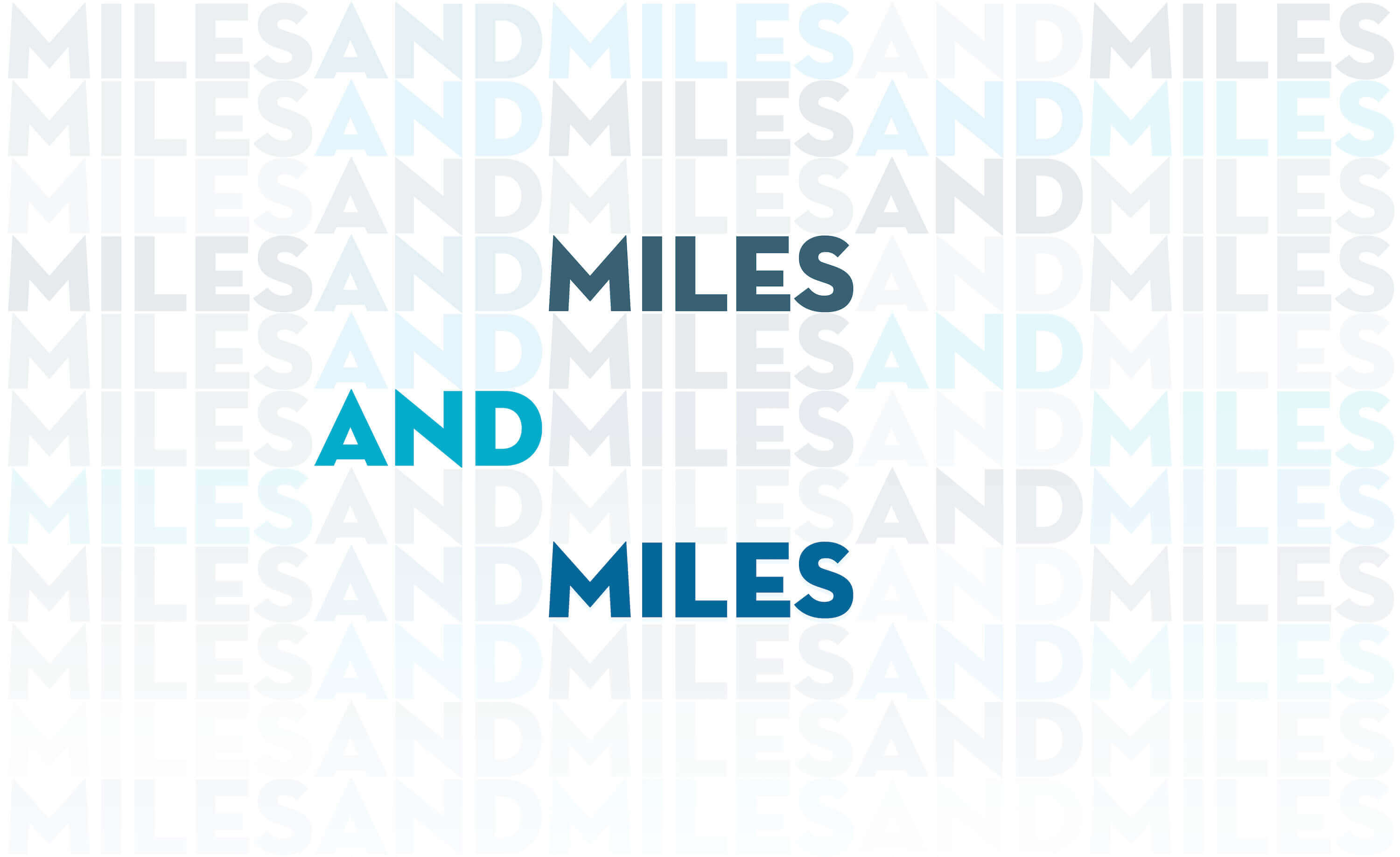 Miles and Miles
After nearly a decade as a star wideout for the Dallas Cowboys, Miles Austin took on a new challenge: finishing his degree.
It was the bowling alley that surprised him. Miles Austin stumbled upon the Ciniello Family Bowling Center last fall, and natural competitor that he is, he immediately had one thought. "I was just going to start bowling," he says with a laugh. "But I didn't know how to turn on the lanes."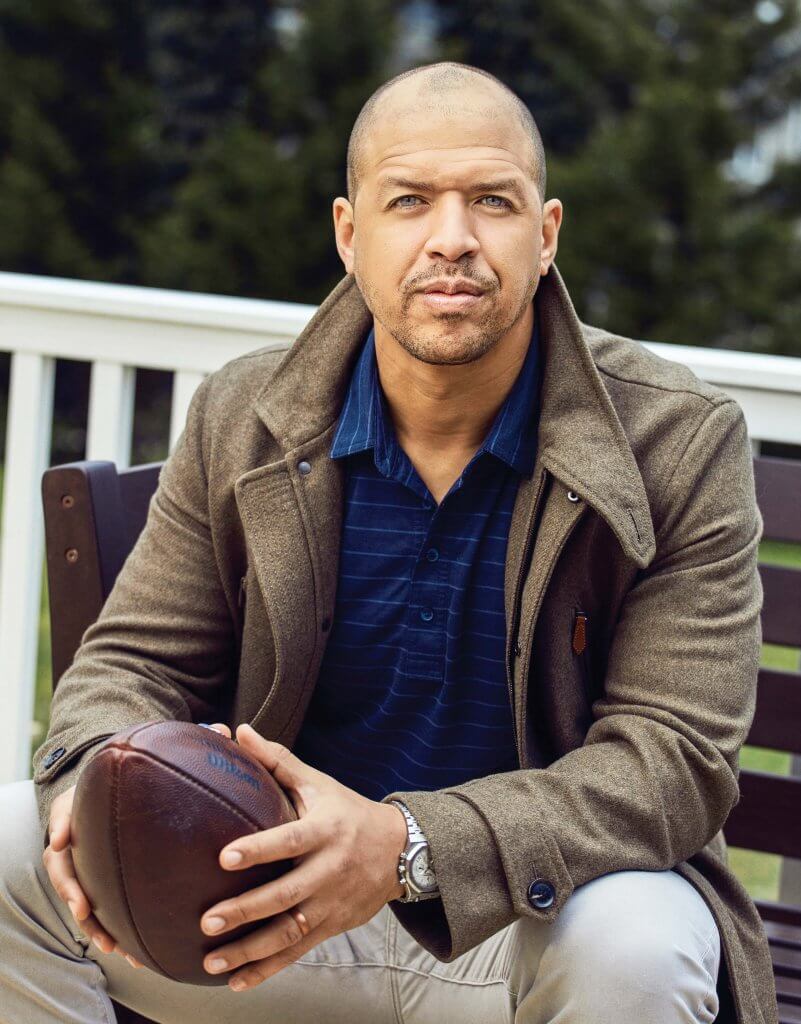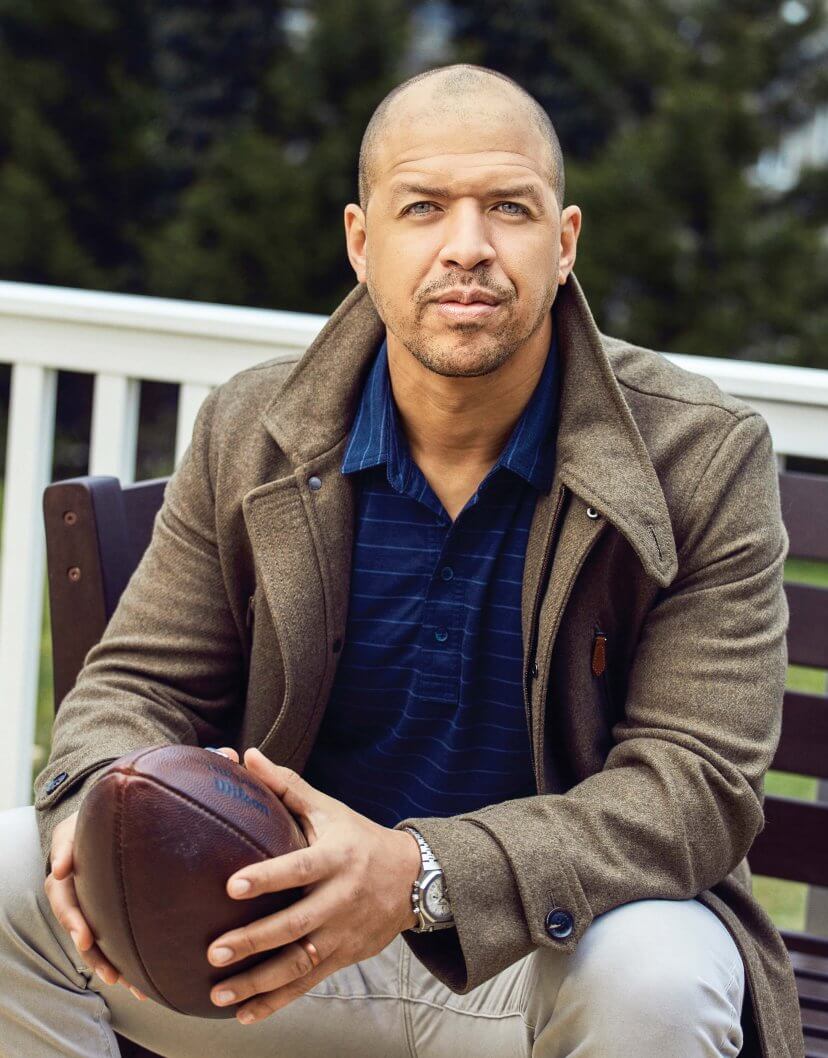 Austin could talk all day about the differences, about all the ways the Monmouth University campus and his classmates and college life itself have evolved in the 12 years since he left. But he insists that in the time between his first stint at Monmouth and his return last summer, nothing and no one changed more than he did. And that was nowhere truer than in the classroom.
The first time around, not counting the athletic ability and determination that eventually would carry him to a 10-year NFL career, Austin was a fairly typical college student; looking back on his early academic career, what he remembers most is doing just enough to get by. "If we had a group project, I'd do my part, but I'd kind of figure out what the easiest part would be," he says. "And if there was any type of public speaking with it, I wouldn't necessarily volunteer. I probably wouldn't have a lot to say." Only when he returned to Monmouth last year to finish his degree, a 33-year-old husband and father with an unlikely pro football career behind him, did he truly appreciate his own transformation.
Workload? No problem. "I had a couple of group projects this time, and I was like, 'I'll do this, this, and this.' I'd do the bulk of it. I wanted us to get a good grade!"
Oral presentation? Happily. "I've done so many interviews as a football player, so I felt completely comfortable with that."
All of which is to say that Miles Austin probably would've been one of the most popular people on campus last year even if he hadn't been, well, Miles Austin.
When he left West Long Branch in the spring of 2006 to focus on a long-shot NFL bid, Austin had etched his name all over the Monmouth football record book, having set program standards for career receptions, receiving yards, and touchdown catches. What he hadn't done was graduate, leaving about a year's worth of credits shy of his degree. Finishing it would remain a goal, one that would be postponed more than a decade but never forgotten.
Passed over in the NFL draft that April, he signed with Dallas as an undrafted free agent, earned a spot on the Cowboys' opening-day roster, and stuck around for eight more seasons in Dallas. Of course, "stuck around" undersells things just slightly: After contributing primarily on special teams his first three seasons, Austin was named a starting wide receiver in 2009 and ended the year as the NFC leader in receiving yards, earning the first of two Pro Bowl bids. In just four seasons, Austin had gone from undrafted out of Monmouth to NFL stardom.
After a few more seasons in Dallas, stints in Cleveland in 2014 and Philadelphia in 2015 saw diminishing returns, and by 2016 it was clear Austin's playing days were over. Back in Dallas—the Cowboys had brought him back as part of the team's scouting staff—he and his wife, former Hawks lacrosse standout Stacy Sydlo Austin '04, started thinking more seriously about what might come next. "It had always been one of our family goals to be able to tell our kids he went back to school, to prove that education is important to us," says Stacy. "It was always in the pipeline."
It took a couple more years, but last summer, with his family relocated to Rumson, New Jersey, and his next career step yet to be determined, Austin was finally back on campus to finish what he'd started in 2002. His Monmouth homecoming makes for a wonderful story, but it's worth emphasizing that this was no public-relations stunt. Not when Austin had to knock out 31 credits in the summer and fall semesters to belatedly complete his degree in history and political science. Certainly not when he insisted on finishing his coursework on campus, mostly eschewing online courses that might've more easily fit his lifestyle. Austin says he considered finishing up entirely online, but something about that option just didn't feel right.
"This is the place I grew up," he says. "It's New Jersey, the shore, the entire vibe. Our friends and family are here. And I just wanted to experience it fully, be in interactive situations with my teachers, asking questions, face to face. It just kind of made sense. It felt like home."
When I was younger, my thought process was just doing well enough to continue to play sports. I think a lot of student athletes especially believe school is just a tool that gets them their degree. This time, I was more mature, and had a base of knowledge that I didn't have when I was taking classes the first time. I've lived a lot of life.
Joseph Patten likes to start a new semester with a simple icebreaker, asking his students to share their name and a tidbit about themselves. Needless to say, there was one student in his PS 305 class last fall whose brief biographical blurb stood out. "Miles introduces himself, 'I was a wide receiver for the Dallas Cowboys,' and everybody looked at him like, what?!" Patten remembers. "And honestly, it was good that he got it out there. There were no pretensions about him."
An associate professor of political science, Patten served as Austin's advisor, taught him in PS 305: The American Congress, and worked with him on an independent study course. As such, he owns a unique perspective on the adult learner whom Patten's younger students knew only from highlights on ESPN. Patten was, and remains, impressed.
"I think he attacked coming back to school the same way he attacked cornerbacks in the NFL—that same mindset, same approach, all in," says Patten. "This wasn't just a side thing he was doing. He went to all of his classes, did all the readings. He really made being a full-time student a priority."
Austin began his return last summer with a mix of online and on-campus classes, knocking out 12 credits over the summer session. But just as in his football days, the summer was only a warm-up for the rigors of a busy fall. And boy, was Austin busy: With 12 credits down, he still had 19 to go, and he was committed to finishing them by winter break. His schedule featured six three-credit classes and one credit of Pilates—which, despite his elite athleticism, Austin found particularly challenging. "It was my first time doing it," he says, "and it was hard."
The entire endeavor was a challenge—think back to the heaviest credit load you carried in any given semester—but Austin adapted quickly. After making the 20-or-so-minute drive to West Long Branch, he would often spend most of the day on campus; his packed schedule included night classes three days a week. In this, his NFL career proved to be terrific preparation. "As a player, you're so scheduled, and you can't miss a day—it's not like you get a sick day in the NFL," says Stacy. "He was used to the grind; it's just a different kind of grind: go to class, come home, put the kids down for a nap or get them lunch, do his homework, play with the kids, put them to bed, do more homework after that."
Throughout, Austin was buoyed by a perspective borne of life experience. It wasn't only about understanding how to juggle a busy schedule with marriage and fatherhood; it was about embracing hard work as an opportunity. "Being older, I think I was more curious. I looked forward to doing the readings, talking about my thoughts in class. I actually wanted to learn," he says. "When I was younger, my thought process was just doing well enough to continue to play sports. I think a lot of student athletes especially believe school is just a tool that gets them their degree. This time, I was more mature, and had a base of knowledge that I didn't have when I was taking classes the first time. I've lived a lot of life."
While he never taught Austin in a classroom, Kevin Callahan is perhaps more familiar than anyone with Austin's focus, determination, and work ethic. The longtime Monmouth football coach and his former star have stayed in touch throughout Austin's playing career, and Callahan was impressed, if not exactly surprised, by how Austin immersed himself in class work the second time around. "He was really into it," says Callahan. "I think he had a much greater appreciation of the learning process."
In a sense, that curiosity had always been there, even if Austin wasn't driven as a 19- or 20-year-old to be a straight-A student. Callahan remembers him as "very coachable, eager to understand the hows and whys of what he was doing on the field." Austin got a chance to show what he'd learned last fall, when, class schedule permitting, he'd drop by the Hawks' practice field to watch and—occasionally, at Callahan's urging—offer informal insight. "He'd stand off in the distance, because he said he didn't want to disrupt anything," the coach says. "But I'd stop practice. I wanted him to come out, just to talk to the team for a few minutes. He's a great example of what we want Monmouth football players to be."
Which is to say: hardworking, studious, and unwilling to give up in pursuit of a goal. The qualities that made Austin a Monmouth legend—the first Hawk to have his jersey retired—and carried him through a decade in the NFL are the same that brought him back to college to complete his degree. Those same traits have positioned him for a new career in football: In February, he joined the San Francisco 49ers' staff as an offensive quality control coach. It's a spot near the bottom of the league's crowded coaching ladder, one that makes him feel once again like a student. ("I'm just curious to learn, curious to get better," says Austin.) But for a guy who made it from West Long Branch to the Pro Bowl, no path should seem particularly daunting.
If Austin decides to make a career of coaching, Callahan is sure he'll succeed.
"I think he's a natural. He was an intelligent player, and he's got a strong passion for the game," says Callahan. "He's also got a great personality, so he's going to establish great relationships with the guys he coaches."
Patten suggested Austin think about a different path, though for many of the same reasons. "When I had him in my American Congress class, I told him he should run for Congress—and I didn't mean it as a joke," says Patten. "He's bright, incredibly hardworking, and just salt of the earth. A really impressive guy."
Whether he ends up coaching, campaigning, or who knows what else, Austin understands what he's already accomplished. Finishing his degree only reaffirmed all those traits his coaches, teachers, family, and teammates have long recognized; he might not have needed that diploma at this point, but it will always serve as a reminder of the value of seeing something through. He can take particular pride in how he finished, posting straight A's in his final semester as a Monmouth undergrad.
And then he feels compelled to clarify: "I had one A-minus, to be honest." The class that dinged his GPA was SO 397: The Sociology of Aging. Realizing the potential irony, Austin laughs. He swears he wasn't the oldest person in the class.