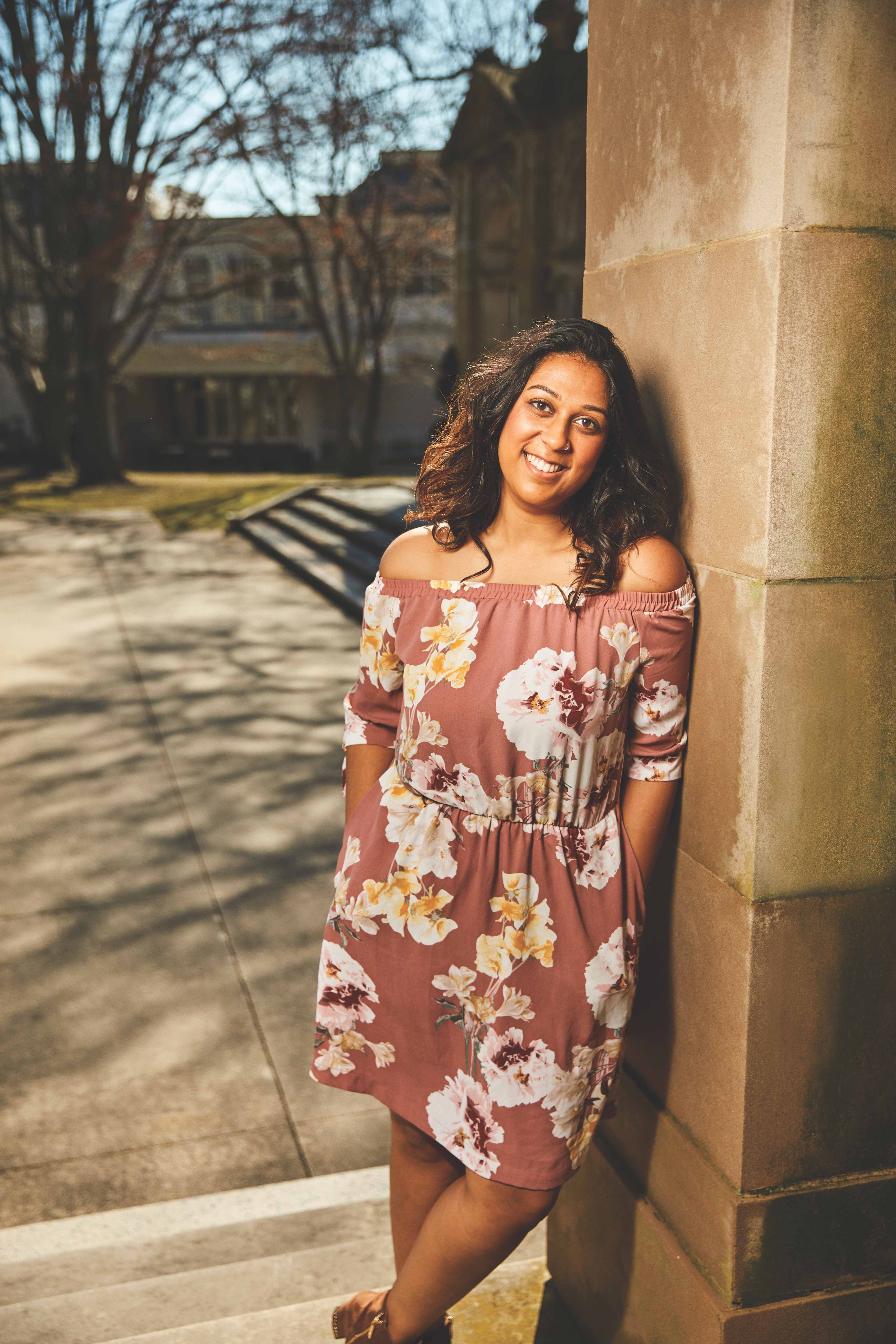 London Calling
A major change—and some Monmouth connections abroad—have Prachi Patel charting a new course for after graduation.
Prachi Patel isn't afraid to admit her college career got off to a rough start. "I will openly admit the first semester of college, I didn't do well," says Patel, who entered Monmouth as a biology major in fall 2014.
Concerned about her grades, her parents suggested she reevaluate, so Patel made a first-year advising appointment through which she connected with political science professor Joseph Patten. That's when everything changed.
"Dr. Patten, who I absolutely adore, was like, 'You know what you should try out? My debate class,'" Patel recalls. "So I took his class, and I think that's really what kicked it off for me."
Patel, who says she had also considered pursuing a law degree before opting to major in biology, immediately joined the Debate Hawks. She also took a political science class with Ken Mitchell, which in turn inspired her to change her major to political science with a concentration in international relations and a minor in legal studies. Then she joined the Model UN Team and Political Science Club, became president of the Pi Sigma Alpha Honors Society, and earned a spot in the Washington Center Internship Program last spring, where she interned with the Peace Corps.
She credits Monmouth's small class sizes and, in particular, the professors in the political science department with helping her find her way and catapulting her toward success.
"I don't think I would have been able to have the relationships I do with my professors if I didn't have the small class sizes because they wouldn't know me!" she says. "And I would not be able to do all of these things if I didn't have all of these professors helping me."
With aspirations to become a prosecutor, followed possibly by a career in teaching law at the college level, Patel says all of her experiences at Monmouth have combined to help lay the foundation she needs for success.
As a Debate Hawk, she volunteers with the Asbury Park High School Debate Team, where she mentors students. She gained real-world experience via the Peace Corps internship, where she supported the team that delegated volunteer assignments internationally.
Her international contacts expanded during her Model UN trips to London, which for Patel, have been eye-opening and life-changing—literally. While on her second trip, Mitchell connected Patel with some of his former students. Those interactions inspired her to change her post-graduate course: Rather than going straight to law school, she plans on pursuing her master's in development studies at the University of London's School of Oriental and African Studies.
Despite the rocky start, Patel says her college career is ending on a high note. One of the highlights came just last semester during the Model UN awards ceremony at the University of Oxford.
"The ceremony was held in the Sheldonian Theatre, which is the hall that the Oxford students graduate in, and when they said my name, it was just such a cool, surreal experience," she says. "They mispronounced it—but I was like 'Wow, they just said my name in the Sheldonian!'"