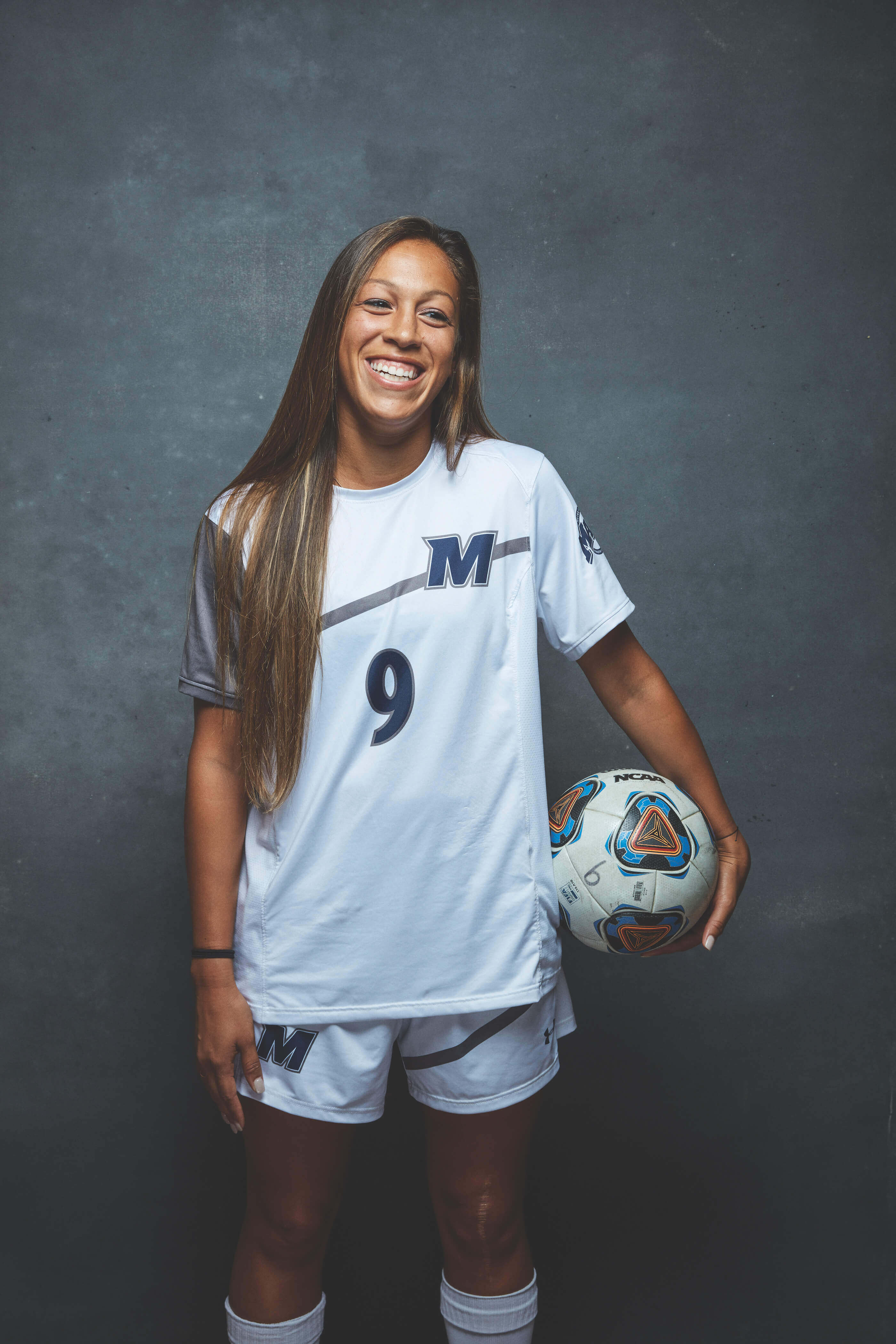 Just for Kicks
Injuries and seven (yes, seven) collegiate seasons in soccer have given veteran defender Gabby Cuevas unwavering drive—and a whole lot of perspective.
By the third one, surely, Gabby Cuevas was ready to give up. This was three years ago, when Cuevas went down with her third ACL tear in four years. She was in her fourth season at UConn, seemingly at the end of a collegiate soccer career that had been repeatedly and cruelly interrupted by injury. At that point, it could hardly have seemed worth the trouble to try to come back again.
You'd think so, anyway. In fact, Cuevas insists, giving up "never crossed my mind."
"I couldn't picture college without soccer, and not being part of a team," she says. "As soon as it happened, I was like, I know what I need to do. When can I get surgery?"
That insistence powered Cuevas through another grueling round of rehab, and ultimately brought her to Monmouth. Granted two additional seasons of eligibility by the NCAA—her first two ACL tears occurred in the very first games of her 2011 and 2012 seasons, and her third happened in the fourth game of the 2014 season—Cuevas left UConn with a psychology degree and a hunger to get back on the field. From there, the Wayne, New Jersey, native (a three-time All-State pick during her time at powerhouse Immaculate Heart Academy) made the comfortable transition to Monmouth, where she immediately earned a starting spot with the Hawks.
Starting every game for Monmouth last fall, Cuevas paced a defense that posted 11 shutouts. She finished the season as a second-team All-MAAC pick, a vital piece in a squad that finished 14-5-1 en route to the regular-season and conference tournament titles. Coming into the 2017 season, longtime coach Krissy Turner called her "a seasoned veteran" who "leads by example in all that she does."
Now 24 and suiting up in her seventh collegiate season, Cuevas knows that "seasoned" is putting it politely. "I'm not even the 'team mom'—we have a fifth-year player who's the team mom," she says with a laugh. "I'm known as the team grandma." She's particularly tight with the sophomores, who arrived on campus at the same time she did, but says she's proud to play "middle man" between the coaching staff and players. "I've been around the game longer, so I know why we do things," she says. "Being a mentor comes easy for me, but I also joke around with them: 'You guys keep me young.'"
As she works toward her master's in social work—she's eyeing a career in family mental health counseling—Cuevas owns a unique perspective that makes her not only a rare teammate, but an inspired choice for the university's new promotional push. That's her in the debut video for Monmouth's #PerfectDay campaign, jogging along the boardwalk, working on a class project in the library, and working out in the weight room and on the practice field. "I really didn't know what to expect," she says of filming the clip. "I'm like, I don't know what I'm doing. I'm a soccer player."
That she is, remarkably, still.
Check out Gabby's commercial at monmouth.edu/perfectday and find inspiration for your #PerfectDay.