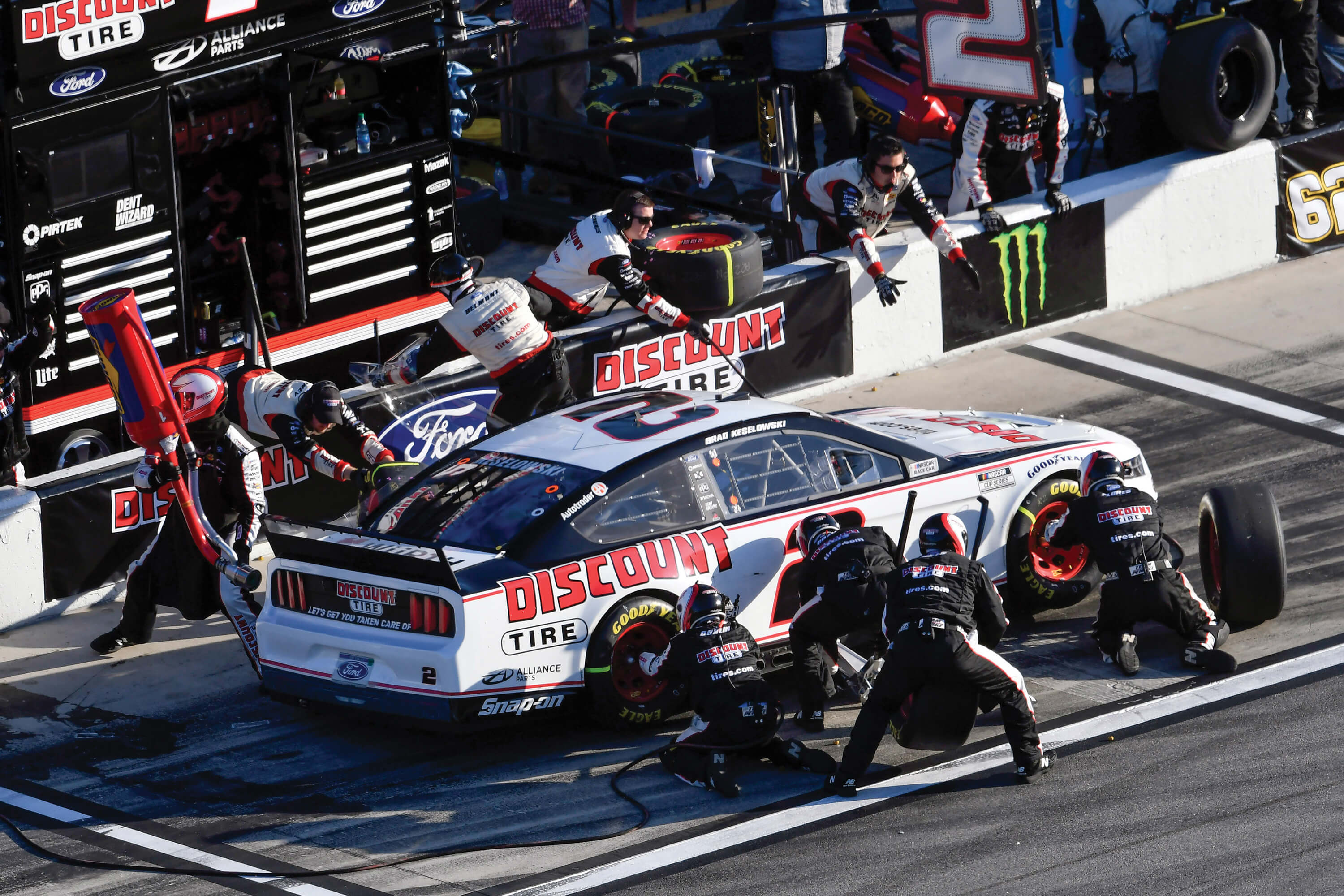 In the Pits
A NASCAR jack man details life in the fast lane.
During my football career at Monmouth, we spent hours each week practicing, watching film, and lifting weights preparing to compete for 60 minutes on Saturday. I didn't know it then, but I was also training for something even bigger: 12 seconds on Sunday.
I've been a pit crew member for Team Penske since 2015. These days, I'm the jack man for the No. 2 car, Brad Keselowski, in the NASCAR Cup Series. On race day, the pit crew refuels the car and changes the tires as quickly as possible. If we're at the top of our game, it takes us about 12 seconds. As with football, countless hours of preparation go into that.
On Mondays, we watch film from the previous race, dissecting every movement we made during pit stops to ascertain how we can improve. If we're struggling, we might run a few reps in our indoor facility in North Carolina, where there's a pit stop area. Then we'll head to the weight room with our strength coach. The rest of prep week is similar: running practice reps, doing strength training and conditioning, and watching more film. Any fraction of a second we can shave off our time is critical.
Saturday is a day to relax, eat well, and hydrate. It's unbelievably hot down on the track—especially in our fireproof suits—so we have to make sure we're hydrated.
Early in the morning on race day, the pit crew and coaches board a 40-passenger private jet to fly to that week's location. Once there, we head straight to the track to set up the pit box, review strategy with the crew chief, check equipment, and prep the tires.
When the race starts, it's all about staying focused and having confidence in your ability. If you have a bad pit stop, you can't let it dictate the rest of the race. You need to attack the next stop. The driver, crew chief, mechanics, and road crew—those guys worked their tails off all week and are depending on you to perform your best. A car's time in the pits can mean the difference between victory and 10th place. So we have to execute at the highest possible level every time.
I'm still amazed at how playing football at Monmouth prepared me for a career that I didn't even know existed at the time. There's a great book, The Compound Effect, by Darren Hardy, and I'm living proof of one of his theories. He says that you may not know what you're going to do three or five years from now, but if you work really hard at whatever it is you are doing, you'll create opportunities for yourself that will shape your future.
I love my job, I'm confident in myself, and I can't imagine doing anything else this fun.
Photos courtesy of Pat Gray