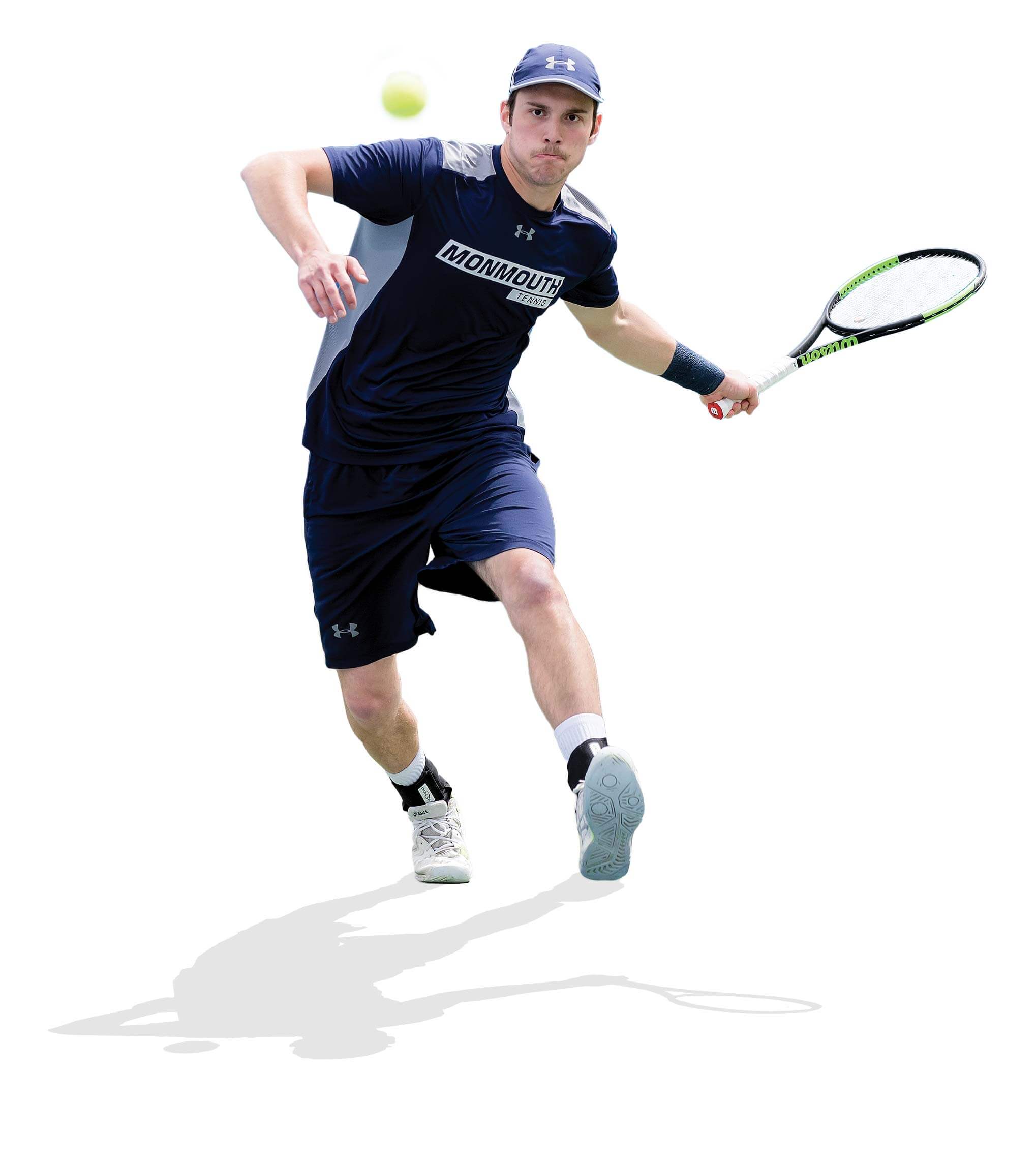 Holding Court
Nicola Pipoli talks MAAC championships, Rafael Nadal, and grandma's cooking.
Nicola Pipoli, a native of tiny Polignano a Mare, Italy, fell in love with tennis at age 4 when his grandmother threw tennis balls for him to hit. The sport has stayed with Pipoli ever since, taking him across an ocean to Monmouth University, where he was a major contributor to the Hawks' four straight MAAC titles and earned 2018 MAAC Player of the Year honors.
The 2019 graduate is not leaving the game. Pipoli wants to pursue his master's degree (either in finance or business administration) while serving as a graduate assistant coach on some lucky college's tennis team. During a May conversation, he had not yet decided which school he'd be attending. That was the only thing he was uncertain about.
On what he misses back home.
Pretty much everything: family, friends, the food. Family because, of course, who doesn't miss the family? I grew up there; everyone is there. Friends, I was very close to my friends, and I used to spend time with them pretty much every day. The food as well, because I have two grandmas that cook for me most of the time. So that's another soft spot for me.
On why Monmouth felt comfortable quickly.
The school community was very similar to my living experience in Italy. I knew pretty much everyone in the Athletics Department, the other teams, and the school. My teammates and coaches helped me find a comfort zone. And having another Italian guy [Alberto Giuffrida] on the team helped me out a lot.
On which MAAC championship was the hardest.
The toughest one was the first, where we kind of broke the ice. I think the guys on the team, and the future incoming guys, will keep the tradition. With the coaches and the senior leadership, we created the right path for them to follow and to keep succeeding.
On not reflecting on his resume.
If you start thinking about something you accomplished, you'll stop learning and pushing yourself to improve. The key was, enjoy the moment when we got an important win or a big accomplishment, but the day after, keep practicing and giving 100 percent. I think that allowed us to keep going forward.
On why Rafael Nadal is his boyhood hero.
He made me really love the sport—the way he was playing and fighting and giving his best all the time. It made me understand that is the way you can get something accomplished. I was looking at him playing with injuries and not in great shape, but he was always giving his best.
On whether he regrets not going pro.
I made a choice before starting college: I could either study and get the opportunity to play at an American university, or go professional. I am not old, but maybe I've lost my time. You can see all the good players start coming out when they're 18 or 19 years old. And I am 23. Those four years were important if I wanted to go professional. Honestly, I am very grateful. Because I enjoyed [the accomplishments] along with my teammates and coaches. I have no regrets whatsoever.