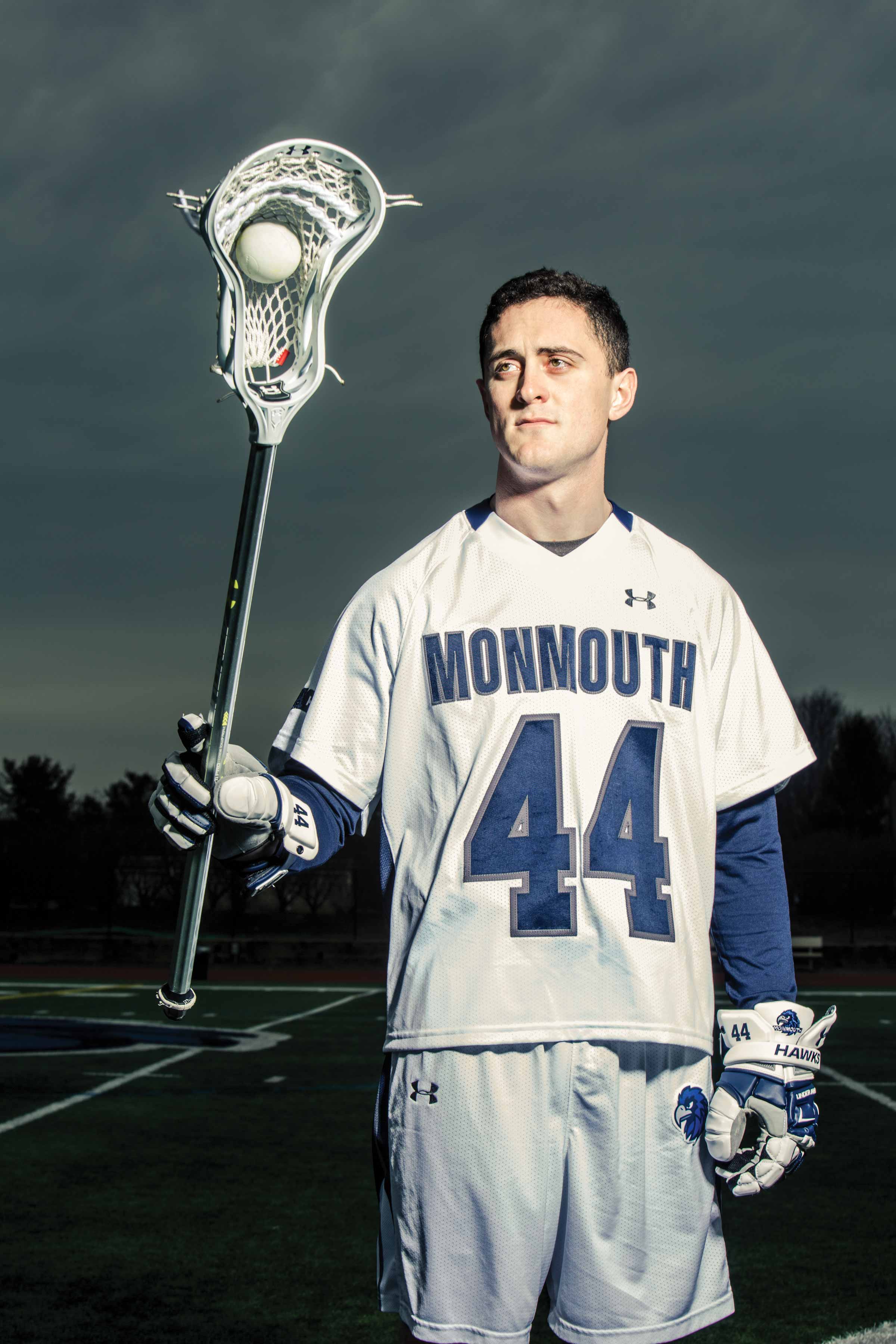 Higher Purpose
Sidelined by an injury this season, senior Nick Wilker has embraced his new role on the men's lacrosse team while staying focused on his next stop: the Marine Corps.
As college students approach graduation, they often set their sights on what they can go out and get. For Nick Wilker, the focus is on what he can give.
Wilker, a midfielder for the men's lacrosse team, completed Officer Candidate School (OCS) at the Marine Corps Base in Quantico, Virginia, last summer. He is scheduled to be commissioned in July before returning to the base this fall to attend The Basic School, a six-month program in Marine officer training. Wilker's sole objective is to give back by serving his country.
"I want to do my share to make the world a better place," says Wilker, a political science major. "For me, the military—and specifically the Marine Corps—is the best way to achieve that. I would not be where I am today if not for the men and women who have served past and present, so I want to give back to them and my country."
Wilker arrived at Monmouth from York, Pennsylvania, with a reverence for service. His father, Nathaniel, was a hospital corpsman, petty officer 3rd class, in the Navy from 1987 to 1993, and his grandfather, Vince Craig, was a yeoman in the Navy from 1963 to 1965. But it was a Hawk teammate, Eric Berger '17, who ultimately struck the match that ignited Wilker's charge to protect and defend. Berger completed the OCS program a year prior, before returning to captain Monmouth last season.
"I looked up to Eric and could sense how proud he was after his experience in OCS," says Wilker. "Witnessing that, along with the pride my dad and grandfather have for their service, I knew it was something I wanted to do, and felt I should do."
OCS is a 10-week program designed to screen and evaluate potential Marine Corps Officers. The physical training was a challenge, but Wilker held an advantage as a student-athlete. Preseason workouts with Monmouth Head Coach Brian Fisher conditioned his body and mind to handle the grueling regimen. He encountered an even tougher challenge in week three, when he tore a tendon in his shoulder while completing an obstacle course. Dealing with obvious pain, Wilker had a decision to make: He could undergo an MRI to confirm the tear and risk being sent home from OCS, or he could endure the pain and continue. Wilker gritted his teeth for the final seven weeks and graduated.
Unfortunately, surgery was imminent, and as a result, he is inactive for his senior season. But Wilker is taking on a different role this spring, serving as a student coach as the Hawks try to defend their 2017 Metro Atlantic Athletic Conference Championship. While it is not the storybook ending most players dream of, the transition suits Wilker's character. He is drawn to, and takes great pride in, helping others.
"I love Monmouth, and it's been an amazing experience," says Wilker. "My professors in political science have been great mentors, and they have always been there to help me. They are a big reason why I'm thinking about a career in teaching following my service."