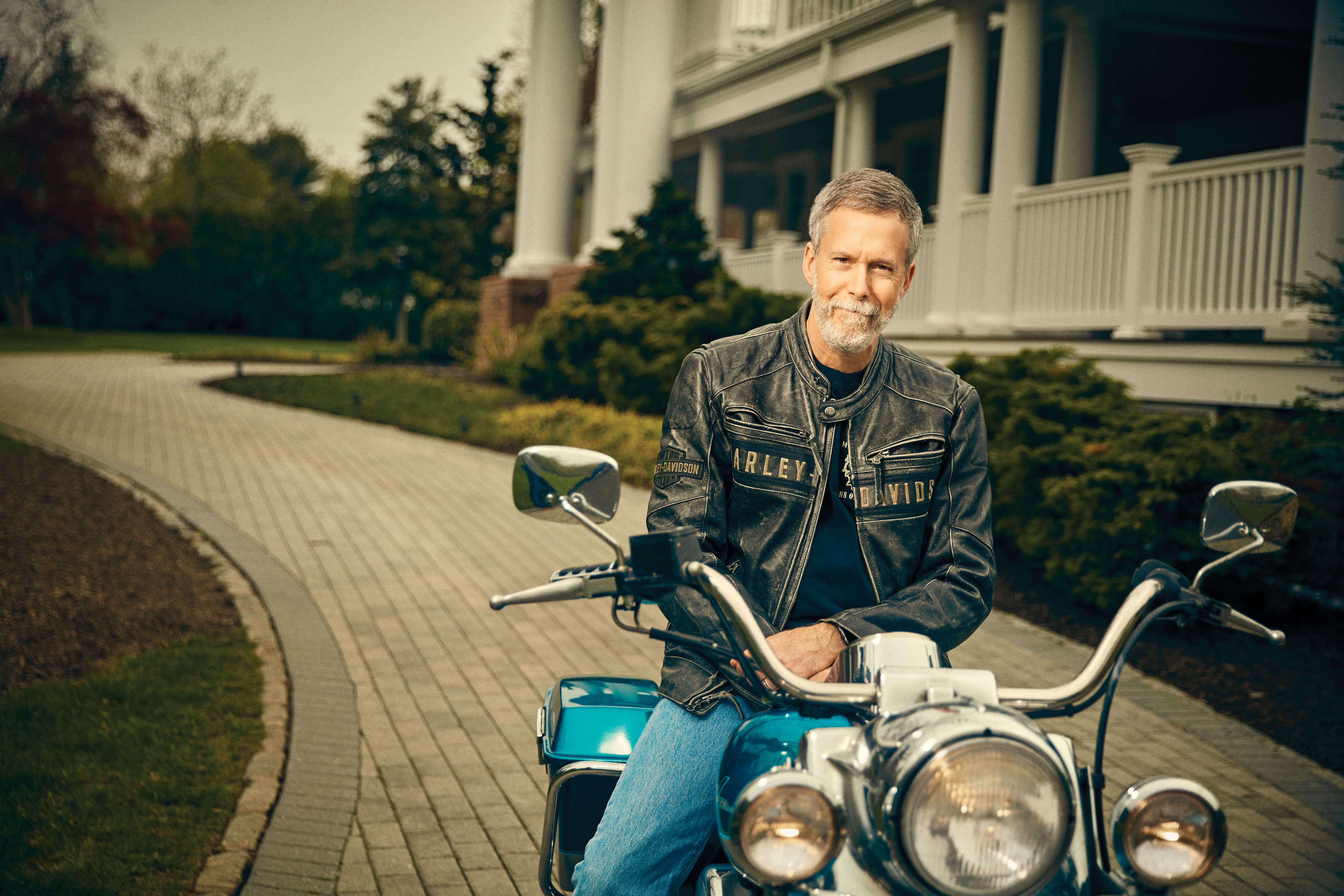 Grey Matters
A candid, annotated Q&A with Monmouth's ninth president.
In February, Grey Dimenna, Esq., was appointed president of Monmouth University. Dimenna, who retired as vice president and general counsel from Monmouth in 2015, returned at the request of the Board of Trustees following the retirement of former president Paul Brown. The board will soon begin a national presidential search, but Dimenna has said he is not interested in being considered as the incumbent beyond the conclusion of his contract, which runs through June 30, 2019. That hasn't stopped him from embracing his new role with gusto.
For those who don't know you, can you share a little about your background?
I've been involved in higher education most of my career, first at the New Jersey Attorney General's office where, among other assignments, I represented New Jersey's nine state colleges and was director of governmental affairs in the Department of Higher Education. I came to Monmouth in 1995, when former president Becky Stafford created the internal general counsel office.[1] My role expanded during my 20 years here, as more departments began reporting to me. Part of that reflects the expansion of the federal and state laws and regulations affecting higher education, and part of it was related to Monmouth becoming a more advanced institution. After I retired, I traveled a lot with my wife, Nancy[2], rode my bicycles[3] and my Harley[4], and I started learning to play guitar.[5]
Why did you decide to return to Monmouth?
I love this university so much that when the trustees called and asked if I could help out I couldn't say no. And Nancy was very supportive of me doing this. Monmouth is like a family to me. That's one of the special things about this place.[6]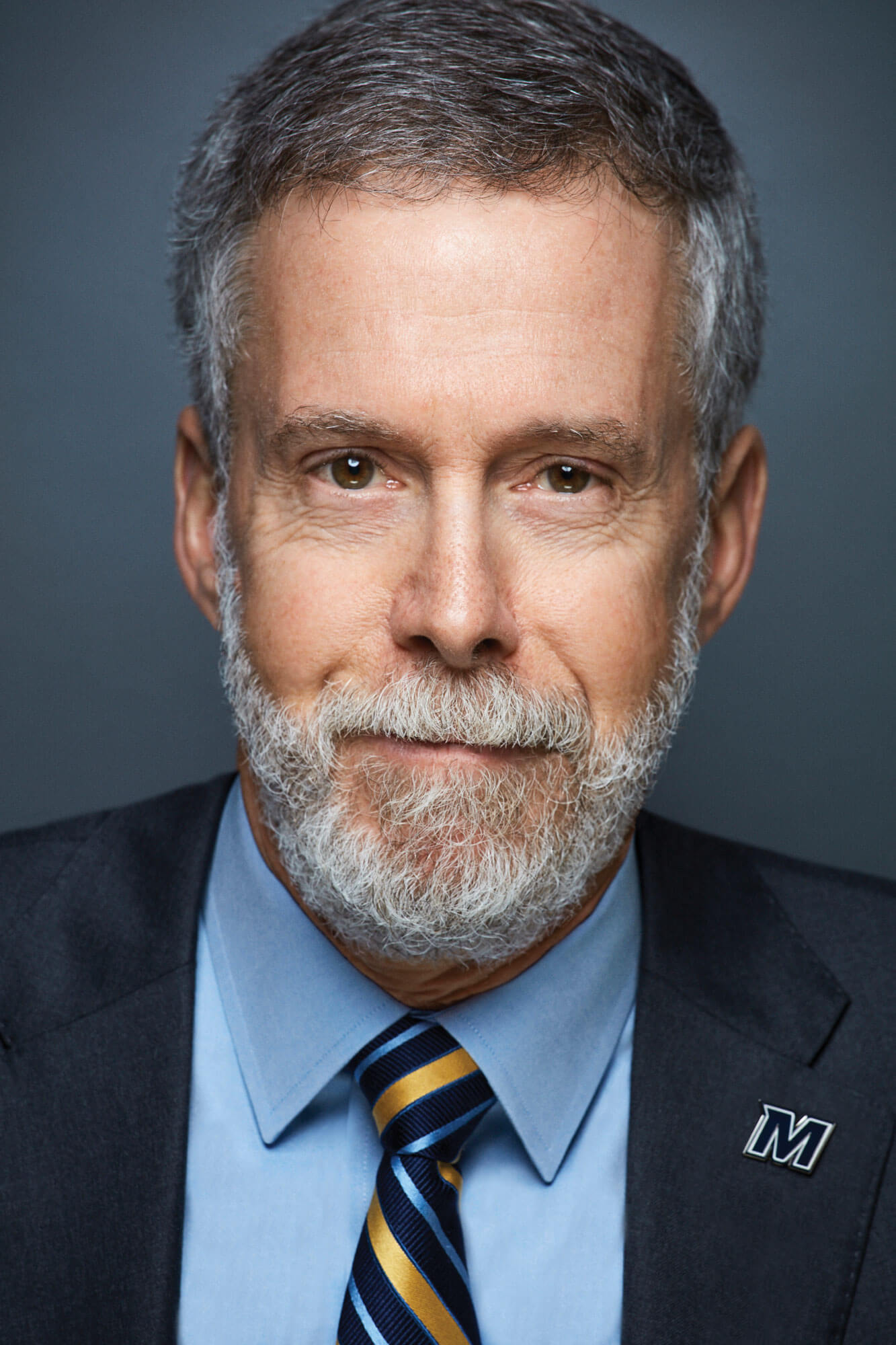 You've seemingly been everywhere on campus since returning. Has that been intentional?
I want to be as visible as possible, particularly for the students. My guiding principle is that the students come first—they're the reason we're here—and so I've made it a point to attend a lot of student events, to eat in the student dining hall, to chat with students I see on campus. One of the things I love about this job is that I get to deal with students much more than I did as general counsel.I think it's important for a president to be visible and accessible.[7]
This is a job with a fixed endpoint for you, but you've made it clear from the start you don't intend to "tread water" as president. What have you been focused on?
I've picked up on a few things in the strategic plan to keep that moving ahead. One big area is getting the new Institute for Health and Wellness up and running. Health care is such a major issue in our country, and the institute will serve as an important resource in regard to shaping policy and informing the public. It will also create research and educational opportunities for faculty and students in many of our existing academic programs in the health sciences, as well as help us develop new programs. We're working with two of the region's largest health care providers, Hackensack Meridian Health and RWJBarnabas Health, so it's very exciting for the university and the community.
What will your priorities be for the coming academic year?
Some of that is still being worked out with the board, but what I can say is I'd like to work with our Centers of Distinction—the Polling Institute, Kislak Real Estate Institute, Center for the Arts, and the Urban Coast Institute—to get them involved to a greater extent in the fabric of the university. I'll also be focusing on facilities projects: we'll be finishing the Science Building and Monmouth Stadium, and we need to study possible updates and renovations to the Student Center and some of the residence halls. And of course, I want to continue to be visible on campus.
As someone who worked at the institution for two decades, what would you point to as Monmouth's greatest strengths?
That we're student-centered. We have small classes, and faculty form one-on-one relationships with their students. We have a beautiful campus, great facilities, a great athletics program, and a great system of clubs and organizations for students to get involved with. And I think one of our greatest strengths continues to be the outcomes our students enjoy, both educationally and in terms of personal growth. I've seen how students come here as recent high school graduates and leave as mature adults ready to make a difference in this world. To me that is huge.
What are the biggest challenges facing Monmouth?
Cost is one—that isn't unique to Monmouth. Higher education is very expensive. At Monmouth, we give students a lot in return. But to have small class sizes and provide individual attention and support like we do requires people, and that costs money. One way we're attacking that is by working to increase the amount of scholarship dollars we can give the students. That means getting more people to donate and create scholarships.
A second thing we hear from students is parking. It sounds so mundane, but we recently did a student satisfaction survey and hands down the most frequent comment was, "We need more parking."[8] We've got to do something to create more parking on campus, because that would go so far in terms of student satisfaction.
How long have you ridden motorcycles?
Since the summer after my freshman year of college.[9] I always loved motorcycles as a kid. I thought they looked so cool. It's a great feeling when you're riding—particularly out west, where it's so scenic and you're one with the road and nature.
And how long have you been playing guitar?
I started learning the day after I retired. It was a goal of mine. I am not the second coming of Jimi Hendrix, but I was practicing a couple hours a day and enjoying it. I was just learning to play slide guitar when this job came along. I haven't played guitar since. But the minute I retire I'll be picking it up again.
Do you have a favorite band or type of music?
That's tough. I can't pick one.[10] I have well over 1,000 CDs. I just finished selling off my album collection. I still have 400 or 500 cassette tapes that I don't know what to do with. Rock and the blues are probably my favorite types of music, but I also like reggae, some country, folk.
When you were general counsel, you had a reputation for being the funniest man on campus—
That wasn't a reputation. It was established fact [laughs]. I think humor is really important because it makes for a more comfortable and positive working environment. I'm not a good joke-teller.[11] My style is more off-the-cuff—finding funny things in everyday situations. I've been told I have a very dry sense of humor, which can sometimes be a problem. I'll make a joke, but the person thinks I'm serious—then I either have to explain it or let it slide.
Were there other topics you were hoping we'd cover in this interview?
Maybe that I'm the best-looking president in Monmouth's history.
11 Shades of Grey
As the first person to hold the position, Dimenna established the organizational framework of the Office of the General Counsel.
Nancy Kaplen, Dimenna's wife, is a retired attorney who worked in the New Jersey Attorney General's office for 26 years.
Dimenna owns seven bicycles and rode 5,507 miles in 2016.
A 1995 Road King.
He owns two: an electric Stratocaster and an acoustic resonator.
Shortly after his return, Dimenna wrote in an email to students and employees, "Although I was truly enjoying my retirement, I did miss my 'family' and it is wonderful to be back."
Dimenna has become known for giving impromptu tours of the president's office to prospective students he meets in Wilson Hall.
One student also commented, "The new president rocks."
His first motorcycle was a Honda 19—"a little tiny thing," he says.
Some of his favorites: Led Zeppelin, Hendrix, The Allman Brothers Band, Richard Thompson, Muddy Waters, Joe Bonamassa, Bruce Springsteen, Gov't Mule, and the Rolling Stones.
Sample Dimenna-style joke, which he told while having his picture taken for this article: "What's red and hurts your teeth? … A brick."