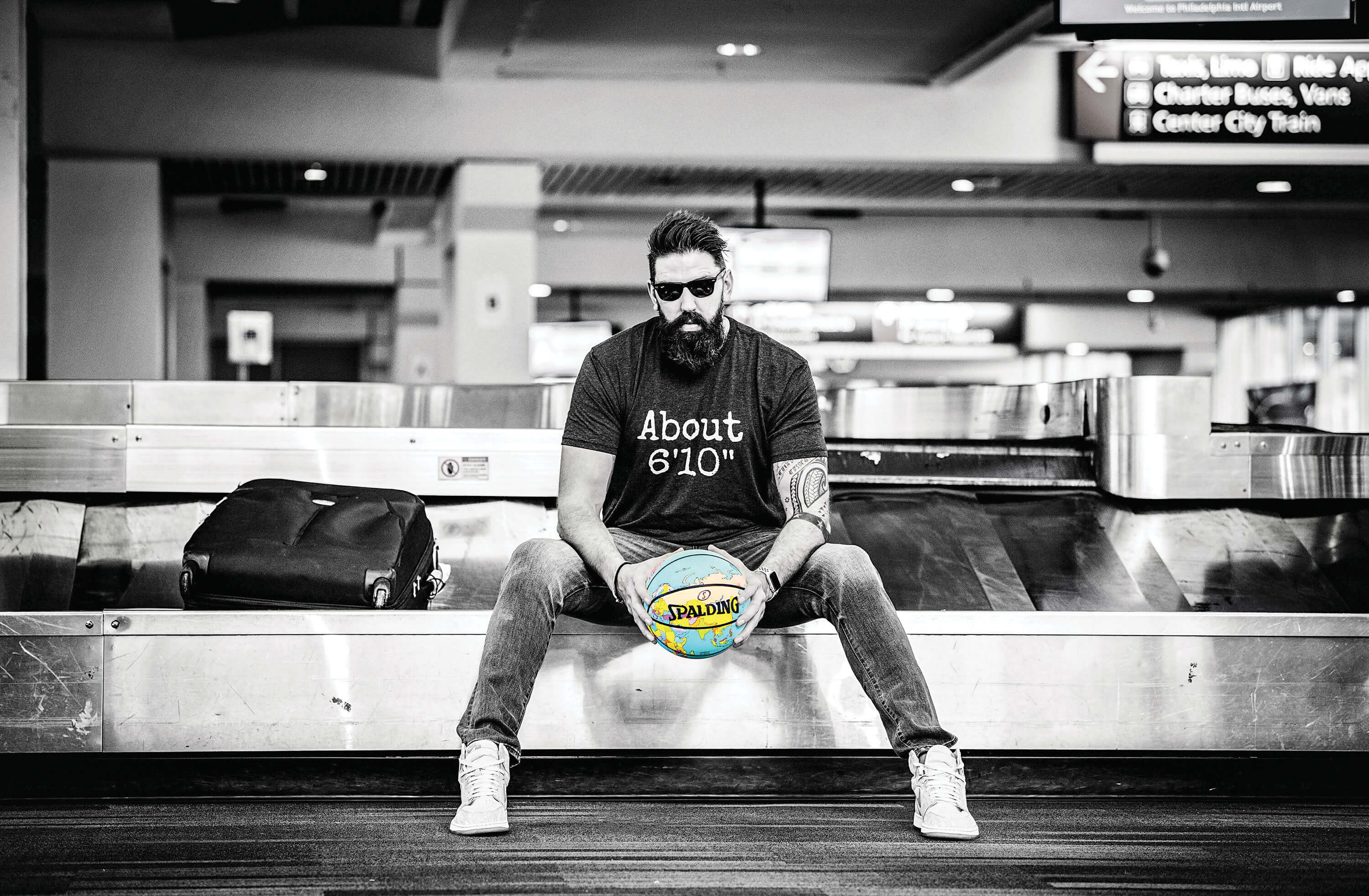 Globe Trotter
Former Hawks center Kevin Owens dishes on his experiences playing professionally overseas.
FANS OF SIGAL PRISHTINA IN THE KOSOVO BASKETBALL Superleague are passionate about their team, so much so that when players aren't performing well, fans shower them with boos—as well as coins, broken glass, flares, and whatever else they can find.
Kevin Owens '02, who played for Sigal in 2009, dodged a few flares in his day. In his new book, Overseas Famous: The Travels and Tribulations of a Basketball Globetrotter, Owens documents the roller-coaster ride of life experiences and outrageous incidents he encountered while playing professionally in Europe, Asia, and Australia.
"I'm a lifelong Philadelphia sports fan, and the fans of Kosovo put unruly Philly fans to shame," says Owens. "I had some incredible experiences traveling and living in different parts of the world. Being a pro basketball player overseas is very different than here in the States, and this book shares my experience of what it's really like."
Owens played center for the Hawks from 1999 to 2003. His talent and work ethic earned him a roster spot on the Roanoke Dazzle in the NBA D-League, where he spent three seasons before pursuing a bigger paycheck in Australia. He played five seasons overseas and retired in 2010, witnessing more by age 31 than some do in a lifetime.
"The book begins when I'm in high school, goes through college, and then [goes through] playing professionally," says Owens. "I loved my time at Monmouth and take the reader through the experience of playing Duke in the NCAA tournament in 2001. It was such a thrill to hear Monmouth being called during the selection show, but after not playing for over a week, you take the floor, and it's Duke!"
Owens is now a middle school teacher and founder of Overseas Famous LLC, a multimedia platform he created to give athletes living abroad a chance to share their stories.
"There were definitely some very lonely and challenging times during my time overseas," says Owens. "But looking back, I was incredibly fortunate to do what I was I was able to do."