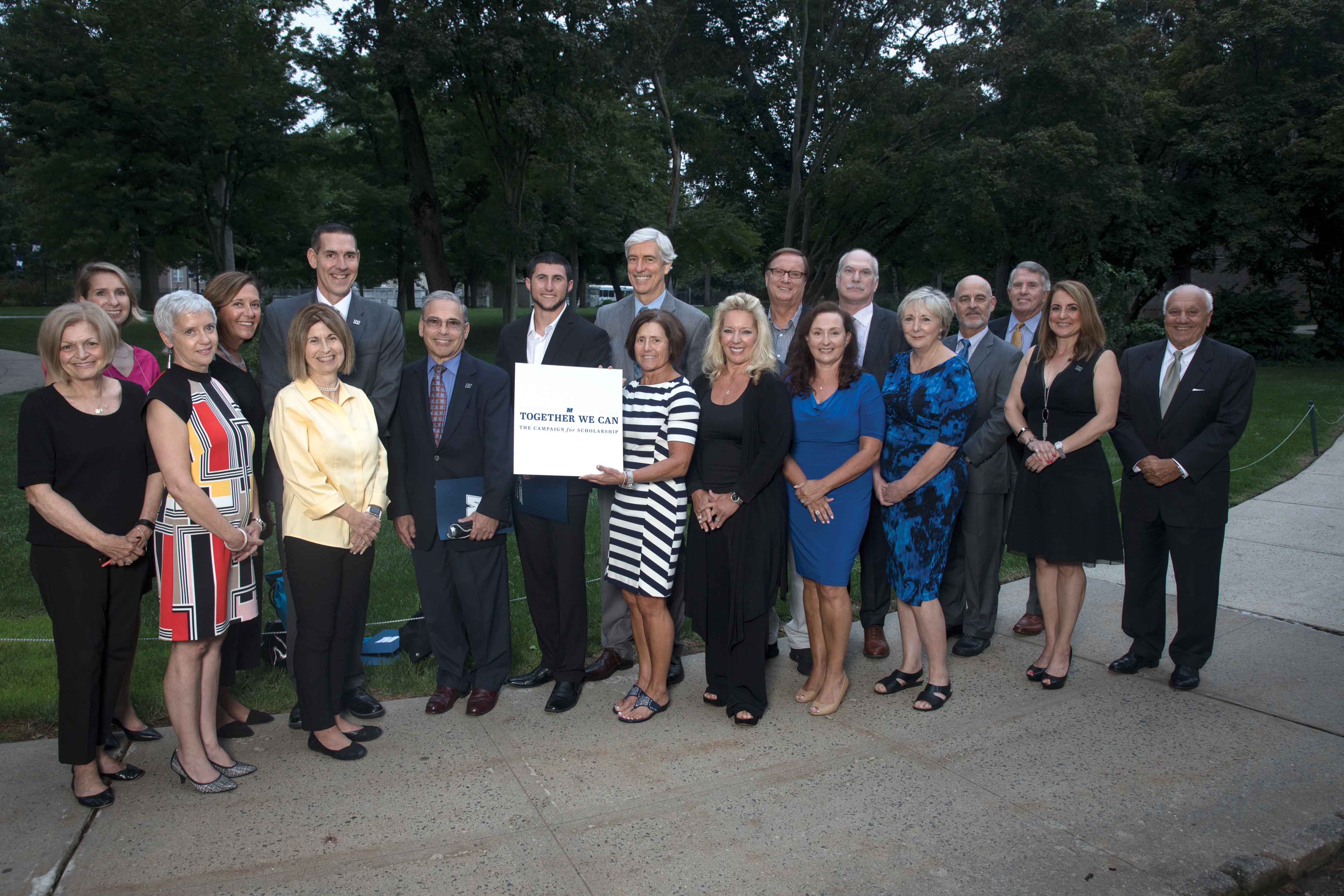 Gathering together
A new campaign will support student scholarships.
Jonathan Meer, vice president for University Advancement, announced the public launch of a campaign to raise $15 million in private funding to support student scholarships at Monmouth University at a kickoff event during a meeting of the Board of Trustees in October. The fundraising effort, Together We Can—The Campaign for Scholarship, will include all gifts and pledges made to scholarships from July 1, 2017, through June 30, 2019.
"The campaign is ambitious in its scope and timing," Meer said. "Members of our Board of Trustees and thousands of others in the University family want to provide much-needed support for our students while honoring the student-focused tenure of President Dimenna before the end of his term as Monmouth's ninth president."
"Those who know Monmouth, especially our trustees, alumni, parents, faculty, and staff, are keenly aware of the impact of scholarships on the recruitment and retention of academically qualified students, and this campaign is a critically important way to strengthen the University's commitment to accessibility for those who seek a Monmouth education. It will also highlight President Dimenna's legacy at Monmouth," he added.
Dimenna's commitment to student scholarships is personal as well as professional. In addition to frequently expressing gratitude for the scholarships that aided his own education, the president and his wife have established the Grey Dimenna and Nancy Kaplen Distinguished Endowed Scholarship, with a pledge of $75,000.
Trustees Valerie Montecalvo and Carol Stillwell are serving as campaign co-chairs and coordinating the efforts of a team of volunteers who represent a broad spectrum of the University community.
"Monmouth is a relatively young University, and the financial needs of students are out-pacing the growth of endowment funds designated to support scholarships," Montecalvo said. "That's why this campaign is so important."
Stillwell echoed that sentiment. "Monmouth cannot depend upon a sizable endowment built over centuries and across many generations," she said. "Private support is needed to increase scholarships so that the University can continue to attract and retain the best and brightest students."
Stillwell's passion for higher education stems from her own lack of access to college as a young woman. "College was never a realistic option for me," she said. "My parents could not afford to help me with tuition, and I had to work to help support our household. During my time associated closely with Monmouth students I have seen the tremendous impact of a comprehensive education firsthand," she said.
For more information about the campaign, or to make a gift of support, please visit monmouth.edu/together.
Top Image: Members of the campaign committee pictured after a September planning meeting (l–r): Mary Lee Bass '92M; Leah K. Lazzaro '04M; Dean Robin Mama; Rita L. Mangan '77; Patricia Ralph; Jim Pillar; Trustee Thomas Michelli; Senior Class President Nicholas Verzicco; Antoinette "Toni" Musorrafiti; Dean John Henning; Campaign Co-Chair Valerie Montecalvo; Raymond N. Brunt Jr. '77, '78M; Joyce DeJohn; Dean Steven Bachrach; Cynthia Fair; Harry Silver; John "Jack" Ford; Alumni Association President Karyn F. Cusanelli '89; Richard L. Ricciardi '86M.