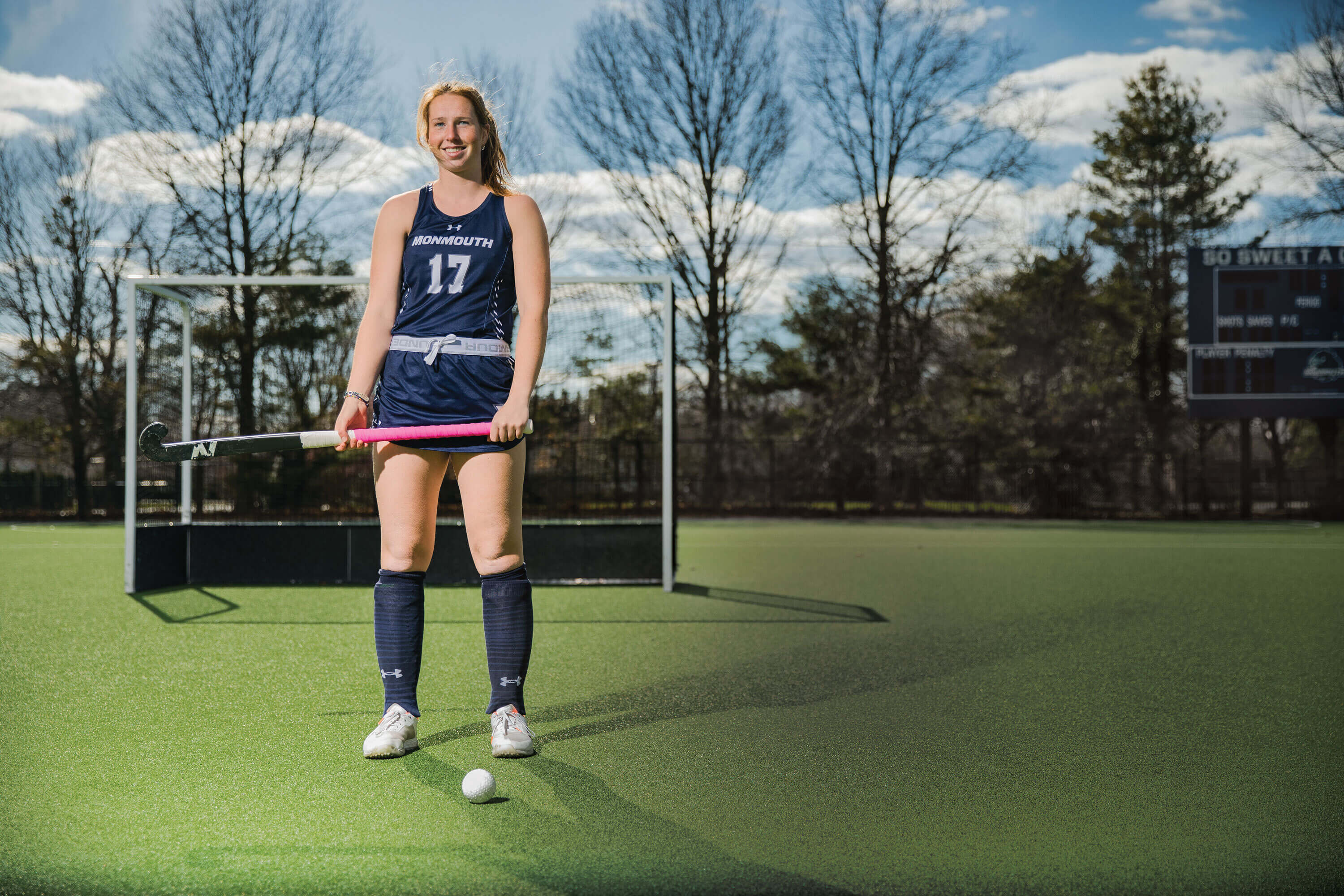 Forward Thinking
Star forward Annick van Lange talks changing conferences, what she'll miss most about Monmouth, and the two items she always brings to games.
Predictions in sports are always iffy. But Annick van Lange, a forward for Monmouth's field hockey team, seems certain of at least two things that will happen when her stellar, five-year career with the Hawks ends this fall. She's going to miss her teammates, many of whom have become like extended family. And, win or lose, when the horn sounds at the end of her final collegiate game, she's probably going to cry.
"This has been such a big part of my life," says van Lange, who hails from Sint-Job-in-'t-Goor, a small town in the province of Antwerp, Belgium. "Playing here has been such a great opportunity." She discussed the experience with us earlier this spring.
On why she chose Monmouth.
During my senior year of high school, my mom asked if I'd be interested in playing field hockey and combining that with my studies in America. And I thought, Oh, that'd be so cool—but so unrealistic. But I decided to give it a shot. I made a highlights video and sent that and my SAT scores to different schools. When Carli [Figlio], our head coach, contacted me, we had a lot of Zoom calls to get to know each other. Then I visited Monmouth during my senior year and fell in love with the place. The campus is so beautiful, and I had so much fun meeting the team.
On adjusting to life in America.
I'd been to the U.S. once before for a family vacation to New York, but there definitely was still culture shock. I'm glad that I came for summer school. I took two classes to get to know the campus and what it's like to be a student-athlete here. When preseason started, there were some more adjustments because I had never practiced two times a day for two weeks straight like that. And there were so many team meetings!
I'm majoring in international business, and I really like my marketing classes. This year, I'm taking Strategic Management with Professor Joseph Mosca. He divides us into groups, and we meet with executives from different companies. That's been a valuable experience.
I always wear the same red socks under my shin guards and make sure to put on my right sock and right shoe first. And I always eat half a banana during halftime; it's a little pick-me-up.
On being named Division I Eastern College Athletic Conference Player of the Year in 2021.
It's fun to be recognized like that, but at the end of the day, I feel like our focus should be on winning a championship. That's why we're all here. We got so close to winning an America East championship, so we still want revenge for that. Playing in the Colonial Athletic Association this fall will bring new challenges, but we're working hard and scrimmaging teams that we'll be playing this season. That's giving us a taste of what to expect.
On what she wants in addition to a championship.
To get Monmouth's name out there. A lot of times people are like, Monmouth field hockey. What is that? D-2? No, we're D-1. We're nationally ranked. I want other teams to think, Oh no, we're playing Monmouth. It's not going to be an easy game.
On the bonds she's made here.
I like the fact that my teammates come from all over the world and that there are so many different cultures represented. Everyone shares her input and that ultimately makes us better. It's what makes our team our team, and it's helped me to be open to new ideas. Right now, I'm living in a house with five teammates, and we spend all our time together. We're never apart and we pick each other up when there are setbacks. I feel like that will be a big gap when I go back home.