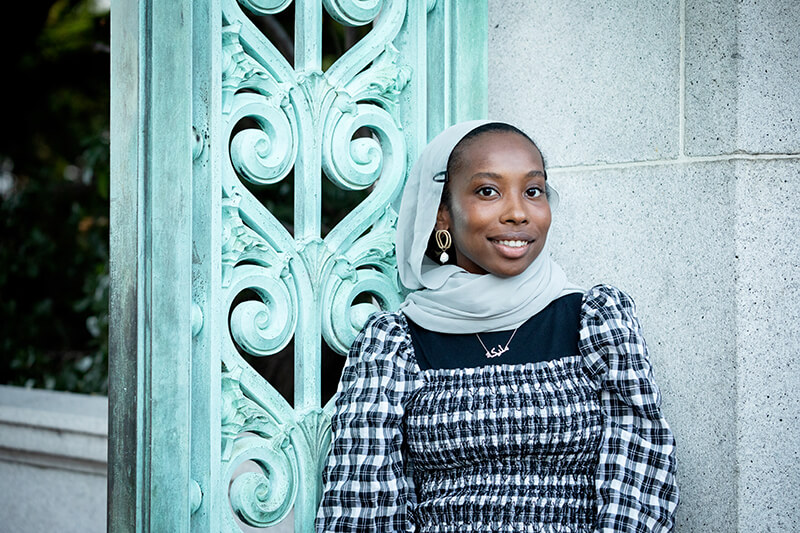 For the Greater Good
Jamilah McMillan '17, a first-year law student and Public Interest Scholar at Berkeley, is committed to helping marginalized communities that are disproportionately affected by the criminal justice system.
Jamilah McMillan's interest in law stems from a personal incident. In 2016, her brother was arrested, and McMillan says the bewilderment she and her family felt during his months-long trial instilled in her the desire to pursue a career in the field of criminal justice to help ensure that the system works more fairly for everyone.
"Being in that courtroom and having that experience of talking with my brother's lawyer but not understanding what was going on—I knew that my family was not the only one in that type of situation," says McMillan, a 2017 Monmouth graduate. "I knew we couldn't be the only people impacted by the criminal justice system who didn't know how to effectively go about being in the system."
Until that point five years ago, McMillan says, she had planned to become a journalist. A political science major at Monmouth, she had double minors in journalism and graphic design and served as managing editor of The Outlook. "All my internships to that point had been in journalism. I had wanted to go work for the New York Times after I graduated."
Instead, she went to work in the Manhattan District Attorney's Office. For two years, she worked in the Early Case Assessment Bureau where, among other things, she wrote desk appearance tickets—documents that explain to arrested individuals when and where to appear in court. The experience showed her how prison and policing were often used to handle matters that were essentially social issues.
"When there was someone who was homeless, they would be arrested for trespassing or loitering," says McMillan. "Or someone with a drug problem would be arrested and given a desk appearance for having a cocaine pipe or a heroin needle on them."
Watching that play out piqued her interest in criminal justice work. She applied and was selected for a Beyond the Bars Fellowship with Columbia University's Center for Justice through which she participated in seminars and workshops directed at ending mass incarceration. She also changed jobs, moving into the DA's Alternatives to Incarceration Unit. "It was a more progressive unit," she says, where cases were often resolved with intervention and programming rather than incarceration.
Her work in that unit often brought her into the courtroom. "A lot of times, I was the only Black person on the prosecutor's side…and the only other Black or Brown people in the room were the defendants and their families," says McMillan. "So it was full circle from when I had that experience with my brother."
Now a first-year student at The University of California, Berkeley, School of Law, McMillan says she is certain about one thing the future holds in store.
"Whatever I do, I want it to be about community lawyering," says McMillan. "I want my work to be about helping the Black and Brown families that are disproportionately impacted by the criminal justice system in America—to guide them in situations where they come in contact with the law and also find ways to address the issues that affect them that go beyond policing and prison."
It was her passion for public interest law that made her choose Berkeley, where she was selected as one of the school's first Public Interest Scholars. The award covers her tuition and fees while providing access to a community of scholars who are committed to public interest lawyering.
"It is ingrained in the culture at Berkeley that the students want to get involved with the community and provide pro bono legal services," says McMillan, adding that she has already worked with local residents facing eviction as well as individuals in Afghanistan facing persecution by the Taliban.
McMillan says the mentoring she received from her Monmouth advisor, Professor of Political Science Rekha Datta, the Freed Endowed Chair in Social Sciences, has been crucial to her success.
"She helped me to look beyond, to reach my potential and figure out my path," says McMillan. "As a first-generation student, it was so helpful to have someone like her to guide me." Even now, years after graduating from Monmouth, McMillan remains in touch with Datta, who wrote her a letter of recommendation for law school. "She continues to be a part of this journey of mine from Long Branch to Berkeley."
It's a role McMillan hopes she can play for current Monmouth students.
"Anyone who is reading this who is first-generation, or a person of color, or Muslim, or from a low-income background—if you're interested in the law, I hope my story shows that you can make it in this field," says McMillan. "Because we are needed."