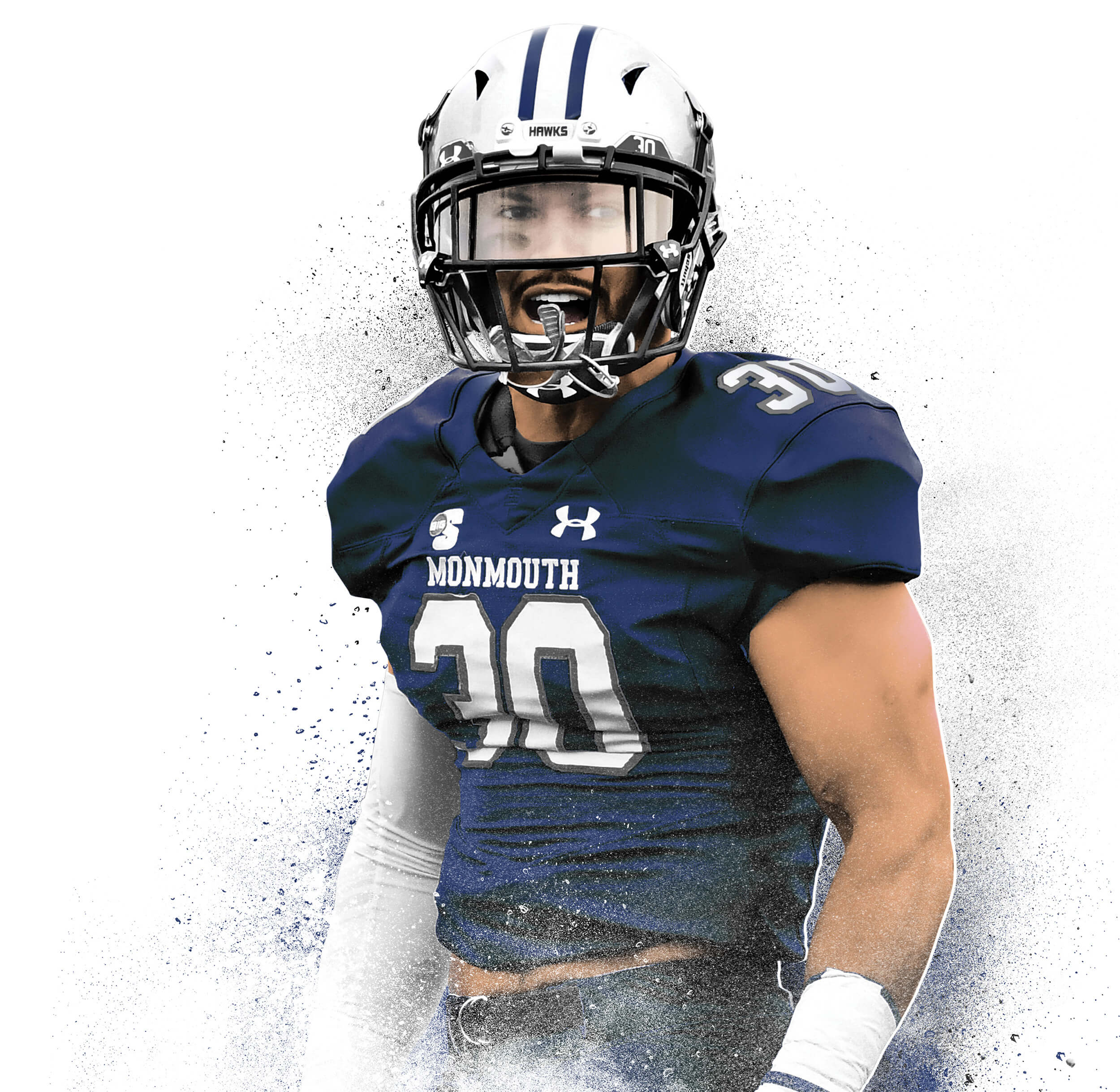 Field Vision
Mike Basile, the most decorated player in Monmouth football history, eyes his next move.
In a society where brevity is king, the term "GOAT" has embedded itself in the sporting lexicon.
Mike Basile '18 is undoubtedly one of the best to ever don a Hawks football uniform, but the jury remains sequestered on whether he can carry the label, "Greatest of All Time."
That's because the trial is still in session. The defensive back received an invite to the Indianapolis Colts' rookie minicamp after an impressive showing at Monmouth's Football Pro Day, and the prospect of playing in the NFL shines a brighter light on his already brilliant career.
"The goal is to stay with the team and be on their roster for the season moving forward," Basile said earlier this spring. "I'm going to work my tail off and do everything in my power to show them what I can do and what I bring every day."
What Basile brought to the Hawks football program was four years of exceptional play, tremendous leadership, and a penchant for setting program records. He was the first player in team history to earn consensus AP All-American honors (2016 and 2017), the first to earn First Team All-Conference honors in four consecutive seasons, and the first to be named Monmouth Defensive MVP for four straight years.
He holds the program record for career tackles (433) and the program and Big South record for career solo tackles (285).
Perhaps the crown jewel of Basile's collegiate career was what the Hawks accomplished during his senior season. Monmouth posted a 9-3 mark and, for the first time in program history, received an at-large bid to compete in the NCAA FCS Playo s. For his part, Basile led the NCAA in solo tackles per game (7.6) during the 2017 season.
Outside the hash marks, Basile, who graduated with a degree in criminal justice, has long been drawn to serving the community.
"It's a reflection of how I was raised," he said. "I have always had great respect for law enforcement and want to play an important role in the community. But for now, my goal is that the Colts organization and sta does not want me to leave for a long time."
Asked how he hopes to be remembered at his alma mater, Basile said, "as one of the greatest leaders Monmouth University has ever had on and off the field."
With a continuing career in football and law enforcement potentially on the horizon, it's possible Basile will be referred to as both the hero and the GOAT.