Fearless at Heart
Jaclyn Isaac '09 made a career switch that harnesses her passion for interior design.
After earning her degree in business administration with a concentration in marketing, Jaclyn Isaac '09 achieved her dream of working for an advertising firm on Madison Avenue. But she found herself craving a creative outlet. "I was working on the creative side of the business, but I was managing projects and not really doing any creative work," she says. "I always loved decor and design, so I started a blog."

Her blog was a place where Isaac could let her creativity and passion for interiors flourish. She interviewed interior designers near her Jersey City home, documented her personal home style, and got to know the industry. She picked up a few freelance interior design projects of her own and, when she met a real estate broker in Hoboken, her newfound career took off. "He referred a lot of projects to me, and the first turning point for the business was when I designed their office and event space," she says. "It really gave me the confidence to take on bigger projects."

Today, Isaac is owner and principal designer at doni Douglas, a design firm that specializes in high-end single-family homes and luxury multifamily buildings. She leads a five-person team, and her work has been featured in Dwell, Architectural Digest Pro, Design NJ, Aspire Design and Home, and other media outlets. "We just wrapped a 70-unit condo building where we specified every inch of the space," she says—everything from the kitchens, bathrooms, flooring, lighting, doors, and moldings to rugs, sofas, and window coverings. The project received a Coverings Installation & Design (CID) Award in April.
Article continues below photos.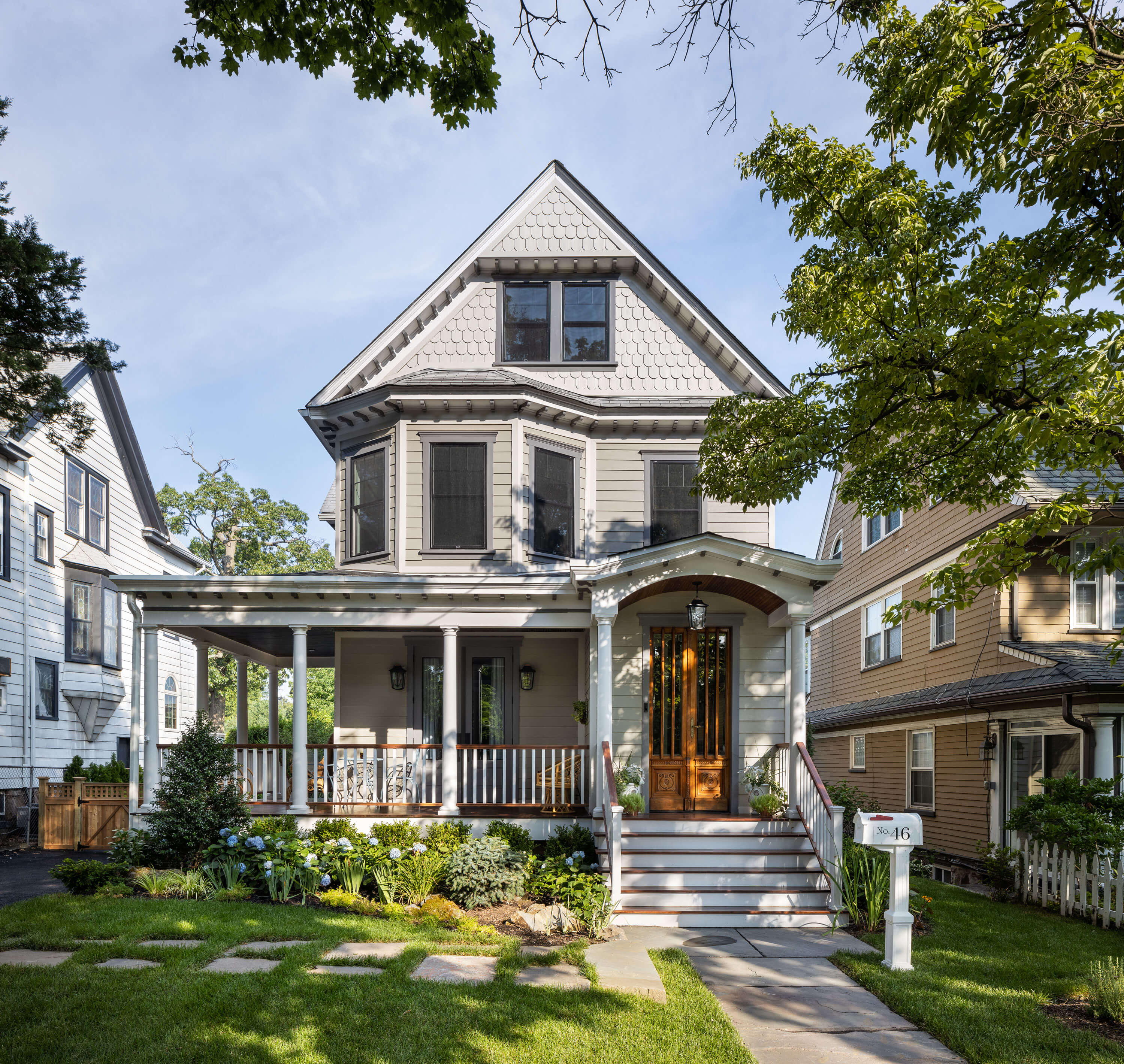 In Style
If you ask Isaac, the firm's style can be defined as interiors for the fearless at heart, blending the hallmarks of a classic home (think chunky moldings, wood windows, and big fireplaces) with modern furniture and funky fabrics. It's a look she's mastered across homes and commercial projects in New Jersey, Nantucket, Florida, and Massachusetts. But a recent project allowed Isaac to stretch her design muscles even further and indulge her personal style.

That project, a 1920s-era beach bungalow in Lake Como, New Jersey, kept some of its historic charm, evident in the brick fireplace and salvaged cast iron tub. Isaac then gave the place a bohemian-style update with raffia lighting, jute rugs, vintage colors, and even a bamboo bar sourced from a surf shop in Point Pleasant, New Jersey.

"Some people can't believe the transition I've made from the business world to design, but I have my friends I made at Monmouth to thank for giving me the support I needed to take the leap," says Isaac. "The education I received at Monmouth and working in the corporate world gave me the business sense I need to run my firm."
---
How to Elevate Your Space
Ready to take on your own renovation? Follow these tips from Isaac, and your home is sure to be the talk of the neighborhood.
Look for Good Bones.
Isaac keeps an eye out for high ceilings, solid architectural features, and other marks of character. Then she gives the home a fresh look by updating it with modern fabrics and furniture and pops of contemporary art. The result might be styling a modern low-profile sofa with parquet floors, dropping a black-and-cream abstract-patterned runner over a grand staircase, or hanging a linear chandelier in a formal dining room.
Utilize Current Lighting and Placements.
Updating lighting fixtures is easy if the boxes and wiring already exist and their placements are aligned with the way you'll use the space. Replacing a fixture—rather than running all new wiring and cutting holes in the wall—is one of Isaac's favorite ways to immediately (and often affordably) update a space.
Rethink Open Concept.
Walls are making a comeback, as the COVID-19 pandemic ushered in an era of unprecedented at-home multitasking. Open floor plans just don't serve today's families, who need privacy and noise control or need to utilize their homes for office space, entertaining, and leisure. "We always recommend mentally designating the functionality of your space before you take down any walls," says Isaac. "If the activities are similar—say, homework and office work—we will happily hand you the sledgehammer."
Get a Plan In Hand.
Make sure there's a set plan in place before bringing in anyone for an estimate, since different finishes require different amounts of labor and materials. (Stone slabs versus tile in the shower, or a wall-mounted toilet versus a traditional floor-mounted toilet, can make a big difference in the budget.) Isaac recommends putting a mood board together with your selections and inspiration images in Google Slides or Canva so you can properly communicate your wishes to the contractor, and they can give you a price aligned with your expectations.
Keep Those Plaster Walls!
Properly maintained plaster walls provide a texture and patina that a lot of new homeowners are requesting on their brand new sheetrock. If you've got it, flaunt it! Isaac's tip? Paint existing plaster walls in Limewash by Sherwin Williams.