Family Ties
When Kathy Brady was just six credits into her master's in nursing, she was diagnosed with a brain tumor. That didn't stop her education.
It was Dec. 22, just three days before the Christmas holiday in 1998, and Kathy Brady was having a good day.
She had just brought her mother-in-law into town for Christmas, and she had picked up her daughter and her friends to take them to GoodSports, a sports complex in Wall Township, New Jersey, to play field hockey. She sat with a cup of tea and watched, content knowing all of her shopping was wrapped up.
Brady felt just fine. Not ill at all. But as her daughter, her friends, and Brady left the arena, she collapsed. Grand mal seizure. Onlookers called an ambulance, which took Brady to Jersey Shore Medical Center. Everyone was perplexed. "There's really no good reason for a 40-year-old woman to have a seizure out of the blue," says Brady.
They took her in for a CT scan and did her bloodwork. When the nurse came into her room later, she relayed that the bloodwork was fine but that they'd like to talk with her in a private room about her scan. Brady had been a nurse for nearly 20 years at that point. She knew one thing: When they want to talk with you in a private room, it's never a good sign.
---
When Kathy Brady was a little girl, she dreamed of being a nurse. She earned Girl Scout badges in bandaging and wound dressing. When she was old enough, she became a candy striper, bringing cards and flowers to patients in the hospital to brighten their day. "It was ideal if you got to work at the nursery with the babies," says Brady. By 1980, she had earned her diploma from Ann May School of Nursing and went to work right away. But as her children came along—one, two, three, and then four—she moved from work in the intensive care unit (ICU), the critical care unit, and the pediatric ICU to part-time work in a pediatrician's office. She liked the office, the staff, the doctor—it all worked for her as a busy mother, but there was something missing. "I realized I wasn't using my acute care skills, my assessment skills," she says. "So I decided to go back to school to get my nurse practitioner (NP) degree."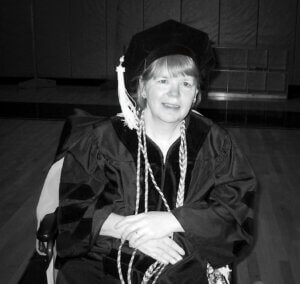 That bachelor's degree from Monmouth was just a start. She wanted the master's too and headed right for it once that NP was tucked beside her name. She was six credits into that master's at Monmouth when she had that grand mal seizure—and school was put on pause.
In the private room that Dec. 22, the doctors told her they saw a tumor on the scan. Good news: It was benign. Bad news: It was huge. A mixed glioma, they told her, and, not surprisingly, it was pushing against her brain. Kathy Brady was a mother of four, just 40 years old, with no signs to speak of save the worst headache of her life about a month prior.
The master's program was put on hold for surgery, for weeks of post-op physical therapy, for more seizures ("Apparently my brain doesn't like to be messed with," says Brady), and, later, for radiation every day for six weeks.
In the end, Brady was slower. Her words sometimes got lost, and she battled right-side paralysis that later—with work—lessened to right-side weakness. But her dreams to be the best nurse she could become didn't slow much at all. When she was ready, she headed back to that master's program and had a rule with the faculty: no exemptions. She wanted to be held to the same criteria and standards as the other students. "I didn't want to be treated any differently," she says. Brady did, however, accept accommodations for her slower cognitive functioning—additional time for testing, for example, independent studies, and, sometimes, withdrawals to go back and start a class again. It took her six years to earn her master's, but she earned it alongside several classes of nursing students.
---
Brady's surgery removed 80% of her tumor, and the 20% that remains shows no signs of further growth. "It's stable," says Brady. Last year, she earned a Doctor of Nursing Practice from Monmouth, and these days she teaches advanced nursing research at both Monmouth and the CUNY School of Professional Studies. She has found her spot as a nurse educator—passing on the skills she developed through school and practice. And her experience as a patient herself helps her empathize with her students who may need accommodations in her classes. "I know where they're coming from when they have problems. I understand that," she says. "I keep constant contact with them if they have any issues at all."
Brady's connection to Monmouth started with that nurse practitioner degree in 1998, but it has extended beyond diplomas. Monmouth is a family affair: Her husband, Don, a retired special education teacher, is also a two-time alumnus of the School of Education, and their son has a degree in business. But Monmouth is also just family: Brady was walked down the aisle for her master's graduation by Janet Mahoney '87, who was then assistant dean of the nursing school, and Cira Frasier, a fellow faculty member, wheeled her into the January 2021 graduation ceremony in her academic regalia so she could watch her son and students graduate. As a way to give back, Don and Kathy recently established the Brady Family Endowed Scholarship in Nursing to support future nursing students. "It just seemed natural," says Brady.
You could argue that Brady has already given so much to Monmouth through her teaching. She's there for her students every semester in the classroom. Why does she continue? "I don't know," says Brady. "I think I just want them to do well. And I want to be a part of that success."
Seems right. Brady, after all, has always pushed for her own success. As a 23-year survivor of a brain tumor. As a mom. As a teacher. And as a nurse. "I had to prove to myself I could do it."