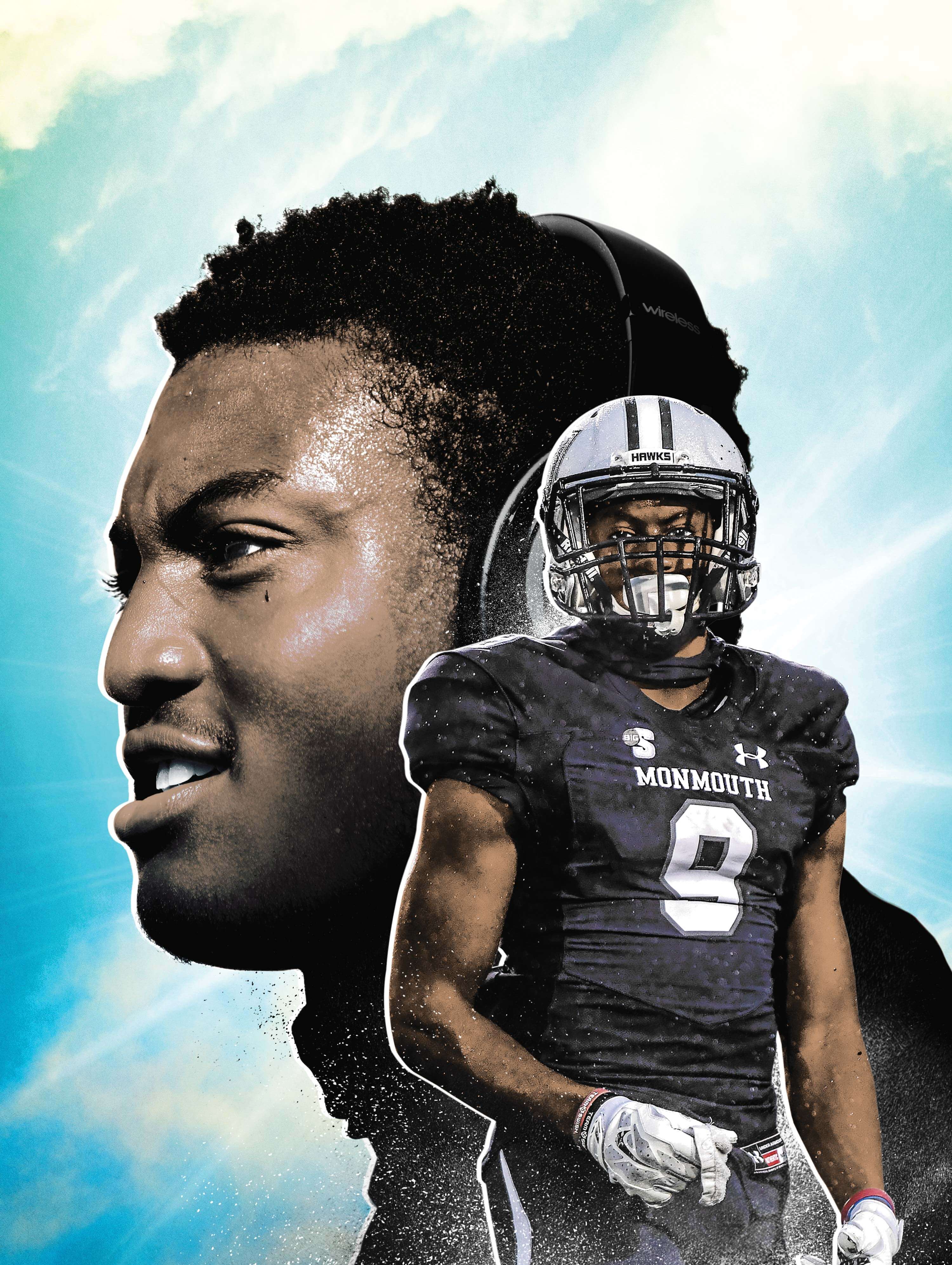 Chasing Greatness
How hard work and some fatherly advice led Reggie White Jr. To the NFL.
Like all elite athletes, Hawks wide-receiver Reggie White Jr. has always chased greatness. It's a mindset that was instilled in White Jr. long before he signed an NFL contract with the New York Giants earlier this spring.
It came via his father, Reggie, a former NFL defensive end who played four seasons with the San Diego Chargers and New England Patriots. The advice passed from father to son, former NFL player to future NFL player: "Don't be afraid to be great."
The statement sounds simple, but it's layered with wisdom. It's a calling to the athlete that while talent is essential, true greatness requires more. It's owning your preparation and delivering on the execution. There is no hoping or making excuses, just doing and achieving. Anyone can aspire to greatness, but few corral and embrace it.
"That's what my dad would tell me over and over," says White Jr. "Don't be afraid to be great. I went out there with focus and wanted to be great on every play. Ever since I've had a ball in my hands, this has been my dream. I'm pretty excited right now, because it's my dream come true."
Two constants have accompanied White Jr. throughout his quest for greatness—the determination to get better every day and a strong family support system. Those two components were as important as his size, speed, and natural ability—perhaps even more so.
White Jr. was a gifted, multi-sport athlete coming out of Milford Mill Academy in Windsor Mill, Maryland, but football was his passion. While he experienced tremendous success in high school, his potential became the chase.
"Mom and dad always told me, 'Stay humble, stay hungry,'" says White Jr. "I never got complacent and always knew there was something I could do better. I kept a positive mentality and my coaches pushed me a lot."
When he arrived at Monmouth, White Jr. was 6′ 2″, 175 pounds. He redshirted his freshman season to spend hours in the weight room and study the offense. He raised eyebrows that spring season and followed with a strong summer camp, earning a starting role. He caught 35 passes for 432 yards and five touchdowns, impressive numbers for his rookie season, but he was far from satisfied.
"I remember feeling like I could be the best receiver in the league, so I went into that off-season with a big chip on my shoulder," White Jr. recalls. "I worked like crazy to get better every day."
It paid off. White Jr. erupted in 2016, leading the Big South in receptions (69) and receiving yards (934) en route to a First Team All-Big South selection. It was the first of three straight all-conference picks, culminating with All-American honors as a senior. He now holds program records in career receptions (249) and receiving yards (3,373) and ranks second in touchdown receptions (31) behind former NFL Pro Bowl wideout Miles Austin (33).
After clocking 4.45 seconds in the 60-yard dash and posting a 37.5-inch vertical leap on Pro Day, White Jr. got the call he'd dreamed about. At home, surrounded by family, the 6'3″, 210-pound receiver accepted an NFL contract offer from the Giants.
"It was awesome, especially to have my family and friends with me," says White Jr. "My dad helped me so much, and my mom is my best friend. I called Coach [Kevin] Callahan to tell him the news. The coaching staff has been like family to me. I've told my parents so many times, the best thing that ever happened to me was going to Monmouth."
White Jr. will now chase a roster spot with the Giants this summer. There may be some nervousness and even periods of struggle, but he can count on one constant pushing him forward: He's not afraid to be great.