Campus Roundup
The scene at West Long Branch.
Congratulations Class of 2018
More than 1,300 students received their undergraduate, graduate, and doctoral degrees during two days of Commencement celebrations this spring. Five-time Grammy Award winner James Samuel "Jimmy Jam" Harris III received an honorary doctor of music and delivered the commencement address at the undergraduate ceremony, which was held May 9 at the PNC Bank Arts Center in Holmdel, New Jersey. Click here for photos and video from the day.
The following day, Moleen Madziva '09M, founder of the Macheke Sustainability Project, an organization that supports sustainable development in Macheke, a small farming community in Zimbabwe, delivered the address to graduate students at a ceremony in the OceanFirst Bank Center. View photos and watch video from the day.
Two Birds With One Tweet
Roger McGuinn and David Crosby, two founding members of the groundbreaking folk rock group The Byrds, performed in Monmouth's Pollak Theatre this spring. Sadly, though not surprisingly, their performances occurred six weeks apart. For years, Byrds fans have clamored for the group's surviving original members to reunite. Crosby has too. But McGuinn continues to say he's not interested.
Still, he and Crosby remain friends, and they frequently communicate with each other via Twitter—as evidenced by this tweet McGuinn sent his old bandmate upon arriving in his Monmouth dressing room: "Got to my dressing room at Monmouth University and what should I see?" accompanied by a photo on the wall of Crosby.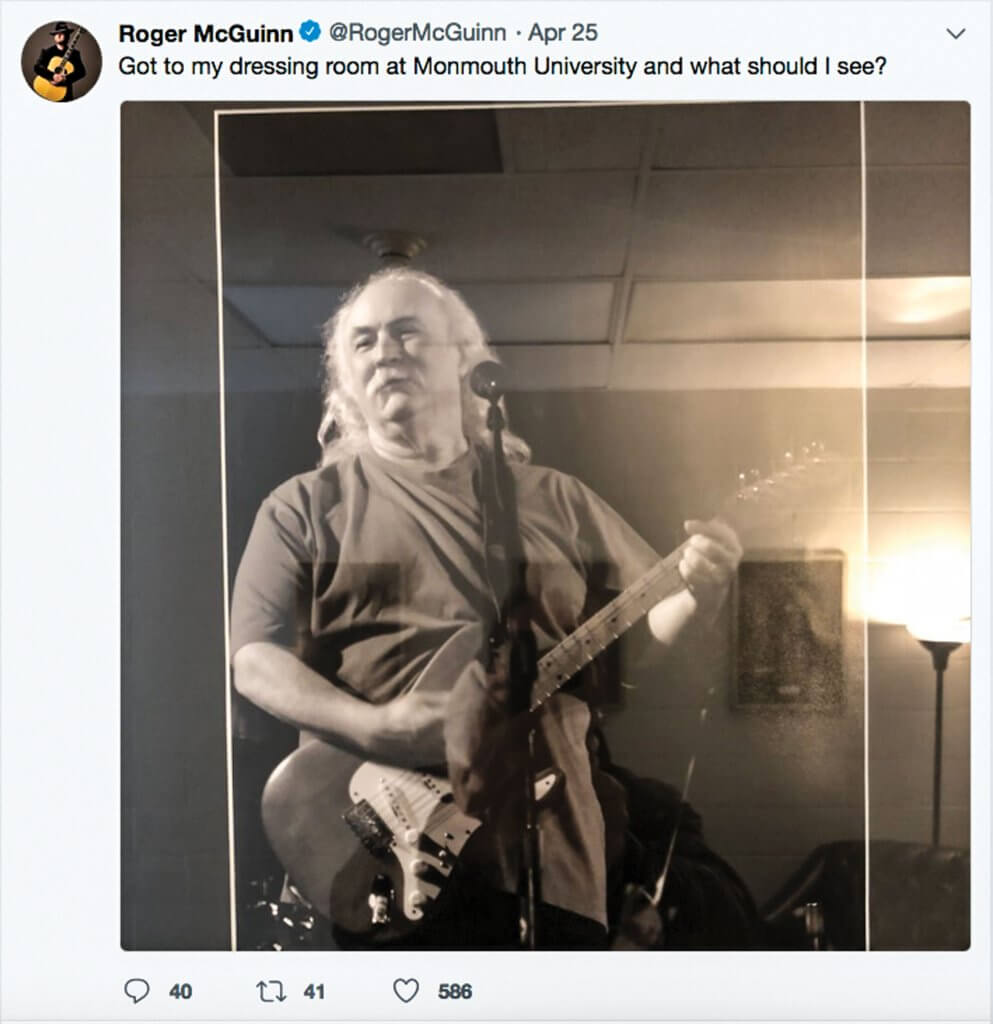 Good News
The Outlook, Monmouth's student-run weekly newspaper, won "Best Non-Daily University Newspaper" in the 2018 Society of Professional Journalists Spotlight Contest. It's the paper's fifth major national award in less than a decade, says the publication's adviser, John Morano.
Fake News
When Sinclair Broadcast Group came under fire this spring for forcing anchors at its local stations to read a scripted warning about the proliferation of fake news, the company cited a Monmouth University poll in a statement defending its actions. That poll, conducted in March, found: "Large majorities of the American public believe that traditional media outlets engage in reporting fake news and that outside sources are actively trying to plant fake stories in the mainstream media."
The poll also found that the majority of Americans think the term "'fake news' also applies to how news outlets make editorial decisions about what they choose to report"—which, ironically, is what media watchdogs were criticizing Sinclair for doing with its scripted ad. You can read the full Monmouth University Polling Institute report on Americans' opinions about fake news, here.
Masterfully Done
A team of Monmouth business students beat their counterparts from Villanova and Rutgers universities to win top prize in NAIOP New Jersey's Fourth Annual Intercollegiate Case Study Competition. The event challenged students to create a mock master plan for redeveloping the former Hoffmann-LaRoche campus in Nutley and Clifton, New Jersey.
The 116-acre campus represents the state's largest contemplated redevelopment site, according to the contest's organizers. Monmouth students Christopher Fitzsimmons, Lindsey Florio, Jacqueline O'Dor, and Sam Perrelli's plan for creating a highly connected, walkable, and bikeable setting with a medical/ healthcare theme—supported by residential, lifestyle, hospitality, and retail components—was praised by the judges for its financial feasibility, design excellence, and sustainability. Peter Reinhart, director of the Kislak Real Estate Institute at Monmouth University, served as the team's adviser.
Presidential Picks
Grab a copy of After Midnight, the newest release from Blue Hawk Records, to hear Monmouth President Grey Dimenna show off his guitar chops. Dimenna, who's been playing guitar for several years, accompanied The Sentimental Gentlemen on their rendition of the album's title track, which was made famous by Eric Clapton.

Specialist Professor Joe Rapolla also plays on the track. The album, which features five original songs from current and former students and local performers, is the 12th release from Monmouth's student-run record label. It's available now on Apple Music and Spotify.
New Name, Same Mission
Monmouth's community garden has a new name—The Virginia A. Cory Community Garden at Monmouth University—thanks to an endowed gift from Jennifer Cory-Morrongiello, a 2002 graduate of the School of Social Work and member of the school's Dean's Advisory Council, and her family. The garden is run by the School of Social Work as a cooperative. Participants can grow their own fresh produce as well as produce that is donated to local organizations and individuals in need.
Since the garden's establishment in 2009, more than 18,000 lbs. of produce have been donated to food insecure individuals and families in Monmouth County. The garden also provides educational opportunities for people of all ages to learn about gardening, sustainability, and wellness. The endowed gift, which was made to honor Virginia's generous spirit and love for nature, will help support, in perpetuity, the annual operating expense of the garden.