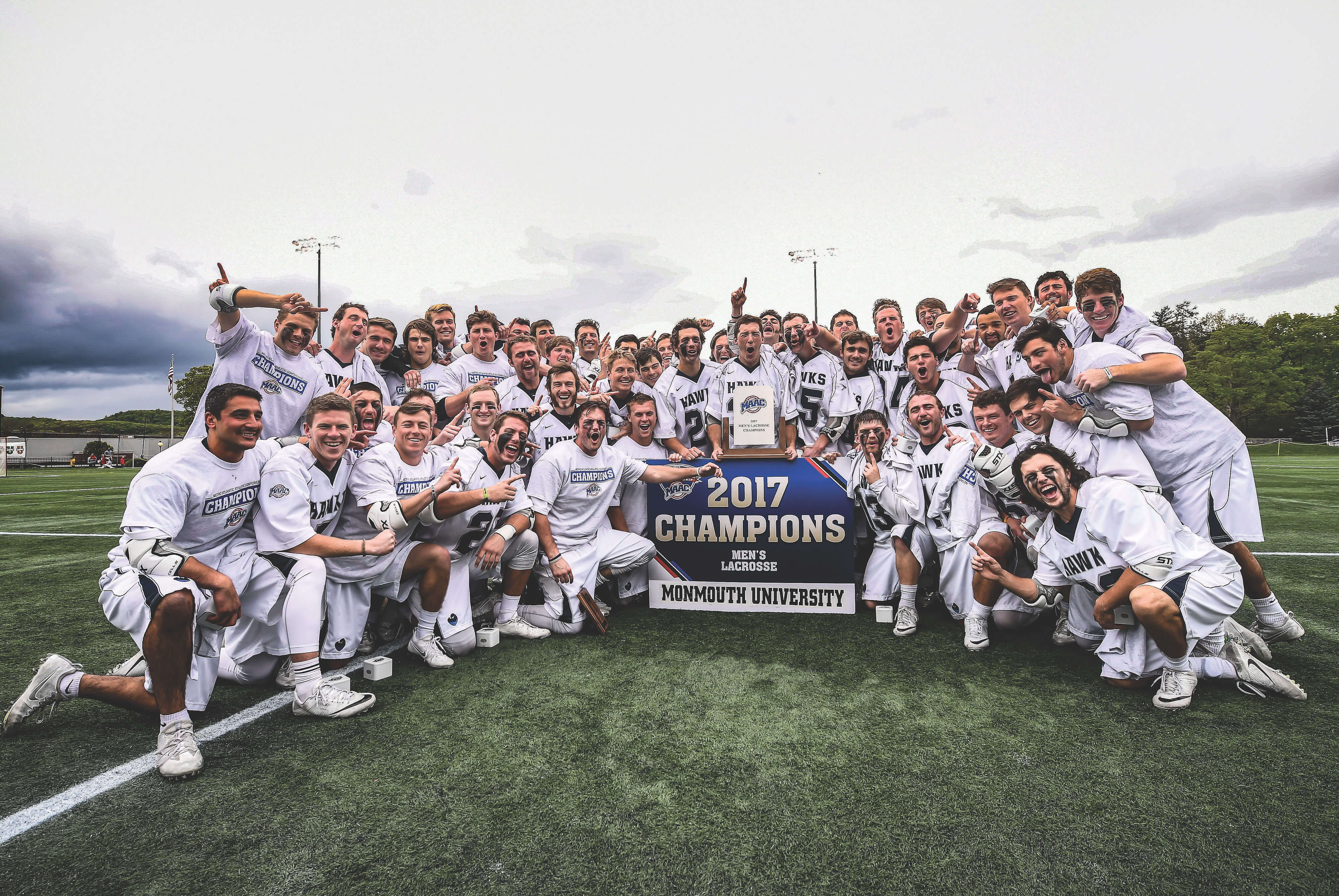 Campus Briefs
The Scene at West Long Branch
Just four years removed from the program's winless inaugural season, men's lacrosse had its best season ever, capturing the MAAC regular season and tournament championships and making the program's first appearance in the NCAA tournament. The team's 14-4 overall record included perfect 6-0 marks in conference play and at home in 2017. In addition, Monmouth defeated its first ranked opponent, No. 16 Villanova, to begin the 2017 campaign, and earned its first national ranking in program history when it entered the NCAA Tournament on an 11-game winning streak.
A juried exhibition of works by 28 artists, ages 16 to 41 and living with autism spectrum disorder, highlighted Monmouth University's Autism Awareness Month programming. The "Art + Autism" exhibition provided a window into the minds of young adults on the spectrum and showed they are every bit as capable and talented as anyone else, says Vaune Peck, director of the university's Center for the Arts, which helped organize the month of events. Select pieces from the exhibition were sold, with proceeds benefiting the Autism MVP Foundation and Autism Speaks.
The university held four commencement ceremonies this spring. On May 10, undergraduates received degrees during a ceremony at PNC Bank Arts Center. The following day in OceanFirst Bank Center, Monmouth hosted its first separate commencement for graduate students. That evening, a special ceremony was held in Pollak Theatre for 17 men's lacrosse players who missed graduation due to their team's NCAA tournament game. And on May 17, President Dimenna conferred degrees on two softball players who missed graduation due to their team's MAAC tournament game.
The U.S. Environmental Protection Agency recognized Monmouth University as an Individual Conference Champion of the 2016–17 College & University Green Power Challenge for using more green power than any other school in the Metro Atlantic Athletic Conference. Monmouth beat its MAAC rivals by using nearly 12 million kilowatt-hours of green power, representing 56 percent of the university's annual electricity usage.
The university's Alpha Phi Sigma Criminal Justice Honor Society's "Paws for a Cause" event raised $1,631 for new K-9 bulletproof vests for the Monmouth County Sheriff's Office.
Dozens of male faculty, staff, and students donned women's shoes and, accompanied by their female counterparts, traversed campus on April 5 to help bring awareness to sexual assault and gender violence. The annual "Walk a Mile in Her Shoes" event was coordinated by the Departments of Counseling and Psychological Services and Residential Life.